Jennifer Hudson: A Star Is Reborn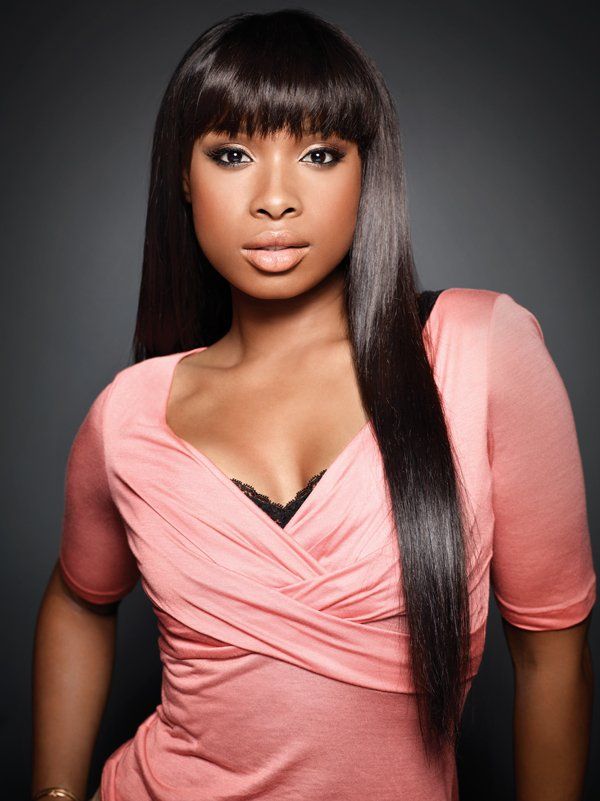 After a few days of sleeping in a dank cell in South Africa, Jennifer Hudson started to lose it. In an attempt to channel Winnie Mandela for a new biopic about the controversial apartheid-era icon, Hudson opted to confine herself day and night to the prison set where the crew shot scenes depicting Mandela's 500-plus days in solitary confinement. She wanted, she says, to "experience some of the hell that woman went through." By the third day, hell had arrived. Her hair was tangled, her eyes sunken, and she started having imaginary conversations with her son. Reflecting on the experience still brings Hudson to a dark place. "They snatched her out of her home and she had no idea what happened to her children," Hudson says of Mandela. "Imagine living that? This was her life! This was real. As a woman, I am angry for her, hurting for her. And as a mom? God, being in solitary confinement, away from my son just for five days when shooting those scenes—it was too much for me. I was drained and stripped down. I was changed."
Hudson, 29, does look like an entirely different person from the one we met back in 2004, when she was an American Idol contestant. For starters, the 5-foot-9 singer is 80 pounds slimmer, partly because she lost weight for her role in Winnie, and partly for her role as Weight Watchers spokesgal. But there's more to her metamorphosis than just the obvious. She's now engaged to WWE wrestler and Harvard Law School graduate David Otunga, and they have an 18-month-old son together. "David Jr. could not have come at a better time," says Hudson, whose son was born in August 2009—10 months after the murder of her mother, brother, and nephew at the hands of her sister's estranged husband. "If I could just be half of the mother to him that my mother was to us, I'd be satisfied. He is a huge part of what keeps me going."
Hudson's transformation is also evident in her aptly titled new CD, I Remember Me, which arrives March 22. Though only her second album, I Remember Me is a reclamation of sorts—an attempt to reach back to the girl she was before the fame, the loss, and the influence of a trend-obsessed music industry. Watching Hudson perform her new single, "Where You At?," during a Grammy Awards rehearsal, you can literally see the joy returning to her life. Her son, David Jr., dances in circles and mimics the chorus, stopping every so often to point at the tall, slim, powerhouse of a singer onstage and shout "Mama!" Their unwitting duet—her voice supremely on key, his wonderfully off—exposes a mother-and-son bond forged in the wake of family tragedy and nurtured during the slow, steady process of healing. As she finishes the song, everyone on the set applauds, including her little son.
It's hard not to fall in love with Hudson, or at least her story. Straight from Chicago's South Side, she lost out on Idol at midseason, only to come back and win an Oscar for Dreamgirls. "People often say they feel like they know me," she says later over coffee. "Most of the time, you see celebrities or artists when they're already stars. But my fans came in the side door with me, and were with me through everything—from the beginning to now. It's like, 'What's gonna happen to the girl now? Will she come back again?' It's like a movie, even to me."
Not everything is cinema-perfect in Hudson's world these days. The real Winnie Mandela isn't happy that her life story is about to be splashed across the big screen. The 74-year-old former wife of Nelson Mandela even threatened legal action to stop production. "It is difficult to understand how a production bearing the name of an individual who has not been consulted at all could ever be appropriate or tell the full story of that individual's life, as media reports suggest this production is intended to," her attorneys said in a letter sent to the film's creators, according to several reports in the South African press. Winnie Mandela, who now goes by the last name Madikizela-Mandela and serves as a member of the South African parliament, declined to speak with NEWSWEEK about the film or her grievances, as did her attorneys.
Mandela's legacy is still hotly contested despite the passage of time, and she remains one of Africa's most polarizing figures. She married Nelson in 1958 at the age of 22, and had two daughters before he was sent to prison in 1963 (the couple divorced in 1996). During the 27 years of his incarceration, she became a central figure in the fight against apartheid but was also enveloped in several controversies that included charges of adultery, thievery, and even murder. She was convicted of theft and fraud, plus kidnapping in connection with the murder of a 14-year-old boy. To this day, there is much debate as to whether Winnie should be serving time in prison, or was unfairly targeted by a racist regime.
Hudson is careful when discussing Mandela's legacy. "You mention Winnie to any African, and you see how affected they are by her," she says. "It's a powerful subject that moves and excites people. Half the country think she's Satan, the other half think she's the world's greatest hero. Now we're telling her story, so I can't blame her for speaking out. But at the end of the day, I think she'll be pleased. That's not to say the film is biased one way or another. It puts it all out there for you to come up with your own conclusion."
It was Hudson's own life story—her modest beginnings, her triumph over adversity—that initially caught the eye of Winnie producer André Pieterse and director Darrell Roodt. "I watched her during her success as an Idol contestant, and she just reminded me of Winnie—her looks and her character," says Pieterse, who like Roodt is South African and grew up with news and images of the Mandelas. "Both women come from humble backgrounds, and Jennifer just appealed to us. We saw her much later in Cannes after her Dreamgirls win, and Darrell and I were saying, 'Who else?! No one.' We couldn't think of anyone we'd rather have do this incredibly important role." Pieterse and Roodt are currently in talks with several Hollywood studios to release the film and aim to have Winnie in theaters by September—in time for Oscar consideration.
After shooting Winnie, Hudson returned to Chicago last fall to reunite with her son and her fiancé, and finish making the followup to her 2008 recording debut. She describes her first CD as a stylistic "stab in the dark," due largely to the whirlwind nature of her early career. But for I Remember Me, Hudson says she had a much stronger sense of direction: she wanted to return to her soul-inspired roots. "My voice is one of the few things that hasn't dramatically changed in my life," Hudson says. "Ten years ago, I was singing in Chicago theaters and living in my mom's house. That's all vanished. But I hear my voice, and I'm like, 'OK, that's me. That's the same girl I knew way back in high school, who used to drive her music teacher crazy by singing Aretha songs at the top of her lungs.'?"
Stylistically, Hudson's music is much closer to the Queen of Soul's than to the flashy club hits of her peers. "I was listening to radio today and thinking, 'How am I gonna fit in?,' " Hudson says. "I mean, I'm not deaf to what's going on. If I was born in the '60s, I'd be right there with them. Every song I do, or film role I get, seems to fall right back in that era. But I'm here now and have to be able to make what I do work today. My grandmother didn't like all the fancy singing. She used to say 'stand flat-footed and sing!' That's what I do, and I'm not apologizing."
It's unlikely that audiences will find Hudson's sophomore CD too retro, especially considering that so many people are already singing along to her cover of Nina Simone's "Feeling Good" from her recent Weight Watchers ad. In the commercial, she belts out the tune, looking impressively thin in a tight cocktail dress. Hudson signed on with Weight Watchers a year ago, and even she has been surprised at the reactions she's gotten since. "On my Twitter page, people write 'I'm goin' to the gym to get my Jennifer Hudson on,'?" says Hudson, who looks as svelte in person as she does in her ads. "I was at the White House recently for the Kennedy Center honors, and even the waiters were like, 'Uh, can you have this?' I was like, 'Damn, you too?!'?"
The attention is disconcerting at times. Still, it beats the alternative. Her days of living in dark, confined places are done. Hudson no longer has to go it alone, thanks to her new family, loyal fans, and the spirit of a woman she's never met named Winnie.
null