Jennifer Lawrence: Comedy's New Queen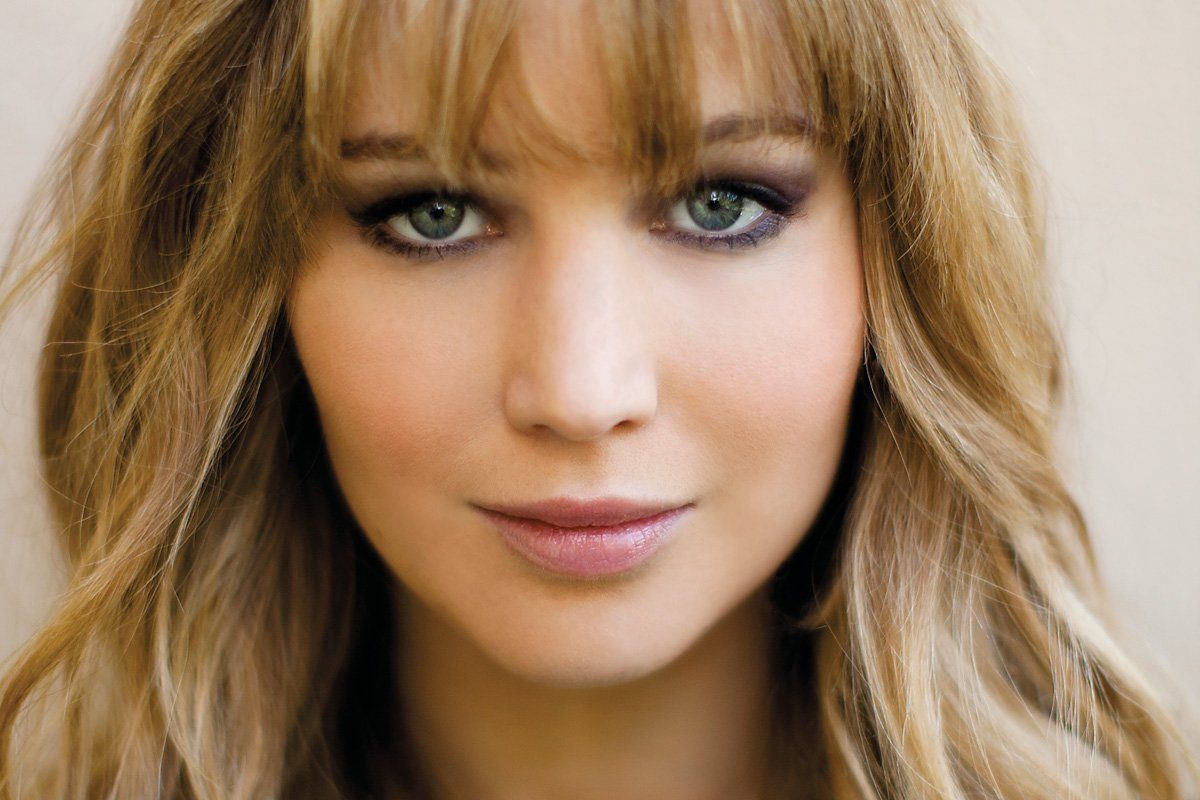 On the big screen, Jennifer Lawrence is as tough as they come. But meet her for dinner, and you'll quickly learn the truth—she's a lightweight. After a single glass of wine, she's starting to feel tipsy. "I'm going to need to eat," Lawrence says. "Or take my clothes off." She orders a hamburger with bacon and truffle fries. No, wait, she tells our waitress, hold the bacon. And, actually, hold the burger. She eyes the strip steak, before deciding on the chicken. "Hang on. Sorry, I'm so annoying." Pause. "The mashed potatoes! Yeah, instead of the fries." She tops that off with bacon, because she loves bacon (and Domino's pizza, bubble gum, Sour Patch Kids, and pretzels dipped in avocado). Should we share some fries? "No," she insists. "Order what you want." When I do, she interjects: "You're making a huge mistake!" The truffle fries it is.
If this sounds like a scene from When Harry Met Sally, it's because Jennifer Lawrence, 22, is an eccentric spirit. You'd never know that from her roster of serious roles—Katniss Everdeen in The Hunger Games, Mystique in X-Men: First Class, and her Oscar-nominated debut in Winter's Bone. Despite gravitating toward dramas, Lawrence, who grew up in Louisville, Ky., worshiped Lucille Ball and wanted to make people laugh. When she met with director Drake Doremus in 2010 before shooting Like Crazy, the two bonded over one-liners from National Lampoon's Christmas Vacation. "She's so funny and goofy and vulnerable," he says. "She's so carefree and fun when she's comfortable." Now audiences are about to see that side in Silver Linings Playbook.
This isn't a screwball comedy as much as a dark one. Lawrence plays Tiffany, a widow who falls for her neighbor Pat (Bradley Cooper), a bipolar guy pining after his adulterous ex-wife. To help him move on, Tiffany enlists Pat in a local dance competition. Originally, Anne Hathaway was supposed to play Tiffany, but after she bailed, director David O. Russell narrowed his sights on other actresses, and Lawrence auditioned for him over Skype. He knew she had a chameleon's way of blending into a room. During the 2010 awards season, "she was going around with Winter's Bone and we were going around with The Fighter," Russell says. "I never recognized her. She would be standing next to me—who is this tall blonde that looks like a model from the Valley? Someone would say Jennifer Lawrence. That's Jennifer Lawrence? I just met her! How is that Jennifer Lawrence?!"
To get into Tiffany's skin, Lawrence knew she'd need to perform another disappearing act. She dyed her hair darker and spoke in a deeper octave to make herself sound older. "I was too young for the part," she says. "I was way wrong. There was this fear at first. Am I going to ruin this for everybody?" The hardest part, though, was the film's dance finale. Cooper was a natural, but Lawrence admits a lack of coordination. "I can barely walk across the room," she says. To improve her skills, she studied old Gene Kelly videos. "That made me want to kill myself." The hard work paid off. Lawrence is so good in the role, critics are touting her as a frontrunner for Best Actress at February's Academy Awards.
With Silver Linings Playbook, Lawrence is entering a category occupied by the likes of Angelina Jolie and Meryl Streep. She's a leading lady who can rack up box-office dollars and critical praise. Now in Atlanta filming the Hunger Games sequel, Catching Fire (with two more installments to follow), Lawrence describes Katniss as "this Joan of Arc who doesn't see herself that way. She kind of grows into it. And she's strong, like a male hero with a vagina." As much as she adores the character based on Suzanne Collins's bestselling novels, she almost didn't accept the part. "If I'm honest with myself," she says, "the thing that was driving me to do the audition was being competitive. Everybody was auditioning." After she was cast as Katniss, she thought about the offer for three days—and decided to turn it down. Fortunately, she called her mother before she called her agent. "She told me I was being a hypocrite," Lawrence says. "I wasn't sure I wanted to be part of something that big. I was going to be the indie actor. I was going to drive my kids in a minivan and have a normal life."
The indie-movie track may be on hold, but Lawrence is still attempting to live a quiet life. A big challenge, she says, is the paparazzi. Her younger self, the one who daydreamed about fame, thought photographers chasing her would be fun, not scary. "I'm a single girl driving around"—in her old Volkswagen—"being followed by a bunch of strange men I don't know. You just want to run and get away."
It's too bad, she says, that she's such an awkward runner. She first realized this last spring at the Hunger Games premiere, watching Katniss sprint for survival. "I don't understand why nobody stopped me from doing karate hands. Hey, Jen, ball your fists. Relax your face. I look like I'm imitating an ape." Fame has meant other adjustments. She stopped Googling herself, making eye contact with strangers, and going to -places with tween crowds. Like Katniss, she struggles with interviews and says she's not good at lying. "If I were reading my interview, and I love saying this during an interview, I'd be like, This girl blows," she says. Of course, this is primarily a defense mechanism. She says she was so nervous before meeting me for dinner that she got lost driving to a familiar restaurant.
Once she gets to know you, all the nerves disappear and the real Lawrence shows up: the girl so obsessed with Harry Potter that she's memorized all the spells and once ambushed Daniel Radcliffe backstage at a talk show. She lives in Los Angeles in a house owned by her parents because she has lousy credit from an old bill she forgot to pay. By the time dinner arrives, she's completely loosened up. "Can I show you a picture of my -nephew?" she asks. "He's 2. Look at this angel." She shows me another photo from last winter's SAG Awards, with her boyfriend, actor Nicholas Hoult. What's inside the big bag he's holding? "Dirty laundry," she jokes.
At one point, Lawrence remembers her first time attending the Golden Globes, when she was still underage. "You can't sit through the Golden Globes without drinking," she says. "I don't mean that in an offensive way. It's really cold. It's really long. I should have been drunk." At least she's honest about not Googling herself, because she has no idea about her Oscar frontrunner status. "That's ... whoa. Sorry. Wow. That's exciting. I don't know if I deserve that, though. I'm going to stop talking. Thank you." Then she takes a gulp of air before asking, "Are you sure?"