What Jennifer Lopez Has Said About Wedding to Ben Affleck
It's a good day to be a Bennifer stan. Jennifer Lopez and Ben Affleck are officially married.
The Hollywood couple tied the knot in a very low-key ceremony at a drive-thru chapel in Las Vegas over the weekend, obtaining their marriage license on Saturday, July 16.
Lopez and Affleck's romance has been in and out of the media for two decades, despite them both being married to other people over the years.
Affleck married actress Jennifer Garner in 2005 and together they have three children. Since 2000, Lopez has been married twice, to actor Cris Judd in 2001—she filed for divorce in 2002—and singer Marc Anthony from 2004 to 2014. She and Anthony share twins.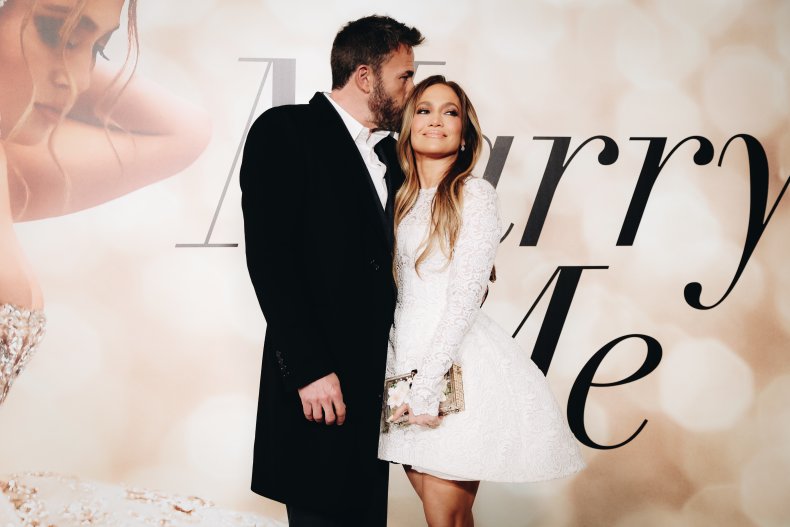 Lopez and Affleck first got together in 2002 after meeting on the set of the movie Gigli, sparking Bennifer mania throughout the early 2000s.
They got engaged in November 2002 but never wed and went their separate ways in 2004.
In 2021, Affleck and Lopez reunited and in July of that year, they went Instagram official with Lopez sharing an image of her kissing Affleck as they celebrated her 52nd birthday.
They have been going strong ever since, much to Bennifer fans' delight. They announced their engagement in April 2022 and fans have been anticipating the wedding.
Lopez announced the news they had wed in her official newsletter, with the heading: "We did it."
She wrote: "Love is beautiful. Love is kind. And it turns out love is patient. Twenty years patient."
She also added the Vegas ceremony was the "best possible wedding we could have imagined."
Lopez said the couple flew to Vegas on Saturday and waited for their marriage license with four other couples. Then, just after midnight, they were married at A Little White Wedding Chapel which even has a drive-thru, called the "tunnel of love."
"Stick around long enough and maybe you'll find the best moment of your life in a drive-through in Las Vegas at 12:30 in the morning in the tunnel of love drive-through with your kids and the one you'll spend forever with," penned Lopez.
For the occasion, Lopez wore a dress from an old movie and Affleck simply wore a smart jacket from his closet.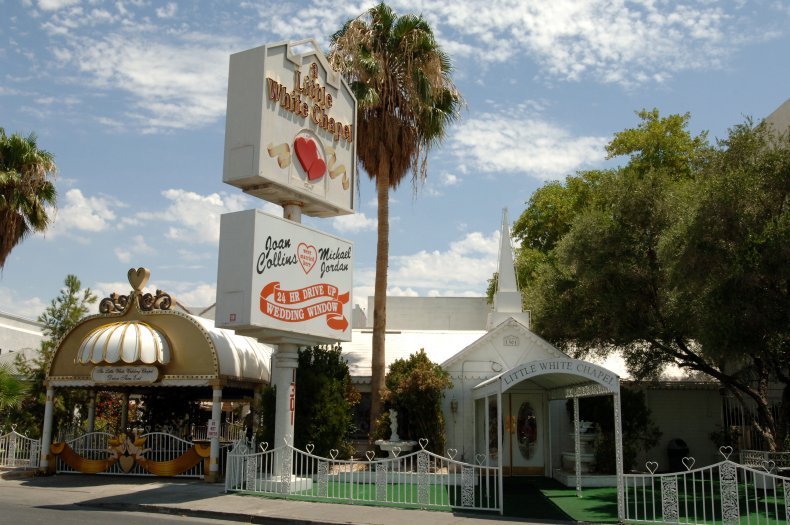 She wrote: "When love is real, the only thing that matters in marriage is one another and the promise we make to love, care, understand, be patient, loving, and good to one another. We had that. And so much more. Best night of our lives.
"They were right when they said, 'all you need is love,'" Lopez concluded in her newsletter posted on Sunday, July 17.
"We are so grateful to have that in abundance, a new wonderful family of five amazing children and a life that we have never had more reason to look forward to. Love is a great thing, maybe the best of things — and worth waiting for."
Lopez also appeared to confirm she would be taking Affleck's name, signing her newsletter off as "Jennifer Lynn Affleck."