J. Lo and Ben Affleck Hounded by Paparazzi as History Repeats Itself
Bennifer is back and so to is the media frenzy that surrounded the couple in the early 2000s.
Jennifer Lopez and Ben Affleck were photographed kissing in public for the first time in 17 years last weekend as the former fiances enjoyed a romantic date night in a Malibu restaurant.
The video, published by Page Six, pretty much confirms that the pair are back on after a month of them being photographed on vacation together in Montana and Miami with the "Let's Get Loud" singer spotted smiling leaving a private residence as Affleck watched.
It was even reported that the Batman actor was wearing a watch Lopez bought for him when they were first together and she was also photographed wearing his shirt.
The two were a pop culture frenzy then and they are again now as they continue to provide a heady dose of early noughties nostalgia to the zeitgeist.
But is this a case of history repeating itself?
The old flames were scheduled to get married in September 2003 but were forced to postpone their impending nuptials due to media intrusion.
In a joint statement released at the time, they shared their concerns over the "excessive media attention surrounding our wedding."
They even revealed they were considering hiring "three separate decoy brides."
"We began to feel that the spirit of what should have been the happiest day of our lives could be compromised," the statement said at the time. "We felt what should have been a joyful and sacred day could be spoiled for us, our families and our friends."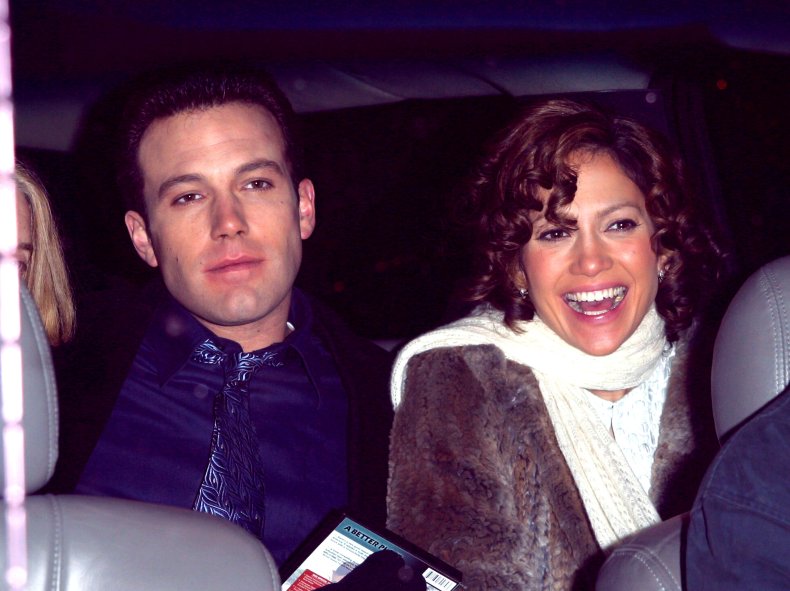 The two also starred in the film Gigli in 2003 which was famously panned by the critics and Lopez has since revealed that the bad press at the time had a huge impact on their relationship.
Speaking about this time to Vanity Fair in 2017, Lopez said: "I lost my sense of self, questioned if I belonged in this business, thought maybe I did suck at everything.
"And my relationship [with Affleck] self-destructed in front of the entire world. It was a two-year thing for me until I picked myself up again."
In January 2004, the couple announced they had officially parted ways and Lopez's representative at the time asked for privacy at a "difficult time."
Affleck reflected on their relationship in a 2008 interview with the British TV show Live.
"I think Jen and I made a mistake in that we fell in love, we were excited and maybe too accessible," he said. "I don't think either of us anticipated the degree to which it would take on a world of its own."
Meanwhile, Lopez expressed similar sentiments in 2016 to The Jess Cagle Interview.
"We didn't try to have a public relationship," she said. "We just happened to be together at the birth of the tabloids, and it was like, 'Oh my God.' It was just a lot of pressure... I think different time different thing, who knows what could've happened, but there was a genuine love there."