Jennifer Lopez Closes Versace Show, Stuns In Update of Iconic Grammys Dress
Jennifer Lopez stunned the world in 2000 when she stepped onto the 42nd Annual Grammy Awards red carpet. Standing beside then-boyfriend Sean Combs in a long sleeved and semi-transparent long-skirted green and blue dress with a palm frond print and a plunging-to-the-navel neckline, the updated '60s throwback look was deemed both daring and delightful by the general public.
The dress eventually became so famous that thousands of knock-off copies circulated among the general public. It help launched Lopez into an even higher stratosphere of fame—and resulted, thanks to web searchers slamming the search engine with picture requests, leading to the creation of Google's image search feature.
Today, nineteen years and many professional twists and turns later, the actress and singer revisited the first look that made her so iconic.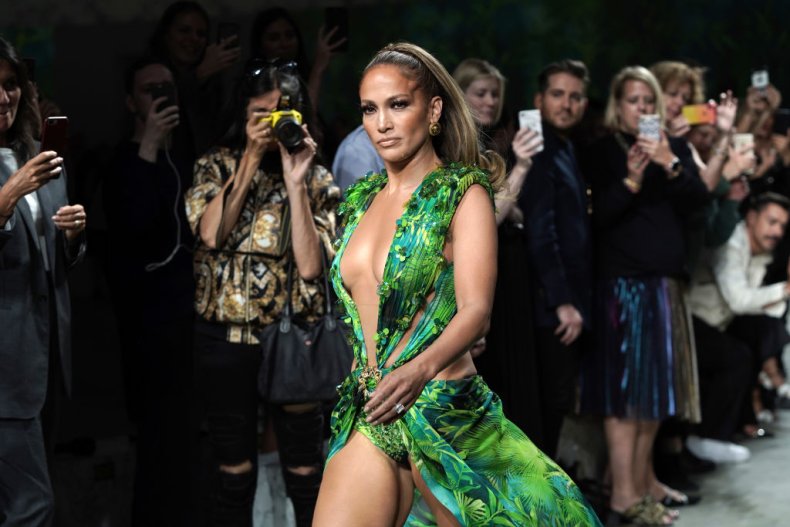 Closing the Versace spring/summer 2020 show for Milan Fashion Week, Lopez stomped the runway to the tune of Remy Martin's "Yeah Yeah Yeah" in an even-more-daring update of her Grammy look.
This version of the dress skips the front panel of the skirt and long sleeves of the original, the gathering less drapey and tighter, displaying Lopez' jewel-covered underwear. This version also adds side and back cutouts and a long flared skirt that gently floats from each hip. The material is also a more ornate, with more embroidery work, but still maintains the blue-and-green fauna and flora theme used in the first version of the dress. The dress still gathers and is held in the front by a jeweled green broach, though this one appears to bear jade gemstones.
For the updated look, Lopez' hair was held back by a headband instead of in a top- knotted ponytail, and the actress exchanged silver sandals for green ones and smaller silver earrings for larger golden ones.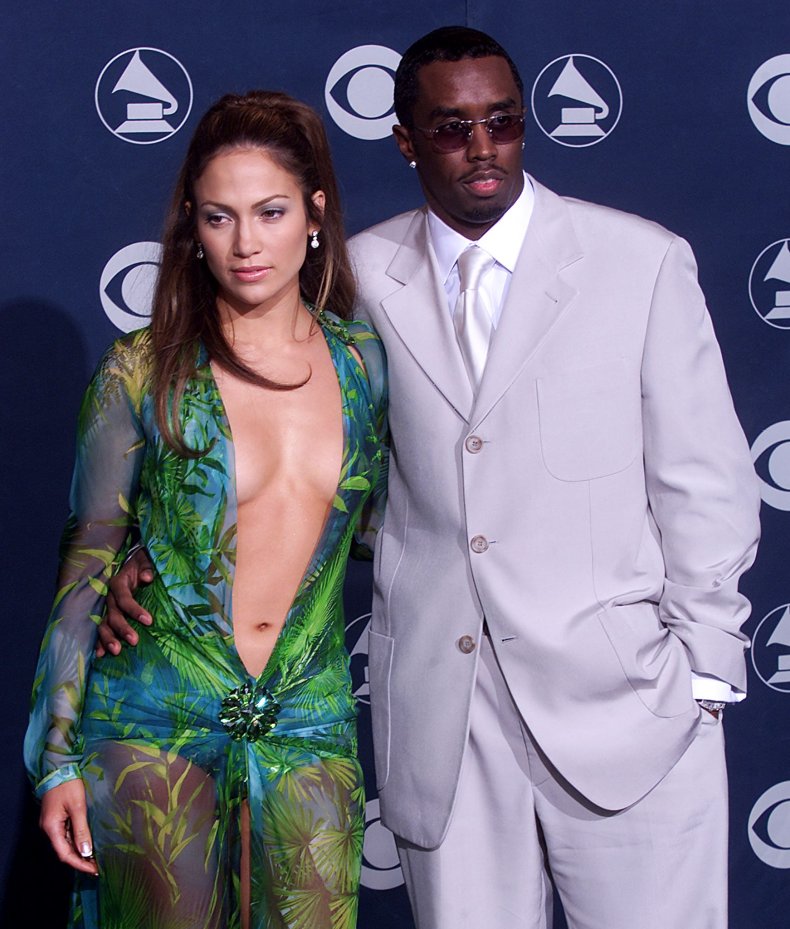 After completing her walk, Lopez paused to embrace Versace designer and the company's chief creative officer Donatella Versace. Laughing together, the two women posed for the applauding press corps, celebrities and fashionistas in attendance.
Lopez also appeared at the event's red carpet in another tribute to the iconic dress—a suit jacket dress with a plunging neckline held together with a large golden safety pin, thigh high boots, and purse, all bearing the notably iconic blue and green palm print theme.
Ms. Lopez wasn't the only celeb in attendance at the show. Gigi Hadid also walked the runway for the couture brand.