Marc Anthony and J-Lo Getting Back Together for Puerto Rico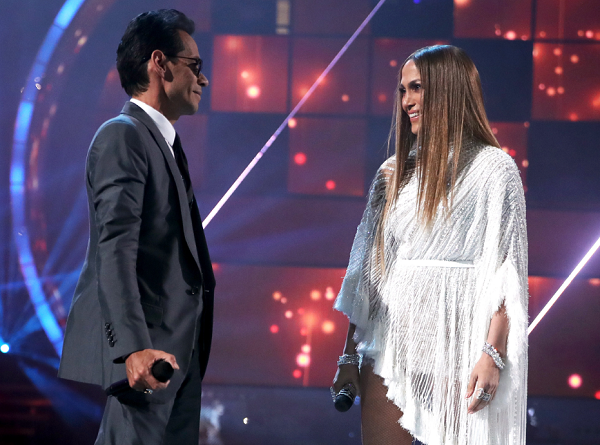 Jennifer Lopez and Marc Anthony are getting back together. Not romantically (unfortunately), but for a good cause.
Hurricane Maria left Lopez and Anthony's ancestral country, Puerto Rico, in dire straits. Mexico, which is home to plenty of the ex-couple's Latin fanbase, is also in desperate need of help following a 7.1 magnitude earthquake. And while areas in the U.S., including Texas and Florida, were also ravaged by a chain of hurricanes within the last month, Puerto Rico and Mexico (and a number of Caribbean islands) haven't received the support they need—at least not from President Donald Trump.
So Lopez and Anthony, albeit divorced and in new relationships, have decided to get back together to bring aid to areas of Puerto Rico and Mexico that are most damaged. The duo announced their new alliance, Somos Una Voz (We Are One Voice), on Wednesday, explaining that they would be "working together to rush food, shelter, medicine, power and communications to those in need."
"Together, our alliance members reach more than 1 Billion followers on social media across the planet. Just imagine what we could do with big and small donations from the people we reach, our corporate friends and ourselves," the alliance's mission statement said. "That's it. That's the big idea. Together, we can become one powerful voice that brings hope and relief to the people who need it most."
Lopez and Anthony have recruited some of their celebrity friends to help push their efforts and raise awareness. The list of artists, actors and singers who have pledged to join the cause include: Alejandro Fernández, Alejandro Sanz, Alex Sensation, Bruno Mars, Caila, Chayanne, Daddy Yankee, Ed Sheeran, Edward Norton, Enrique Santos, Fat Joe, Fonseca, Gente de Zona, J Balvin, Jada Pinkett Smith, Jessy & Joy, Jimmy Smits, John Leguizamo, Juan Luis Guerra, Kany Garcia, Lin Manuel Miranda, Luis Fonsi, Maluma, Magic, Mario Domm, Motiff, Nacho, Narciso Rodriguez, Nicky Jam, Paul Simon, Pitbull, Prince Royce, Ricky Martin, Romeo Santos, Vin Diesel and Yandel.
Lopez's boyfriend, Yankees star Alex Rodriguez, has also signed on for the humanitarian alliance.
On Sunday, singer and actress Lopez, who is still waiting to hear back from family members living in Puerto Rico, announced she would be making a personal donation of $1 million to aid the country.
"Alex Rodriguez and I, who are both New Yorkers, are using all our resources and relationships in entertainment, sports and business to garner support for Puerto Rico and the Caribbean," Lopez said.
Meanwhile, Anthony has been using his social media platform to raise awareness and spread messages of hope to people in Latin America who have been struggling to rebound from the storm.
"In moments like this, it's easy to feel alone. You are not. We are on our way.... We're gonna come out of this strong than ever. So hang in there. Help is on its way."
All proceeds raised by Somos Una Voice will go directly to the American Red Cross, Reach Out Worldwide, United Way and United for Puerto Rico.