Jennifer Lopez's Social Media 'Love Don't Cost a Thing' Challenge Backfires
Jennifer Lopez has been branded "tone deaf" for starting an ill-advised viral challenge on social media.
The singer and actress is riding high after performing at Joe Biden's inauguration last week but fans are criticizing the Hustlers star for her latest move.
To celebrate the 20th anniversary of her single "Love Don't Cost a Thing," JLo recreated a snippet from the famous video where she tosses away her expensive jewelry and clothes on a beach.
"The #LoveDontCostAThingChallenge STARTS NOW!!!!," Lopez captioned the video. "Can't wait to see your renditions."
However, the motivation behind the "challenge" aspect of the tweet has left legions of Twitter users very confused.
"You want us all to rush to the beach in a pan de queso [pandemic] to have our friends film us throwing away good jewelry? I'm so confused," reads one tweet.
While another added: "Jlo we supposed to throw our valuables on the beach? Is the challenge to find it after we throw it bc we can't afford to replace it?!? What is the instructions?!?!?????"
Others branded the challenge "tone-deaf." As one fan put it: "Maam this is tone deaf. Can't nobody afford to be throwing their stuff on the beach."
"We are in a panini [pandemic], still haven't gotten our second stimmy & you want us to go out & throw our shit away in the sand?!?" said another.
Another critic pointed out: "JLo & her team didn't think this one through. Most of these 'challenges' have people inside of their homes (cause we're in a panini). Another thing is the kids are dictating the challenges, not the artists."
Newsweek has reached out to Lopez's representatives for comment.
However, not everyone feels the same with some JLo fans embracing the challenge.
"challenge accepted queen," tweeted one fan who posted a virtual recreation via TikTok.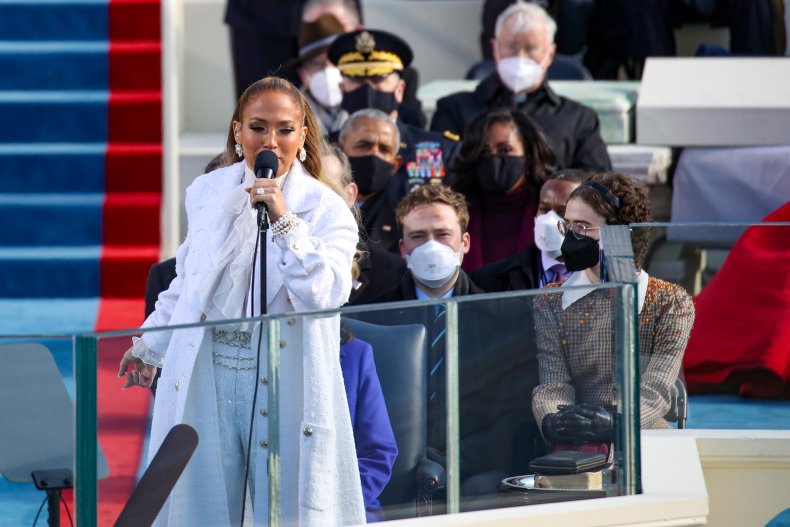 Speaking about the challenge on Instagram, Lopez thanked fans for supporting her and reflected on the last 20 years of her career since the song's release.
"I reflect on the fact that it's the #JLo20thAnniversary, I just wanted to say thank you to all of you for being with me, loving me and supporting me through all the ups and downs," the 51-year-old wrote. "Thank you so much for all the love over the past 20 years!! I love you so much!! #MyLoveDontCostAThing #SameGirl."
Lopez performed a rendition of "America the Beautiful" at Biden's inauguration last week, but added a reference to her song "Let's Get Loud"—which she has used to make political statements in the past.