Jennifer Lopez Got a Ben Affleck Tattoo and Everyone Made the Same Joke
As Jennifer Lopez revealed the matching tattoo she got with Ben Affleck for their first Valentine's Day as a married couple, fans rushed to make the same joke.
Lopez shared a gushing post about her new husband on Tuesday, sharing a series of photos of them loved up and also the permanent ink they got to honor their relationship.
The famous couple rekindled their romance in 2021 after first getting engaged in the early 2000s. They eventually tied the knot in July 2022.
Lopez posted a mirror selfie to her Instagram that showed a tattoo on her left rib of the infinity symbol with an arrow going through it. Their first names were also in the tattoo. She declared in the caption that "commitment is sexy."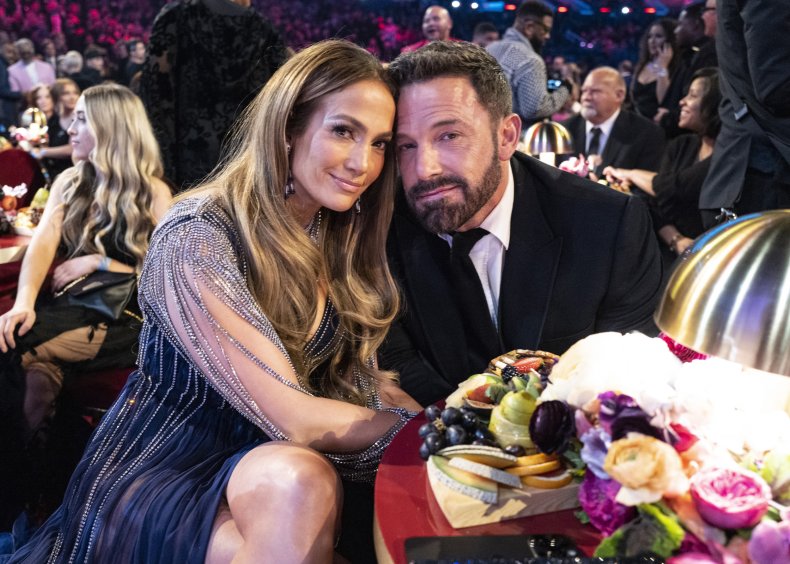 The singer showed a close-up of Affleck's tattoo featuring two arrows crossing over each other, with their initials placed on either side of the cross section.
"Happy Valentine's Day my love," read the post, which promised to share more details of their day in her On the J-Lo newsletter.
While many of her fans rushed to congratulate the singer, many joked that the tattoos were a mistake because the couple would surely not last.
"Trying suuuuuuper hard to convince us..." wrote one person.
Another said: "Not to be mean but after 8 divorces, permanent ink to the body may not have been the wisest decision. Perhaps henna would have been a better option?"
And a third wrote: "Well... at least it's small enough to remove when she decides to jump to someone else lol."
Lopez was previously married to actor Ojani Noa for a year, until 1998; dancer Cris Judd from 2001 to 2003; and singer Marc Anthony from 2004 to 2014. She shares 14-year-old twins Emme and Max with Anthony.
The Shotgun Wedding star was also engaged to former baseball star Alex Rodriguez until 2021, after they dated on and off for four years.
Affleck was previously married to actress Jennifer Garner for 13 years. They share three children: Violet, 17, Seraphina, 14, and Samuel, 10.
Jokes about the couple's questionable longevity come after people speculated that they were bickering at the recent Grammy Awards and that Affleck looked bored.
Eagle-eyed fans thought they saw the couple have a tense moment at the February 5 show as Trevor Noah was hosting right in front of them.
But seat filler AlmostAnna took to her TikTok to shut down that theory, saying the two were incredibly "cute" the whole time.
"I was next to them for a good bit of it. That was my favorite seat because I was right in front of Beyoncé," AlmostAnna said, revealing that she was taking Dwayne Johnson's seat while the Rock was away from the table.
"So I didn't know the meme about Ben Affleck being upset at award shows," AlmostAnna went on. "I didn't know that was a thing, but we also didn't talk to them because Ben Affleck didn't look happy. I didn't want to talk to him and be like, 'Oh my god, Good Will Hunting is one of my favorite movies. You're my hero' because...I didn't want to be embarrassed."
She continued, "J.Lo showed Ben Affleck the phone and was like, 'Oh my god, honey, look at this meme circulating about you' and he was like, 'Oh god, this again.' Like, he knew during the performance that he was a meme. He knew and he also chose not to change his expression. I love how unbothered that is.
"So I know that she was like on her phone and saw it and was like, 'Honey, this is so funny. Look at this,' and he was like, 'Jesus Christ,'" AlmostAnna said. "But they were super lovey-dovey. Their hands were intertwined. I don't know how to describe it, but they just were. So it wasn't like 'Oh my god, this is gonna lead to divorce.' Like they were cute."