Jenny Cudd, a Capitol Rioter, Brags of Violence and Says She'd Do It Again in Viral Video
A Capitol rioter has bragged about being a part of the violent protests on Wednesday which saw Trump supporters storm the government building in protest of the certification of the 2020 presidential election.
Jenny Cudd from Midland Texas filmed herself at the scene while draped in a Trump flag in a Facebook live video which has since been viewed more than three million times.
"I want to let you know what actually happened today," Cudd explains. "When Pence betrayed us is when we decided to storm the Capitol... We didn't vandalize anything but we did, as I say that, break down Nancy Pelosi's office door and somebody stole her gavel and took a picture sitting in the chair flipping off the camera."
The Texan Trump supporter has since deleted the video but it has nonetheless cropped up over various other social media platforms as many call for her arrest.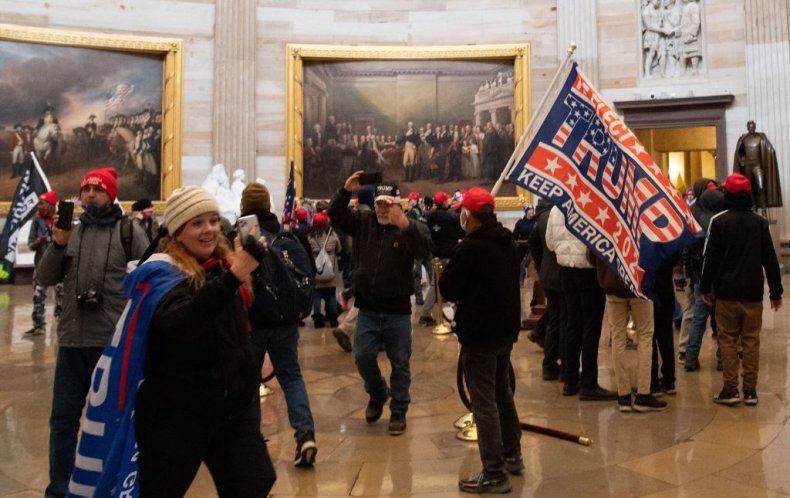 "Patriots got down on the floor and were sitting in the House members and the Senators chair," Cudd says in the viral clip. "The government serves at the consent of the governed. Well the governed are pissed off and the governed don't trust them."
Wednesday's office raid led to five deaths and more than 52 arrests, including the death of 14-year U.S. Air Force veteran Ashli Babbit.
Despite this, Cudd maintains she is proud of her involvement in the violence.
"I'm proud of everything that I was part of today and I'll be proud of everything that I'll be a part of at the next one and we'll see what happens at that," she asserts. "I hope you will share this video because we know that.... mainstream media isn't going to cover it."
"I'd do it again, and I'd have a gas mask next time," she told CBS7.
"I know her," one woman responded over Twitter. "She owns Becky's Flowers in Midland. She bought a ton of ammunition and right before she left to DC and posted it on Facebook."
A video posted before the riots shows Cudd encouraging viewers to visit Wildhorn Services, a gun store in Odessa, Texas.
"Y'all come on by these great patriots," Cudd says. "They've got everything. Everything. They've got 9mm in stock. They've got 223, 243 ... all the things that you need."
It has also since emerged that Cudd once ran as a mayoral candidate in her home state of Texas in November of 2019. A photo shared on social media shows Cudd addressing supporters against a backdrop which reads "Jenny for Mayor".
Cudd describes herself as a "conservative die hard patriot", "entrepreneur" and "freedom activist", in her public Facebook profile.
However, many who viewed Cudd's early 30-minute rant were less than impressed.
"I love it when criminals make the FBI's job so much easier by posting their crimes on social media for all to see," one woman said.
"Smiling, laughing, bragging on some kind of sick high after her act of domestic terrorism. Disgusting," another added. "And these people just walked out & went about their day. They stole from our House. Vandalized the people's property. Put our nation at risk. Ppl died."
World leaders and officials reacted to the rioting by condemning the "acts of violence" and calling for the "peaceful transfer of power."
The riot prompted additional security measures for the January 20 inauguration of President-elect Joe Biden.
The graphic below, produced by Statista, shows the percentage of adult Americans who feel the use of violence to advance political goals is justified.