Jens Stoltenberg Address to Congress: How to Watch Live Stream, Time, for NATO Secretary General Speech
Jens Stoltenberg, the secretary-general of the North Atlantic Treaty Organization, will address a joint session of Congress at 11 a.m. EDT on Wednesday.
Stoltenberg's speech, marking the first time a NATO chief has ever addressed Congress, can be watched via a live stream on the NATO website and on C-Span.
House Speaker Nancy Pelosi and Senate Majority Leader Mitch McConnell invited Stoltenberg to address lawmakers to show that the international alliance continued to enjoy bipartisan support in Washington, despite repeated criticism from President Donald Trump. The speech also commemorates NATO's 70-year anniversary, as it was first founded on April 4, 1949.
Foreign policy analysts commenting on Stoltenberg's visit and NATO's history have pointed out that it is one of the most successful alliances, regardless of challenges and recent criticism from the White House.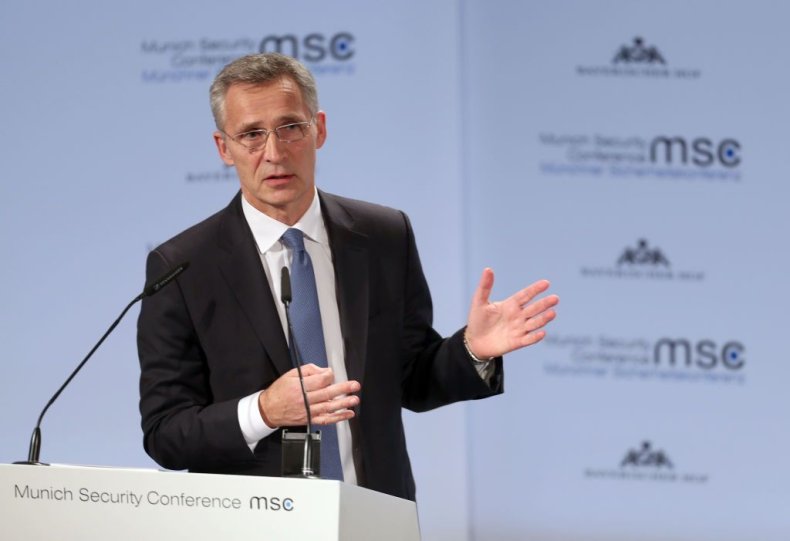 "NATO is adapting and allies are spending more on defense. And I think this administration is understanding more and more how critical NATO is to some of the challenges that it faces, including China," Mark Simakovsky of the Atlantic Council told Voice of America. "So, in many ways, NATO is far from obsolete."
Trump's principle criticism of the alliance is his belief that numerous members do not contribute enough to their defense. Partially in response to Trump's pressure, several NATO members did increase their commitments to NATO, and at a quicker rate than previously planned. NATO's goal is for each member to contribute 2 percent of its annual budget, but only a few of the alliance's 28 members meet or surpass that benchmark, with the U.S. contributing the largest amount.
Although the White House has attempted to reassure NATO and the public that the president remains firmly committed to the alliance, Trump previously voiced skepticism and questioned whether the U.S. even needed the organization. A January report in The New York Times raised further concerns, with administration aides telling the news outlet that Trump had repeatedly suggested withdrawing the U.S. from the alliance last year.
In a meeting with Stoltenberg on Tuesday, Trump said that he and the secretary-general had successfully convinced several members to "pay their fair share." "It's called burden sharing," the president said before calling out Germany for failing to set aside adequate funding for the alliance.