'Jeopardy!' Champ Amy Schneider Now Number 2 Behind Jennings in All-Time Consecutive Wins
Jeopardy! contestant Amy Schneider became number two on the show's list of all-time consecutive wins with her victory on Monday night's episode.
Her winning streak extended to 39 straight, and she's now second in wins in Jeopardy!'s history books behind only Ken Jennings.
Schneider had already secured her own unique place in show history on the January 7 episode by becoming the first woman to earn more than $1 million in winnings. Her current winnings total now sits at $1,319,800.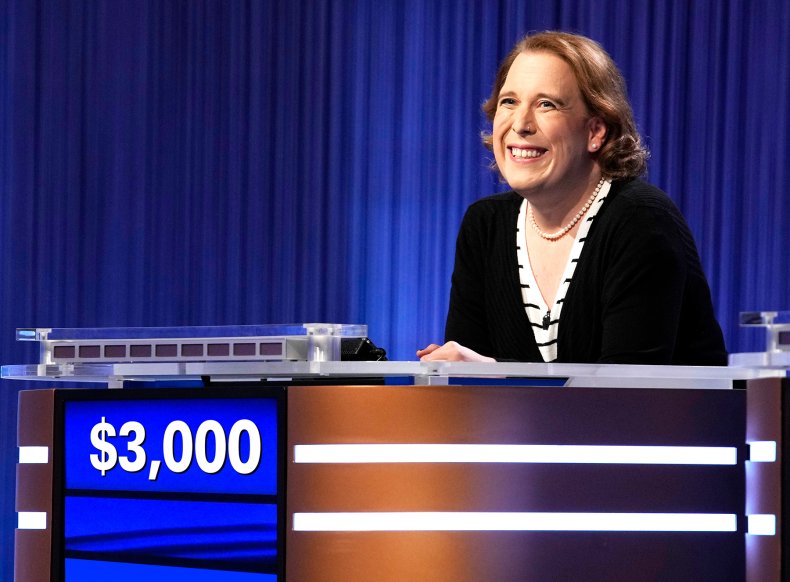 Schneider became number two on Jeopardy!'s all-time connective wins list on Monday. In this undated photo, Schneider is seen competing on the quiz show. Jeopardy Productions, Inc.
Not only is Ken Jennings the only person with more wins than Schneider with 74 victories, but he's been hosting Jeopardy! throughout her winning streak.
"It still feels unreal," Schneider, an engineering manager from Oakland, California, said in a statement after the win. "Knowing that I had this chance, I was definitely thinking about it. Then Ken said it, and I thought, 'Alright, I just accomplished this huge thing,' and it was pretty great."
Schneider first drew national attention in November when she became the quiz show's first transgender contestant to qualify for the Tournament of Champions competition.
Shortly after appearing on the show wearing a trans flag, she tweeted: "I didn't want to make too much about being trans, at least in the context of the show. I am a trans woman, and I'm proud of that fact, but I'm a lot of other things, too!"
Schneider followed up by writing, "But I also didn't want it to seem as if it was some kind of shameful secret. While it's gratifying to know that people didn't necessarily know I was trans until they read about it, I do want people to know that aspect of me. I think being trans is really cool!"
On Monday, the National Center for Transgender Equality praised Schneider's accomplishments on the show and for bringing visibility to trans rights.
The advocacy organization tweeted: "Jeopardy! has been airing for nearly 60 years, and the median age of viewers is 64 years old. Amy Schneider has been opening up the hearts and minds of many of the show's older viewership, many of whom had little to no prior exposure to transgender people."
Schneider's number two spot on the all-time consecutive wins list beat a mark only recently set by Matt Amodio, who reached 38 straight victories earlier in the season. She'll soon get the opportunity to compete directly against Amodio in Jeopardy!'s next edition of the "Tournament of Champions."
On Monday, Schneider had a message for Amodio.
"It's going to be an honor playing against you, and it's going to be a tight competition," she humbly said.
Schneider will have the chance to inch one game closer to Kennings' mark on Tuesday night. Check local listings for showtimes and stations.