'Jeopardy!' Champ Matt Amodio Becomes 3rd Person to Win More Than $1M in Regular Play
On Friday night's episode of Jeopardy!, Matt Amodio became the third person in the show's history to earn more than $1 million in non-tournament play.
His victory was his 28th thus far and brought his total winnings to $1,004,001.
"This was beyond my wildest dreams going in," Amodio said in a statement. "I knew it was a possibility, but I thought it was a very remote possibility, and to have it actually happen is unbelievable."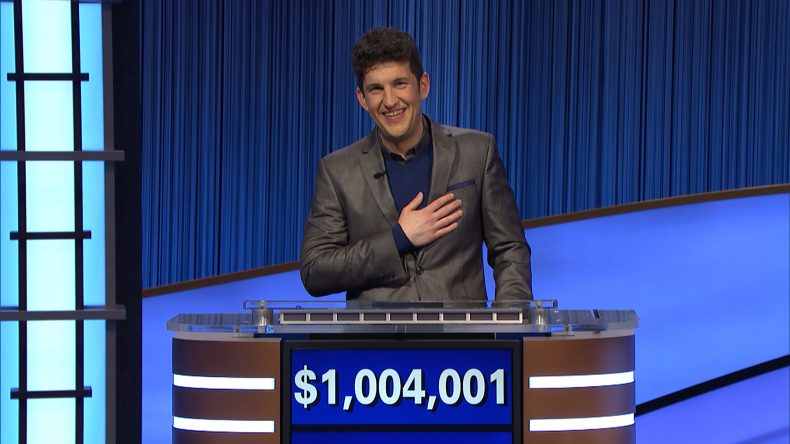 The only contestants before him to win more than $1 million in regular season games were Ken Jennings and James Holzhauer. During a 74-game streak, Jennings brought in $2,520,700 in 2004, while James Holzhauer took home $2,462,216 for his 32-game win streak in 2019.
Before a rule change at the beginning of Jeopardy!'s 20th season in 2003, contestants were limited to five consecutive games. Prior to Jennings' run, the longest winning streak was set at eight games in early 2004 by Tom Walsh, who earned $186,900 in winnings.
Overall, Jennings won $4,522,700 on Jeopardy! with tournaments included in his total. However, with earnings added, the biggest winner of all-time on the show is Brad Rutter, who totaled more than $4.6 million on the show largely due to high earnings from tournament victories. When Jennings, Holzhauer and Rutter squared off against each for a special show in early 2020 with the prize being $1 million—along with the title of "Greatest of All Time"—Jennings emerged victorious.
Amodio's hot streak comes following a tumultuous period for the show, during which time it made headlines while seeking a permanent replacement for late host Alex Trebek. After a stretch of celebrity guest hosts, Sony Pictures Television announced Jeopardy! Executive Producer Mike Richards would become the show's permanent regular host with actress Mayim Bialik taking over the role for primetime specials.
Soon, though, recordings emerged of Richards making controversial comments on a podcast years ago, and he announced he was stepping away from the role. Not long afterward, Sony announced his departure as producer.
The closest Amodio—a Ph.D. student from New Haven, Connecticut—has come to controversy could be his habit of answering nearly every one of his responses with the phrase "what's."
While some people on social media have complained about the approach, Jeopardy!'s official J!Buzz blog noted it's not against the rules of the game. It wrote that the rules state, "all contestant responses to an answer must be phrased in a form of a question." The rules do not specify what kind of question, thus "what's" can be used even when responding with the name of a person.
"I went about the approach of saying the fewer things to think about, the better," Amodio explained to J!Buzz. "I found the simplest, most repeatable approach I could and went with it."
To see if his tactics bring him even further past $1 million, tune in to the next episode on Monday.