'Jeopardy!' Champ Matt Amodio Celebrates As He Hits Another Record on Show
Jeopardy! champ Matt Amodio is showing no signs of slowing down, after extending his phenomenal winning streak to 20 games on Tuesday.
The Yale Ph.D. student returned to the show for Monday's Season 38 premiere with 18 wins and $574,801 in prize money—making him the third-highest earner in regular-season play in Jeopardy! history.
Amodio continued to solidify his status as one of the syndicated quiz show's most formidable players on Tuesday, when he matched the Jeopardy! record set by contestant Julia Collins for 20 consecutive games won.
Collins and computer science student Amodio, who increased his cash earnings to $678,801, are now in joint third place for consecutive games won. The record for the longest winning streak on Jeopardy! is held by Ken Jennings, with a massive 74 games.
In the lead-up to Tuesday's episode, a trailer was shared on the Jeopardy! Twitter account, with the caption: "Matt Amodio is only 1 game away from tying with 20-game winner Julia Collins! Will he win his next game?"
A voiceover was heard saying in the trailer: "Jeopardy! super-champ Matt Amodio. One game away from tying all-star Julia Collins with 20 straight wins."
Ohio native native Amodio then said to the camera: "Pretty good company!"
Amodio retweeted the clip, adding the comment: "I enjoyed watching Julia on #jeopardy so much, what a thrill to try to tie her amazing streak!"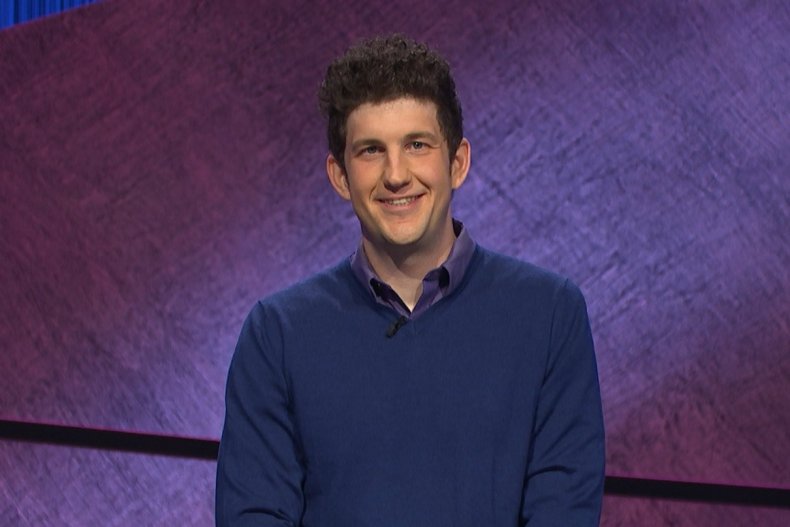 After Tuesday's episode aired, Amodio returned to Twitter to write: "Tied with @JeopardyJulia... unbelievable. I would say #Jeopardy dreams do come true, but at this point I'm way beyond anything I dreamt!"
Collins' win streak came back in 2014 and earned her $428,100. She is the top female contestant in both win streaks and cash earned.
This week's episodes of Jeopardy! are hosted by Mike Richards, the show's former executive producer. He shot only five shows during his shortlived stint at the lectern. His final episode will be broadcast on Friday.
Richards stepped down as presenter in August, nine days after his new position had been announced, in the wake of a backlash over offensive comments he had made on a podcast in 2013 and 2014, unearthed by news site The Ringer.
He also faced scrutiny after reports resurfaced about the models who had accused him of discriminatory behavior in lawsuits filed while he was a producer on The Price Is Right.
In an interview with The Washington Post, Amodio, 30, spoke about the upheaval he has played through, as a long line of guest hosts took the helm on Jeopardy! before Richards was announced as the permanent replacement for Alex Trebek, who died in November 2020.
"Frankly, the last thing I'm thinking about when I'm in the middle of a game is who's hosting," he said. "I've had people say, 'Oh man, you've moved on to your fourth host, that has to be difficult.'
"And I would say, 'Well, you're right, but I didn't even realize that, necessarily.' Because I'm trying to pull these really obscure facts out of my brain, and that takes all the mental energy I can afford at the moment."
Mayim Bialik, who was previously announced as the host of Jeopardy! specials and tournaments, will take over from Richards to present the primetime show for three weeks, before another batch of guest hosts will be rotated in.