'Jeopardy!' Champ Matt Amodio Has Long Road Ahead to Oust Jennings in Most Consecutive Wins
Matt Amodio emerged victorious again on Friday's episode of Jeopardy! and made history in the process by taking sole possession of second place on the all-time consecutive wins list.
He also inched closer to Ken Jennings, who sits in first place on the list. But Amodio has a long way to go before he can claim the top spot: Jennings' streak stretched for 74 consecutive games, while Amodio currently sits at 33 wins.
"Ken's always been the face of Jeopardy! to me, so when I think of Jeopardy!, I think of him," Amodio said in a press statement. "To [be] right behind him is a surreal experience."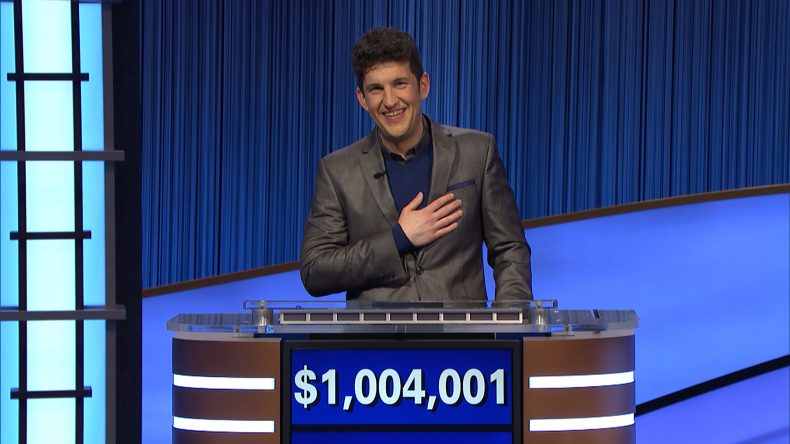 Amodio, a Ph.D. candidate at Yale University, nonetheless reached another show milestone by surpassing James Holzhauer in consecutive wins. Holzhauer had sat alone at No. 2 since 2019 before Amodio tied him on Thursday night.
After tying Holzhauer's record, Amodio responded to some questions from Newsweek via email.
"It feels unbelievable. Literally, unbelievable," he said. "I watched every second of James tearing through the competition, and I knew he was better than I could ever be."
Last week, Holzhauer playfully mocked Amodio on Twitter. On September 20, he posted two side-by-side screen grabs of himself and Amodio on the show. Holzhauer, who was known during his stint on the show for making high-stakes wagers that netted large sums of money, noted the discrepancy in earning between the two at the 23-day today mark: Holzhauer had $1,780,237 to Amodio's $825,801.
"When you order something online vs. when it arrives," the caption of his tweet read.
"I wouldn't want James to be anybody other than James," Amodio told Newsweek about Holzhauer's ribbing. "I have older brothers, so I'm used to it. And also my friends and I have always communicated with snark and ribbing. James is speaking a language I am fluent in."
Amodio already shared an important Jeopardy! distinction with Jennings and Holzhauer: After winning last Friday's game, he joined the other two as the only three people to have won more than $1 million in non-tournament play.
Amodio's run on Jeopardy! began during the summer as Season 37 wrapped up and continued after the show returned for Season 38 last month. Fans can tune in Monday to see if he can keep extending his win streak.