'Jeopardy!' Champ Matt Amodio Quizzed by CT Governor Ahead of Show's Return
Jeopardy! champ Matt Amodio had another chance to show off his general knowledge skills tested recently, when he was quizzed by Connecticut Governor Ned Lamont.
With the long-running quiz show returning for Season 38 on Monday, Ph.D. Yale computer science student Amodio enjoyed a video chat with Lamont, which was shared on the politician's Twitter account last week.
And while Lamont informed the New Haven resident that he was doing to state of Connecticut "really proud," he also took to the opportunity to put Amodio through his paces with a set of his own trivia questions.
"I read Ron Chernow biographies on a Thursday night. I see that you read Wikipedia for fun," said Lamont.
"Also Ron Chernow," responded Amodio. "I'm a huge history nerd—I love history. I know that wasn't the career I pursued, because I also enjoy making money and having job security. But in my recreational reading, I read history all the time and Chernow is one of my favorites.
"He actually got me back into reading with the Alexander Hamilton biography—which I read before the musical."
Taking his Amodio's revelation as a cue to get the questions rolling, Lamont said: "Alright, smarty pants, what Chernow subject did not ride on a white horse?"
After Lamont hummed the Jeopardy! theme tune, Ohio native Amodio quipped: "Well, I would have a hard time imagining Rockefeller on one."
Lamont then hinted that it was a gray horse that had been buffed white before the person in question rode into town, prompting Amodio to correctly guess that it was George Washington.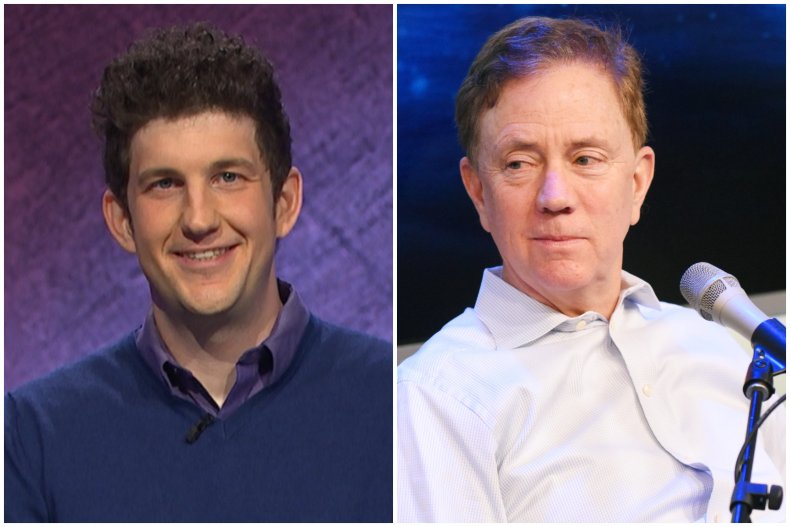 When Amodio was next asked to name the "rock n' roller drummer who just passed away tragically," Amodio correctly answered that it was Rolling Stones drummer Charlie Watts, before the pair discussed his bandmates.
"Keith Richards, to his credit, is a Connecticut resident, you know," revealed Lamont when the musician's name was brought up—giving away the answer to the next question, which was the "rock n' roller Rolling Stone who lives in Weston, CT."
"I learned something and I will have you to thank if they ask me about that," Amodio said.
As their conversation came to an end, Lamont told Amodio: "I think there's about 3.6 million folks from Connecticut. You're doing us really proud, showing how smart we are in Connecticut and we're cheering you on."
"I just want to thank you so much," Amodio responded. "This is such a surreal experience. I got to be on TV for Jeopardy! and I'm not used to that kind of attention. I definitely did not expect to meet the governor from this, so you touched my heart by reaching out to me. Thank you so much."
"Come on up to the residence," said Lamont. "We'll have a little Jeopardy! contest. I'm sticking to American history. You can have all the other categories."
Amodio has become a fan favorite, thanks to his phenomenal 18-day win streak that has earned him a total of $574,801—making him the third-highest earner in regular-season play in Jeopardy! history.
As well as gaining an army of fans through his noteworthy streak, Amodio has also garnered attention for his distinctive way of answering clues on the show.
With the Jeopardy! rules requiring that contestants answer clues in question form, Amodio caused a stir throughout his run on the show for starting each of his answers with "what is"—even when answers pertained to people.
In an interview with the Yale School of Engineering and Applied Science this summer, Amodio revealed that he kept his answers consistent so that he could focus on the meat of the clue.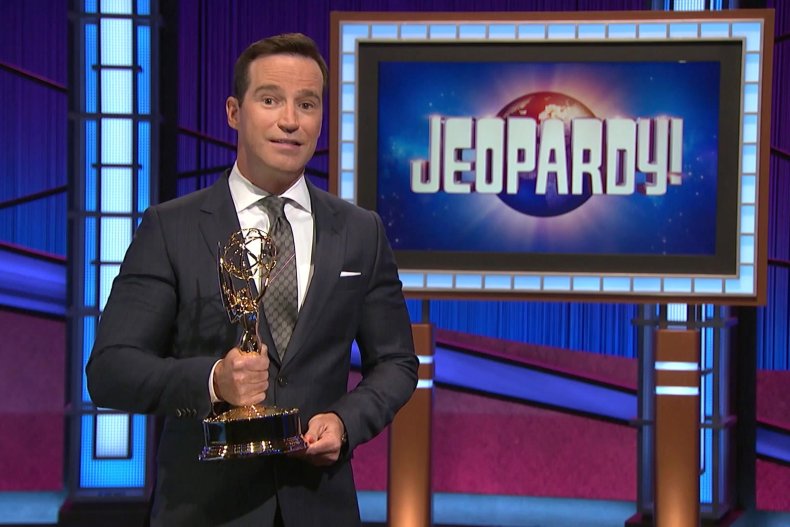 "I have a strategy where I form all of my questions with a 'what's' at the beginning, then I can focus on the rest of the clue," he said. "Other people have been very upset about me being robotic instead of forming a question differently each time.
"I was glad that Jeopardy! said this was perfectly within the rules. I've watched Jeopardy! every day of my life, so I knew it was OK."
Jeopardy! will premiere with Mike Richards as the new permanent host—a role he held onto for just nine days after his appointment was announced, following a months-long search for a presenter to replace Alex Trebek.
As Richards filmed five episodes during his single day at the lectern, the show's season premiere week with kick off with the producer at the helm.
Richards stepped down from his role as presenter and executive producer on the show, after his past came under scrutiny, beginning with reports that he was accused by multiple models of discriminating against them when he was the producer on The Price Is Right.
Following this, The Ringer published an article that detailed a series of offensive comments he had made on a podcast he hosted in 2013 and 2014 called The Randumb Show.
It was then announced on August 20 that Richards was stepping down from his role as presenter. Following this, it was subsequently revealed that Richards was also out of his position as executive producer of the show.
In the interim, Mayim Bialik, who was previously announced as the presenter of Jeopardy! specials, will initially present the primetime show, before another round of guest hosts are rotated in.