'Jeopardy!' Champ Matt Amodio Reveals How Host Drama Has Affected Win Streak
Jeopardy! champ Matt Amodio has opened up about about navigating the ongoing search for a new permanent host as he competes on the show.
The long-running quiz show returned to screens on Monday with the premiere of its 38th season, which saw Amodio expand his win streak to 19 games.
But the Ph.D. computer science Yale student's hugely successful run has been all but overshadowed by the search for a replacement for beloved host Alex Trebek, who passed away in November.
After an array of famous faces were seen trying out for the coveted role in a long line of guest-hosting stints since the start of the year, Mike Richards was last month named presenter of the primetime nightly show—only to step down days later.
Before stepping down, Richards was able to tape a single week's worth of shows, which have been airing on screens across the U.S. since Monday.
And in a new interview with The Washington Post, Amodio, 30, has revealed that he has largely ignored the ongoing upheaval as he focuses on competing.
"Frankly, the last thing I'm thinking about when I'm in the middle of a game is who's hosting," he said. "I've had people say, 'Oh man, you've moved on to your fourth host, that has to be difficult.'
"And I would say, 'Well, you're right, but I didn't even realize that, necessarily.' Because I'm trying to pull these really obscure facts out of my brain, and that takes all the mental energy I can afford at the moment."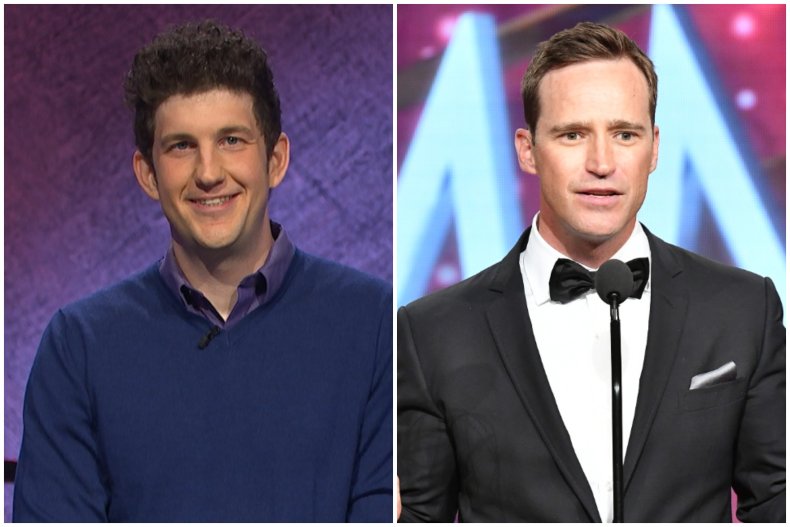 The revolving door of celebrity guest hosts, and the cloud of scandal leading to Richards' departure from the show, has brought unprecedented attention to Jeopardy! of late—something Amodio continues to adjust to.
"I think I've probably been the beneficiary of even more attention, because it's such a unique moment for the show," he told The Washington Post. "I'm an introverted person; I've never experienced even moderate amounts of attention, much less this much attention. I'm actually kind of surprised I've enjoyed it."
Richards' short-lived tenure as host was caused after the resurfacing of reports that multiple models had accused him of discriminatory behavior during the time that he served as a producer on The Price Is Right.
He then faced further outcry when The Ringer published an article that detailed a series of offensive comments he had made while hosting a podcast called The Randumb Show between 2013 and 2014.
Richards would ultimately step down from his role as host—nine days after his hiring was announced—before also being ousted as executive producer of Jeopardy! and Wheel of Fortune.
Mayim Bialik will take over from Richards as host of the primetime show for three weeks, before another batch of guest hosts will be rotated in.
And as the search for a new host continues, Ohio native Amodio has heaped praise on Trebek, who passed away months before his stint kicked off.
"He was a symbol to our society, and there's no way that transition can happen without it being a big shock to people," Amodio said. "And that, I will say, is my one real regret.
"Things are working so well for me on Jeopardy! and I'm so tremendously grateful for the opportunity the show has given me, but it just didn't work out, timing wise, to meet Alex."