How to Watch 'Jeopardy!' Tournament of Champions Finale With Record-Breaking Contestant James Holzhauer
A Tournament of Champions winner will be crowned on the final round of the Jeopardy! competition on Friday.
Jeopardy! record-breaker James Holzhauer advanced to the last wave of the tournament ahead of his fellow contestants Emma Boettcher, who ended Holzhauer 33 consecutive game wins back in June, and Francois Barcomb during Thursday's game. Professional sports gambler Holzhauer led the pack with $49,326 in total winnings so far while Boettcher, a user-experience librarian at the University of Chicago trailed behind with $26,400. Barcomb, a high school physics teacher, finished in third place with $1,800.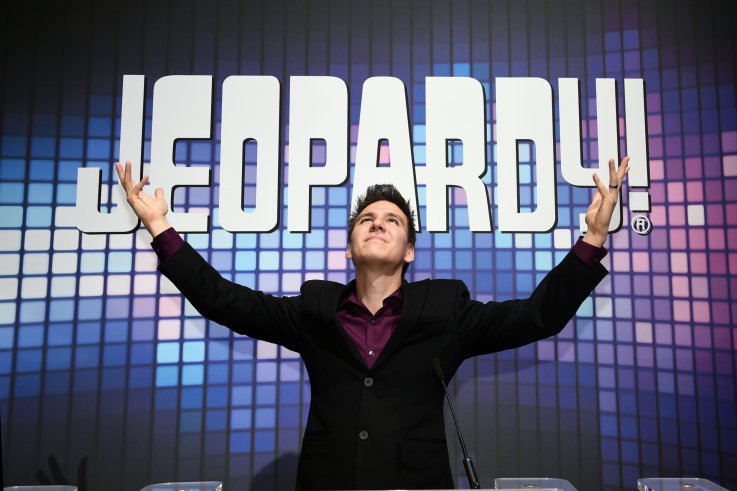 The tournament concludes after contestants answer trivia questions and when earnings from both games are combined. The player with the highest amount is deemed the winner and takes home the additional grand prize of $250,000.
The competition's runner-up won't leave empty-handed, though. The second-place winner will receive a $100,000 cash prize while the third-place finisher gets $50,000.
Jeopardy! fans can tune into the final tournament game on ABC on Friday at 7 p.m. ET. However, folks may want to check their local listings, as air times and network may vary depending on location. Viewers can check channel options HERE.
Those hoping to live stream the tournament on a computer or smart device can do so on the ABC or NBC website as well as the respective network apps. However, a cable provider login is needed to access the stream. Select episodes of Jeopardy! are also available for streaming on Hulu on-demand, while customers with Hulu's Live TV service can catch the show in real-time.
Fan-favorite Holzhauer looks to take home the prize after having his 33-game winning streak ended by Boettcher during the summer. Before his loss, the Las Vegas resident was on track to catch up to Jeopardy! record-holder Ken Jennings, who holds the highest rank on the Jeopardy! leader board with $2.52 million regular-season winnings and a 74-game winning streak. Holzhauer finished his time on the latest Jeopardy! regular season with $2.46 million.
The tournament kicked off with 15 winners from the latest season of the game show in early November amid Jeopardy! host Alex Trebek's announcement that he'd be re-entering chemotherapy as he battles stage 4 pancreatic cancer. Trebek first revealed the diagnosis earlier this year.
Trebek was nearly brought to tears during Monday's tournament after a contestant offered a heart-warming tribute to the longtime show host. During the round of Final Jeopardy!, college contestant Dhruv Gaur replaced his answer with the response, "We [heart] you Alex!"
Visibly moved by the gesture, Trebek responded to the comment and said, "That's very kind of you, thank you. It'll cost you $1,995."
How to Watch 'Jeopardy!' Tournament of Champions Finale With Record-Breaking Contestant James Holzhauer | Culture