Amy Schneider: I'm The First Trans Jeopardy! Contestant in the Tournament of Champions
Going into the Jeopardy! studios on the morning I taped the November 23 episode, the overwhelming feeling I had was that I didn't want it to be the last day that I was there. It's so much fun and it's such an intense experience. The 20 or 30 minutes you're in the game is so focused and there aren't a lot of times in my life that I have needed such intense focus.
The only strategy I really had was that if I came up against a category I thought I would be weak in—for example popular music—I would get it out of the way first. That way, if there were any doubles in that category, they would come up when there wasn't as much money to be wagered.
But I had done so much to prepare for not winning my fifth game, that when I did win, I didn't really have any feelings ready. Immediately afterwards, all I could think about was that I should have gotten the "Final Jeopardy!" clue. That's just how I am! But I quickly realized what I had accomplished. Whatever else happens going forward, there's no way this can't be called a successful run.
I also had a lot of the same feelings as when I won the first game; unreality and relief. And a sense that I hadn't been deluding myself all those years I'd thought I would be good at this. It was a really proud moment.
Ken Jennings was very congratulatory and I've absolutely loved all my interactions with him. He's been a really good host and when I won my fifth game he was just chatting with us about the Final Jeopardy! clue as he usually does. He's a trivia person and he likes to talk about why we went in a certain direction with our answers. He always shares how he did too. I believe he looks at the clues during the game and sees how long it takes him to figure it out. But he was very supportive about my win.
It's a strange thing to think that I have made history as the first trans person to qualify for the Jeopardy! Tournament of Champions. It was inspirational for me to see transgender contestants on the show before I became a contestant and I hope that I am now doing that same thing for all the other trans Jeopardy! fans out there. I hope I have given them the opportunity to see a trans person succeed. Until very recently trans people didn't see themselves doing much out in the world, so to actually see something like this happen really opens your mind up to possibilities.
Someone was going to be this person eventually but I'm very happy that it was me. It's this feeling that I have broken this ground for the people in my community. So while I feel great about winning and taking home the money, it's also a win for other people. It's just a great feeling.
I'm at around 4,000 Twitter followers now, and I have been on Twitter as a trans person for a while, so I know it can be an ugly place at times. But my experience has not been negative there at all since I have been on Jeopardy!. Almost everyone has been so positive, happy and supportive. Over the past couple of days, Matt Amodio has been really supportive, even complimenting my pink blazer!
When I originally got the call to go on Jeopardy!, Matt was still on his run, so I was definitely nervous at the prospect of playing him. But you can't go in thinking you have no chance against someone. I knew I had to play whoever I was up against so I had to psyche myself up and tell myself: "I can beat Matt Amodio!"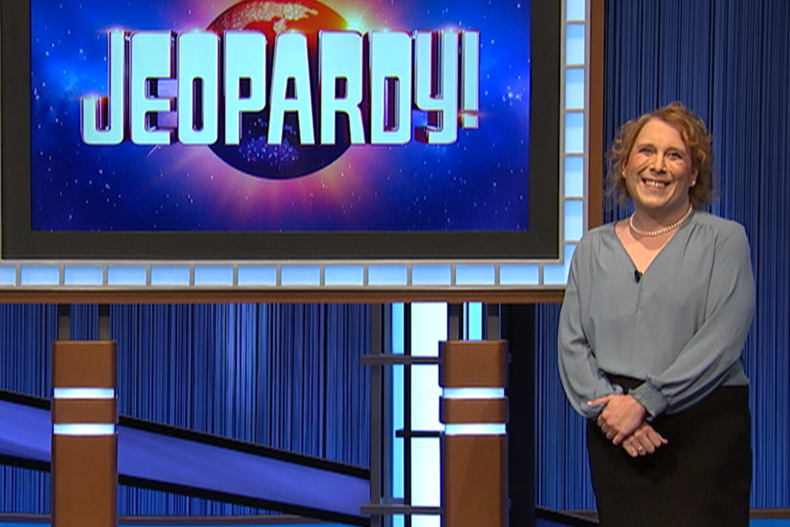 I'll certainly try to go into the Tournament of Champions with that same mindset. If I go up against him, he's going to be extremely tough, but it's really cool to be able to play someone that strong. Usually the only time you get to do it is when it's your first time on the show against a reigning champion, but to be able to play him knowing that I'm good as well is going to be fun. Our styles are different but fundamentally I don't know if there is that much to separate us. Matt is probably a bit more aggressive on his wagering than I am, but otherwise the little things like which clues you pick first and how you phrase a response don't really make that much difference.
I don't know how I would have fared against Ken Jennings, but I think he'd have the edge. Having been through taping and experiencing how exhausting it is, his streak is just unbelievable. When it happened it seemed like it could be the new normal for Jeopardy!— that these streaks would come along. But until Matt Amodio this year, nobody had even come halfway. It's just an unbelievable achievement. If I was playing him I'd just be hoping that he might have lost his edge over the years, to give me a chance!
Everything after my fifth win on November 23 is really just the gravy on top. My girlfriend and I have been talking quite a bit about how we'll spend my Jeopardy! winnings. We have been planning to try and travel a bit more, and my $170,400 winnings so far will at least make that a lot easier. I'm planning to visit a friend in Ireland and I really liked Tokyo, so that's a place I'd like to go back to again. Otherwise, we're looking at buying a house in Oakland. I'm very happy here, I tell people that I expect to be here my whole life.
Ultimately, I'm not going to be feeling too much pressure at the Tournament of Champions because I know I've already had this success. I'll do my best and what happens, happens.
Amy Schneider is a five-time Jeopardy! champion and has qualified for the Jeopardy! Tournament of Champions. You can follow her on Twitter @Jeopardamy.
All views expressed in this article are the author's own.
As told to Jenny Haward.