'Jeopardy!' Contestant's Reaction to Opponent's Incorrect Answer Goes Viral
Footage of a Jeopardy! contestant's reaction to her opponent's incorrect response to a clue during a Double Jeopardy round has gone viral on TikTok.
As Mayim Bialik continued to host the soon-to-conclude High School Reunion Tournament on Monday, contestant Justin Bolsen, a first-year student at Brown University, was faced with a clue regarding Black American history.
After Bolsen, a native of Canton, Georgia wagered $5,000, Call Me Kat star Bialik read out the clue: "From 1936 to 1967 this 'colorful' guide aided African Americans in traveling safely during segregation."
Following a long and uncomfortable pause, Bolsen incorrectly guessed: "What is the Black Book?" Bialik informed him that the correct response would have been: "What is the Green Book?"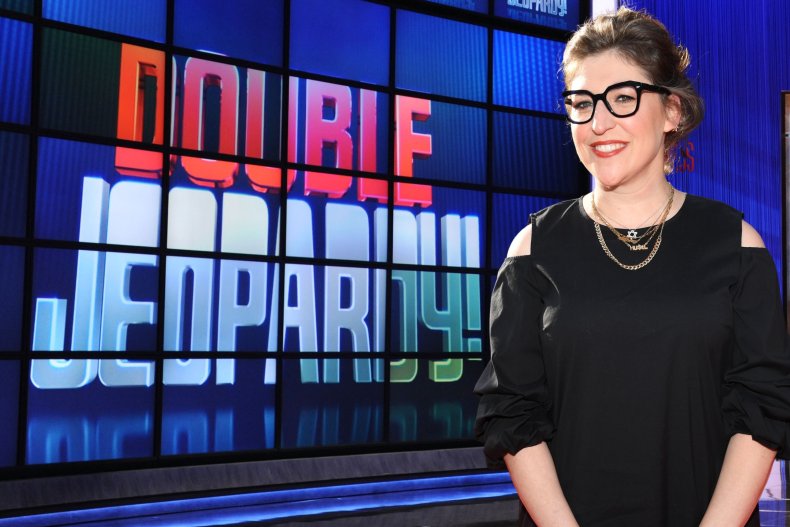 The camera then cut to fellow contestant Stephanie Pierson, a junior at the University of North Carolina at Chapel Hill, who appeared unimpressed.
The clip was shared on TikTok, where it went viral and became a talking point among users on the platform, a number of whom were baffled by Bolsen's response and amused by Pierson's reaction.
"I was waiting for him to say 'Harriet Tubman,'" commented one viewer, while another said of Pierson: "HER FACE!"
"His face said 'even I don't want me to be saying this right now,'" wrote another.
"I worked maintenance in a museum for the summer in 2020 and I learned about this from a display there while I was walking around," responded another. "Thanks, public school."
However, an overwhelming number of commenters admitted that they also would have guessed incorrectly if they were in Bolsen's place on the show.
Said one: "I clearly knew this was about the 1930s & the answer was supposed to be an object & somehow I still be yelling, 'Harriet Tubman?!'"
"I only know it because of the movie with the same name," admitted another, in reference to the 2018 film starring Mahershala Ali and Viggo Mortensen.
"It was a reasonable [error], as a black book is where you keep your contacts so that's where the name could have come from," wrote another viewer. "That said, I did catch the look [from Pierson]."
As a show of proof that many would have guessed incorrectly, the Green Book was also featured in a Final Jeopardy round back in October.
"The 1948 edition of this publication said, 'There will be a day...in the near future when this guide will not have to be published,'" read the clue.
Out of the three contestants, only Tory Martin, a communications and fundraising director from Grand Rapids, Michigan, responded correctly.
At the time, the episode became a talking point on social media, where many Jeopardy! viewers also confessed to not knowing about the Green Book.
Despite his error, contestant Bolsen emerged the victor on Monday's episode. He will return for the tournament's finale on Wednesday, where he will compete for a chance to win $100,000 and a spot in the Tournament of Champions.
The Negro Motorist Green Book, by Victor Hugo Green, was a guide on where Black Americans could safely sleep, eat and fill their gas tanks while traveling throughout the U.S. in the Jim Crow era. At the time, it was legal for establishments to reject Black Americans based on the color of their skin.
The 1940 edition of the Green Book offered several options for safe harbor in central Alabama from the Ku Klux Klan. Some establishments recommended as places to stay in the guide were hotels, while others were private homes.
The Green Book—which also listed restaurants, clubs, garages, and beauty salons, and was dubbed an "invisible map" of America by historian Jennifer Reut—ceased publication in 1967, three years after the passage of the Civil Rights Act.