Jeopardy! Dodged a Bullet by Not Hiring 'Immunized' Aaron Rodgers as Host
The decision by Jeopardy! not to hire "immunized'' Aaron Rodgers to host the game show, after he tested positive for COVID-19 on Wednesday, follows similar past actions in which Jeopardy's viewers sided with science.
The Green Bay Packers' quarterback now has to quarantine for 10 days, per the NFL's protocol, because he hasn't been vaccinated against COVID. This means that he will not play against the Kansas City Chiefs on Sunday.
The NFL restricts unvaccinated players from team activities and requires them to regularly get tested for COVID. In August, Rodgers said that he was "immunized" when reporters asked him whether he had received the COVID vaccine.
The NFL star has long expressed his interest in hosting Jeopardy! After he was a guest host for the first time earlier this year. In August, Rodgers said that he "would've definitely" considered taking the host job permanently if it worked around his football schedule.
The search for a new Jeopardy! Host resurfaced in August after Mike Richards stepped down as the show's host who was picked to permanently replace the late longtime host Alex Trebek.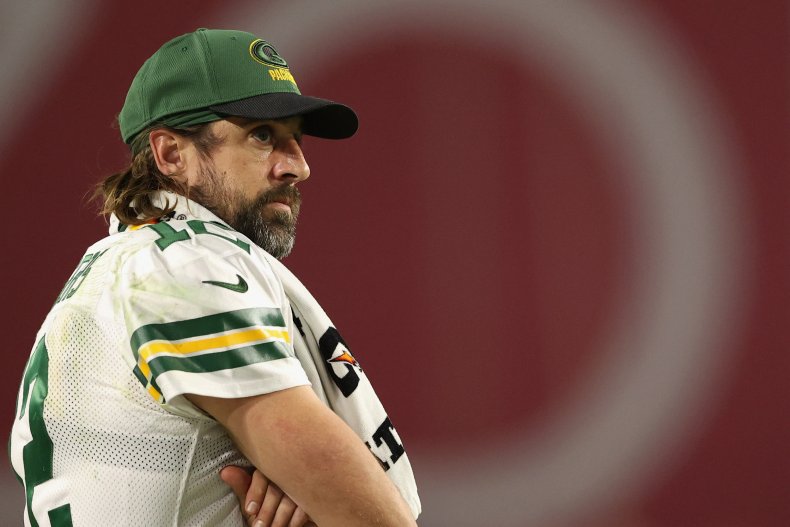 The show has been auditioning different celebrities in hopes of finding a replacement for Trebek. But some Jeopardy! viewers have been consistent with their preference to have a host who believes in science and wouldn't oppose vaccines.
This was the case when some fans on social media in August called on actress Mayim Bialik to step down from co-hosting the show as her past remarks about vaccines were brought up.
A former television critic, Jeff Jarvis, suggested in August that Bialik should be removed as a replacement for Trebek.
Jarvis wrote on Twitter that Bialik "spreads vaccine doubt and hawks brain quackery. She is no representative for a show about facts and authority."
Last year, Bialik questioned the efficacy of the COVID vaccines, claiming that they are "never 100 percent effective."
As her past comments about the vaccine reappeared, Bialik's spokesperson was prompted to confirm that the actress "has been fully vaccinated for the COVID-19 virus and is not at all an anti-vaxxer."
Bialik was also criticized for backing Neuriva, an over-the-counter supplement that reportedly helps enhance brain health, according to the Washington Post.
In a commercial promoting the supplement, Bialik insisted that Neuriva is "backed by real science."
"Neuriva is backed by real science and vetted by a real neuroscientist: Me! I really am. Check your phone," she said in the ad. "Don't trust your brain to any old supplement — trust the one backed by America's favorite neuroscientist. Again, that's me!"
Similarly, some Jeopardy! viewers and former contestants earlier this year denounced Dr. Mehmet Oz being a guest host on the show and asked producers to cut short his hosting spot.
After Dr. Oz was first announced as part of the group of celebrities coming on the show as guest hosts in February, an online petition circulated afterward protesting the decision to bring him on Jeopardy!
A letter accompanying the petition mentioned that Dr. Oz has promoted ideas that included "supplements that do nothing, legitimizing gay conversion therapy (which is banned in California, as well as 19 other states), dangerous 'cures' for autism, and, most recently, the use of hydroxychloroquine as a treatment for COVID-19."