'Jeopardy!' Fans Angry Over Schedule Announcement—'I Want Ken Full-Time'
Jeopardy! fans are reacting to the latest announcements about who'll be hosting the game show.
For more than a year, the show has had two hosts—former champion Ken Jennings and actress and neuroscientist Mayim Bialik—and the quiz's passionate fanbase is not shy about discussing their merits on social media.
When the pair began sharing the Jeopardy! podium, Jennings was hosting the syndicated version with Bialik stepping in for primetime specials. However, Jennings also hosts the Tournament of Champions, the Second Chance Tournament and the upcoming Jeopardy! Masters.
Jennings' role on the tournaments has been welcomed by his fan accounts. But the former champion's devotees are far less happy about the hosting schedule for the next few months, as revealed by the show's producer Sarah Foss on the podcast Inside Jeopardy!.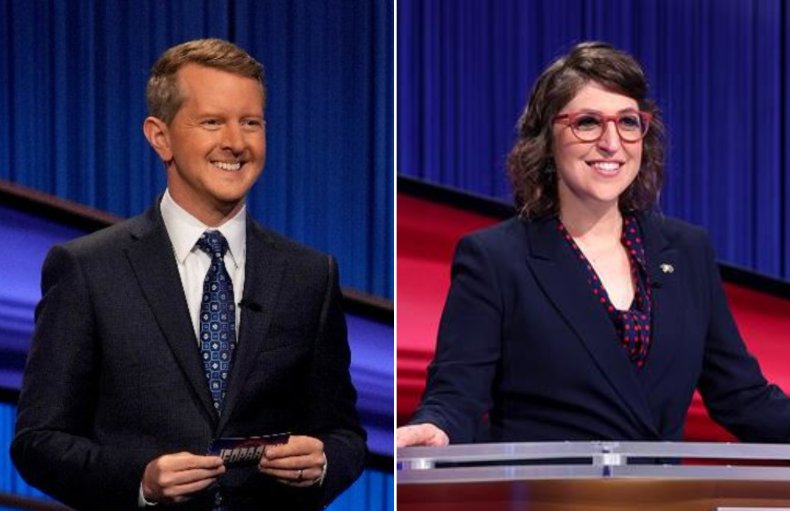 Foss said Jennings would "be back on March 10, and then he will continue the rest of his syndicated run, which will take us through April 28. [Bialik] will take over on May 1, and she'll take us all the way through the summer."
Reacting to the announcement, Twitter account @IsKenHosting wrote that Jennings was "not expected to host additional episodes for syndication until the season ends, though he will host Jeopardy! Masters in primetime for ABC."
This was unwelcome news for fan Gianluca Rizza, who tweeted: "Bialik is a fine actor but has a really hard time at acting natural. She is pretending to be a host. Jennings nails it."
Another Twitter user, RioTheBorzoi, posted: "The reason why we all watch Jeopardy! is because of Ken Jennings and his interaction with the panel and the audience. He explains the answers and we learn something every episode. Not like Mayim just saying 'no' and 'yes.'"
User MantiB got dozens of likes for channelling Mean Girls with the line: "Jeopardy!, stop trying to make Mayim happen. It's not going to happen."
SandySgs220220 wrote simply: "I want Ken full-time."
Other Jeopardy! fans were more complimentary about Bialik, saying she and Jennings were both "great hosts."
Bialik is currently hosting the Jeopardy! High School Reunion Tournament, which started on February 20 and will run to March 9.
The Big Bang Theory actress has seemingly stepped away from Twitter, not posting since November 2022. Speaking to Newsweek in April last year, she said she had been surprised by the enthusiasm of the Jeopardy! fanbase.
"It's been unbelievable. It's an unbelievable turn of events in my life and career to have this opportunity," Bialik told Newsweek. "But yes, I did not know the depth of in particular the social media presence of people who are so passionate about Jeopardy!"
A new host was recently unveiled for the show, but American audiences won't be seeing him. Actor, writer and broadcaster Stephen Fry has been announced as the host of the U.K. version of Jeopardy!.
"Nothing gives you imposter syndrome quite like sharing a job description with Stephen Fry," joked Jennings on Twitter.