'Jeopardy!' Fans Think New Finalist Looks Just Like Steve Martin
Jeopardy! fans did a collective double-take during Monday's episode of the show, thanks to one contestant bearing a striking resemblance to comedian Steve Martin.
Sam Buttrey, an associate professor of operations research at the Naval Postgraduate School in Monterey, California, was seen becoming the first contestant to qualify for the Professors Tournament final after a highly competitive game.
And while his intellectual prowess was worthy of dominating conversation, viewers took to Twitter in droves after the show to remark on how much Buttrey resembles Cheaper By the Dozen star Martin.
Sporting spectacles, platinum hair and showing an affable personality throughout his time on the screen, it was easy to mistake Buttrey for the Hollywood screen star.
Tagging Martin's account on the micro-blogging network, one viewer said: "Congrats to @SteveMartinToGo on making the finals of the @Jeopardy professors tournament."
"Interesting new role for @SteveMartinToGo as college professor and @Jeopardy tournament semifinalist 'Sam,'" tweeted another.
"Comedy may not be pretty, but Jeopardy is," quipped another fan of the show. "I expected Martin Short to make a cameo. #SteveMartin."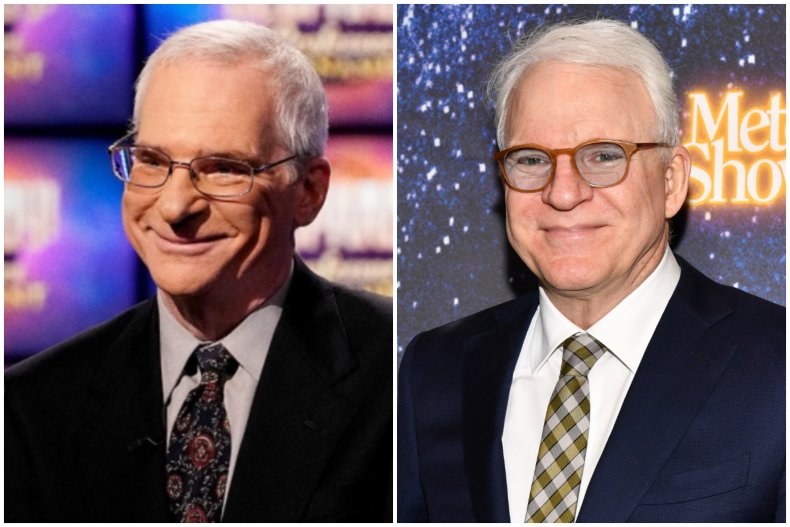 And the connection went beyond appearances during the episode, as King Tut was a category on the show. Martin, of course, famously released the novelty track "King Tut," which he debuted on Saturday Night Live back in the late 1970s.
This is not the first case of mistaken identity Martin has experienced in recent weeks. In November, a wholesome video of a man playing with a Dachshund garnered increased attention, after it was pointed out that the man resembled Martin.
The video was reposted by write Amee Vanderpool, who wrote: "A man who looks like Steve Martin, in a garden, tending to this dachshund is exactly what I need this morning. Apparently, this is from a series called, 'Dads with dogs they didn't want.'"
As the tweet went viral, it caught the attention of Martin, who wrote in response: "I am relieved to find out this is not me. I was starting to doubt my sanity."
Following Monday night's Jeopardy! game, Buttery spoke with Clue Crew member Jimmy McGuire about his time thus far in the inaugural Professors Tournament.
When asked what the best part of being on the show was, he said: "Honestly it's hanging out with the other professors. I wasn't sure what to expect, but they're a surprisingly smart, funny, great group and we're all in sort of in this together and mutually supportive—and it really has been a lot of fun!"
He also revealed some of his pursuits in his spare time, sharing: "I make crossword puzzles and I sell them, not very frequently but that's a lot of fun. And I also make songs that I consider to be hilarious and that my wife smiles and nods gently to."
The Jeopardy! Professors Tournament, hosted by Mayim Bialik, is now in its second and final week in place of the main primetime show and features professors from across the U.S. battling it out for $100,000. The final is scheduled to air on December 17.
Regular Jeopardy! will resume airing on December 20, returning with reigning champ Amy Schneider vying for her 14th consecutive win. Her earnings currently stand at an impressive $536,400.
It was recently announced that Bialik and Jeopardy! all-time champ Ken Jennings will share hosting duties on the show for the remainder of the 2021/2022 season.