'Jeopardy': How the Show Will Be Different When Filming Restarts This Week
Jeopardy! fans will soon get some new episodes as the game show starts filming again for the first time since production shut down in response to the coronavirus in March.
The game show is thought to be filming these new episodes for September when the show's new season starts.
The Alex Trebek-hosted game show, however, has had to make changes to keep the contestants and Trebek himself, who was diagnosed with stage 4 pancreatic cancer in 2019, safe.
"Wheel of Fortune and Jeopardy! are returning to the studio to tape episodes for the shows' upcoming seasons," a Sony Pictures Television spokesperson said in a statement.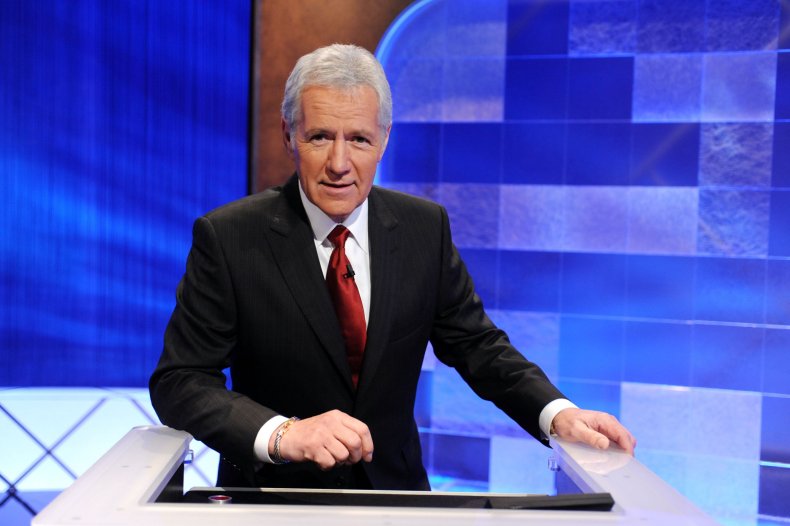 "The productions have protocols in place in accordance with current government guidelines to protect contestants, staff, crew and talent from the spread of COVID-19. While some things may have changed behind the scenes and on the set to keep everyone safe, fans can expect to see the same Wheel of Fortune and Jeopardy! they have come to love when the season starts."
Per TVLine, some changes have been made to the studio set to keep things more socially distanced. The space between the podiums has been increased, keeping the contestants socially distanced from each other.
Trebek's lectern will also be further away from the contestants than previously.
Behind the scenes, there will be some big changes too. Per Deadline, the crew has been made smaller so only essential workers are allowed on the stage, and those workers will have PPE provided to them.
Both contestants and crew will be tested, and social distancing will be in force both on and off stage.
This news comes a few weeks after Trebek gave a public update about his health, in which he said in a video: "I can't wait to return to the studio."
He added: "I'm doing well. I've been continuing my treatment and it's been paying off, though it does fatigue me a great deal. My numbers are good. I'm feeling great."
In the video, he also revealed how he can continue hosting despite his illness. He said: "I'm good at faking it. Suck[ing] it up...I suddenly wake up and I'm able to perform and handle the show. Why? Because I like it. It's a good job!"
When Jeopardy! starts filming again this week, it will be on a two-days-a-week filming schedule, in which the crew will film five episodes.
The release date for these episodes has not been announced yet, but they are expected to be part of Jeopardy!'s upcoming Season 37, set to air this fall on ABC.
Jeopardy! and Wheel of Fortune are not the only shows set to restart filming in the coming weeks. Soap opera The Bold and the Beautiful restarted shooting in mid-June, with General Hospital following suit in July.
Netflix, meanwhile, will start filming some of its shows in August, with The Witcher, and Sex Education set to go back into production.