How to Watch 'Jeopardy! The Greatest of All Time': Live Stream Tournament, Air Time and More Info
The ultimate game day has finally arrived for Ken Jennings, Brad Rutter and James Holzhauer. The men—all of whom rank the highest on the Jeopardy! leader board—will finally face off in the tournament of all tournaments known as Jeopardy! The Greatest of All Time.
The three-night Greatest of All Time (G.O.A.T.) competition will air on ABC beginning Tuesday at 8 p.m. ET. The show will air at the same time on Wednesday and Thursday. Viewers without television can live stream the event on ABC's website and app on any smart device, although a cable provider login is needed to access the stream. Those with Hulu's Live TV service can also stream the game show as it airs.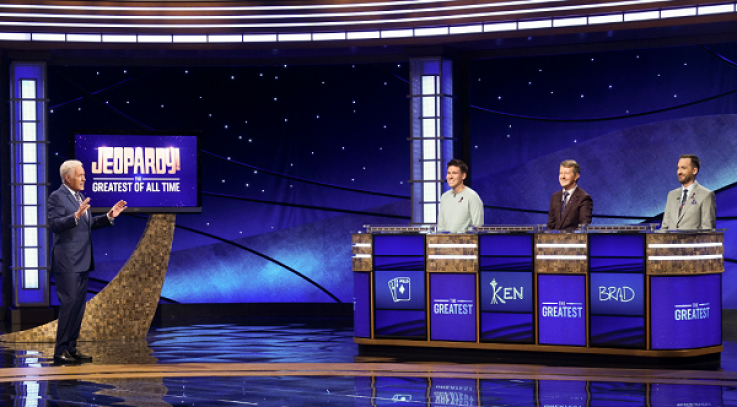 Like the traditional Jeopardy!—which will air regular games during its usual broadcast timeslots throughout the week—G.O.A.T. tournament will include a one-hour round of trivia questions, which Jennings, Rutter and Holzhauer will compete to answer. However, each daily match will actually consist of two complete Jeopardy! games with contestants' points from both games combined to determine the winner of each match. The first contestant to win three matches will earn the bragging rights as Jeopardy!'s G.O.A.T. and will take home the whopping grand prize of $1 million.
Meanwhile, the other two contestants will leave the competition with a $250,000 prize.
The trio is the three most successful contestants in Jeopardy!'s long-running history. Jennings currently holds the title for the most consecutive games won, in addition to the highest winnings during regular-season play. Holzhauer holds the record for most single-game winnings. Meanwhile, Rutter has the most all-time winnings, including tournaments, and has racked up overall earnings of $4,688,436 from Jeopardy! games.
As exciting as the new tournament will be for viewers, the competition promised not to be an easy one for the players—but that's to be expected when you put the best of the best against each other. Despite preparing for months, Jennings said the G.O.A.T. tournament was sure to be "an incredibly daunting competition."
"I'm used to being the fastest person on Jeopardy! and then I play Brad, I play James, or—God forbid—I have to play both at once and suddenly I'm like, 'Wait, I feel like a regular person out here," Jennings, who won 74 consecutive Jeopardy! games, said during an appearance alongside his co-contestants on Good Morning America on Monday.
Rutter shared Jennings' sentiments, noting it was nearly impossible to study for the tournament since there was no way of knowing what questions may be asked—not to mention he was certain the trivia questions were "stepped up a notch" for this specific competition.
"A lot of people think you just study for this stuff. you can't do it that way," Rutter said. "There is some stuff you can brush up on, but mostly it's just being curious about information and learning your whole life and having it stick somehow."
How to Watch 'Jeopardy! The Greatest of All Time': Live Stream Tournament, Air Time and More Info | Culture