When Does 'Jeopardy! Greatest of All Time' Challenge Come Back? James Holzhauer Trails Ken Jennings
If Ken Jennings has it his way, then the winner of the Jeopardy! Greatest of All Time tournament will be crowned earlier than expected.
Jennings is at the top of the leaderboard on the ABC special after winning his second match on Thursday with a total of 67,000 points. The 45-year-old trivia expert won the first night of the competition on Tuesday as well. So all he needs is to do is get through another full hour of play in the tournament with the highest amount of points and then—boom—we'll have a winner.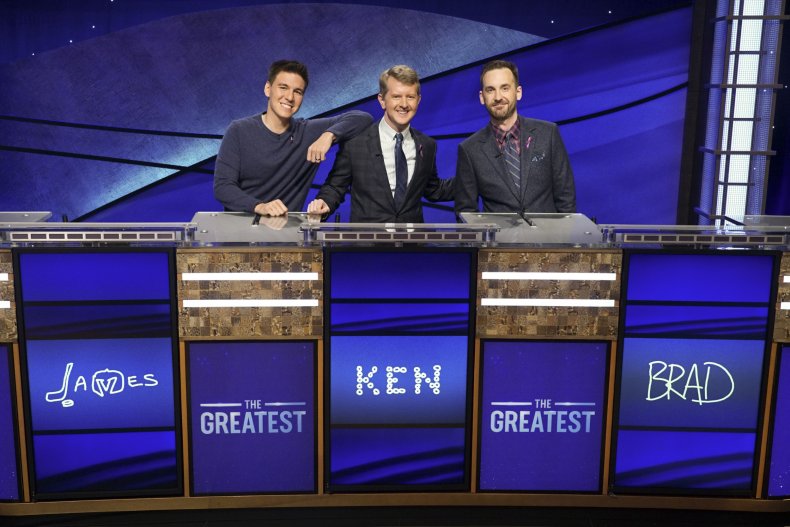 Jennings won't try to win his third match until next week while the game show takes a short break for the weekend. Greatest of All Time competition is set to resume on Tuesday, during which Jennings and co-contestants James Holzhauer and Brad Rutter will play two games of Jeopardy! for the fourth match of the competition.
Each night of the tournament, the contestants have played two rounds of traditional Jeopardy! games. Points earned in both games are combined at the end of the night, and the contestant with the most points wins the match. The game will continue to air on ABC on Tuesday, Wednesday and Thursday nights at 8 p.m. ET until one of the contestants wins a total of three total matches.
The first contestant to win three matches wins the bragging rights as Jeopardy!'s greatest player of all time in addition to a $1 million grand prize.
The runner-up and third-place contestants won't be left hanging in the dust, though. They'll each be awarded a cash prize of $250,000 for participating in the tournament.
Rutter and Holzhauer will likely be pulling out all the stops to prevent Jennings from winning the challenge when the show returns to next week.
Although Jennings is in the lead, Holzhauer is right behind him after having won the second match of the tournament on Wednesday. However, Rutter played his best games so far in the competition on Wednesday and snagged both Daily Doubles in the Double Jeopardy! round, earning a total of 23,467 points Thursday's match.
Holzhauer, who earned 33,692 points overall on Thursday, could have finished the match with a higher score. However, he forfeited a wager in a heartfelt act to honor Jeopardy! host Alex Trebek. Holzhauer purposefully answered the Final Jeopardy! question wrong by writing his own question: "Who is the GHOST (greatest host of syndicated TV)." Holzhauer jokingly had Wheel of Fortune host Pat Sajak written down but crossed it out to fill in the answer with Trebek's name.
Tickled by the gesture, Trebek responded, "I wish you had risked more points!"