When Does 'Jeopardy! Greatest of All Time' Challenge Come Back? Everything to Know Ahead of Ken Jennings, James Holzhauer and Brad Rutter's Fourth Match
Ken Jennings, James Holzhauer and Brad Rutter are gearing up for another game of Jeopardy!: Greatest of All Time tournament. After playing three rounds of the trivia competition last week, the trio are set to appear in the fourth match of the series on Tuesday.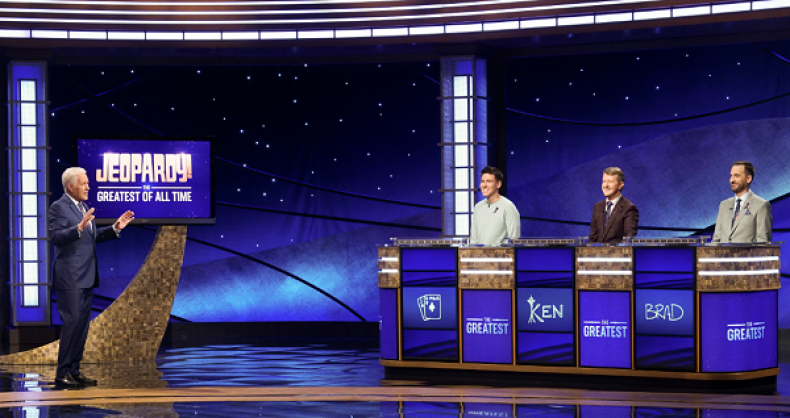 The Greatest of All Time challenge is getting closer to crowning a winner, too. Each night of the tournament, Hall of Famers Jennings, Holzhauer and Rutter play two games of traditional Jeopardy!. Their points from both games are combined at the end of the night, and the player with the most overall points wins the match. The person to win three matches first wins the competition and goes home with a $1 million prize. The two others will receive a $250,000 prize each.
Ken Jennings, who rose to fame after winning 74 consecutive Jeopardy! games in 2004—the most games anyone has ever won on the long-running trivia show—is in the lead so far after winning two matches of the competition. Jennings beat out his co-contestants during the first night of the Greatest of All Time challenge, scoring a total of 63,400 points while Holzhauer trailed behind with 63,200. Rutter lost all his points during the second game of night 1 after betting everything in the Final Jeopardy round and getting the answer wrong. He finished out the night with only 10,400 from the first game.
Holzhauer pulled ahead to take the lead on night 2, earning a whopping 82,414 points to Jennings' 57,000 and Rutter's 14,000.
However, Jennings scored his second match win on night 3. Holzhauer nearly took the game, earning a total 33,692 points total, but Jennings managed to edge above Holzhauer after he doubled his points by accurately answering a question on which 1832-1833 "crisis ended when South Carolina backed down from its efforts to void federal law." Jennings bet helped him reach 51,200 points and he ended the night with a total of 67,700.
Meanwhile, Rutter ended the third night of the tournament with 23,467.
Should Jennings win the upcoming match on Tuesday, the competition will end and the 45-year-old will officially be dubbed Jeopardy!'s greatest player of all time. If Holzhauer or Rutter wins, though, the Greatest of All Time challenge will continue to air until one of the men wins three matches.
Night 4 of the Greatest of All Time challenge will kick off on ABC on Tuesday at 8 p.m. ET. Viewers can live stream the tournament on ABC's website. Those with Hulu Live TV and YouTube Live TV services can also stream the games through those platforms.