How to Watch 'Jeopardy! Greatest of All Time': Live Stream and Everything Else to Know About Round 4 of Tournament
The Jeopardy! Greatest of All Time tournament returns to ABC on Tuesday night.
Ken Jennings, James Holzhauer and Brad Rutter will compete for the title of the greatest player in the fourth round of the ongoing trivia competition starting at 8 p.m. ET. ABC will offer a live stream of the event on its website and app for viewers who do not have access to television. However, fans will need a cable provider login to access the stream. Hulu customers with Live TV subscriptions can also catch the Greatest of All Time game there, as well as those with YouTube Live TV.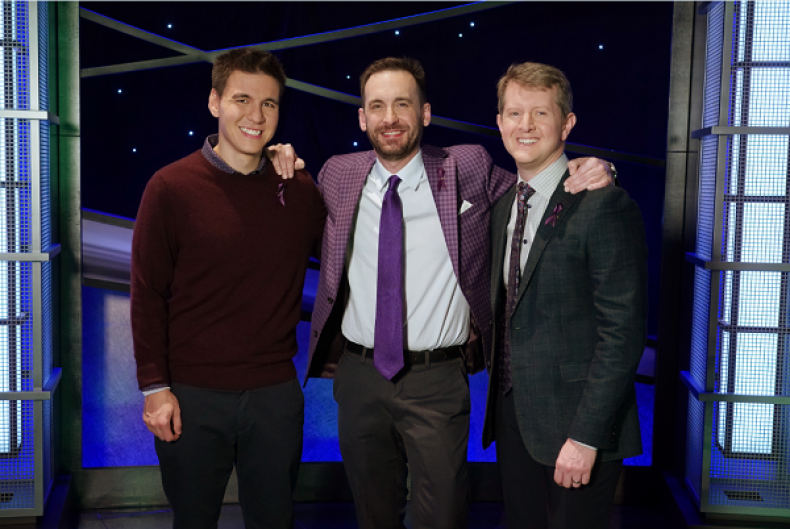 The match on Tuesday night could very well be the last—if Jennings wins. The 45-year-old already on the first and third matches of the tournament last week. All he needs is one more win to be named the greatest player of all time and secure the grand prize.
The Greatest of All Time challenge pits the contestants against each other for two rounds of traditional Jeopardy!, points from each game are combined at the end of the night, and the player with the highest amount is deemed winner of the match. The tournament will continue until one player wins three matches. That player gets the bragging rights as Jeopardy!'s greatest player as well as a $1 million grand prize. Meanwhile, the other two contestants will leave the game with $250,000 in prize money.
Although Jennings already has two matches in the bag, he still has some pretty steep competition.
Holzhauer is trailing him after having won the second match of the tournament, earning 82,414 points while Jennings ended the match with just 57,000.
Holzhauer nearly beat Jennings during the third night of the series. However, Jennings managed to beat Holzhauer in the third match after doubling his points by correctly questioning an answer about South Carolina's 1832–1833 nullification crisis.
Holzhauer also trailed Jennings during the first night of the competition, earning 63,200 to Jennings' 63,400 points.
Rutter seems least likely to win the tournament. Although he's performed well in a few games, he has won a match yet. He finished the first night of the series with only 10,400 points and only earned a total of 14,000 points during the second match. His best match was on the third night of the competition, in which he earned 23,467 points.