Everything To Know About 'Jeopardy!: Greatest of All Time' Challenge Featuring James Holzhauer, Ken Jennings and Brad Rutter
It's the showdown everyone's been waiting for—Jeopardy! winners Ken Jennings, Brad Rutter and James Holzhauer will finally determine which contestant is truly the greatest to ever appear on the show when they face off in the trivia battle royale, Jeopardy! The Greatest of All Time beginning on Tuesday.
Over the course of three nights, the trio will compete in a series of one-hour shows, all of which will serve as a stand-alone match of two Jeopardy! games. Just like the usual daily game show, the winner of each match will be determined by the contestant with the most earnings from the two games. The first person to win three matches will claim the title of Greatest of All Time along with a $1 million cash prize.
The other two contestants won't go home empty-handed though. The runner-up and third-place winner will each receive $250,000.
The competition is expected to be pretty intense, especially since Jennings, Rutter and Holzhauer are at the top of Jeopardy!'s Hall of Fame.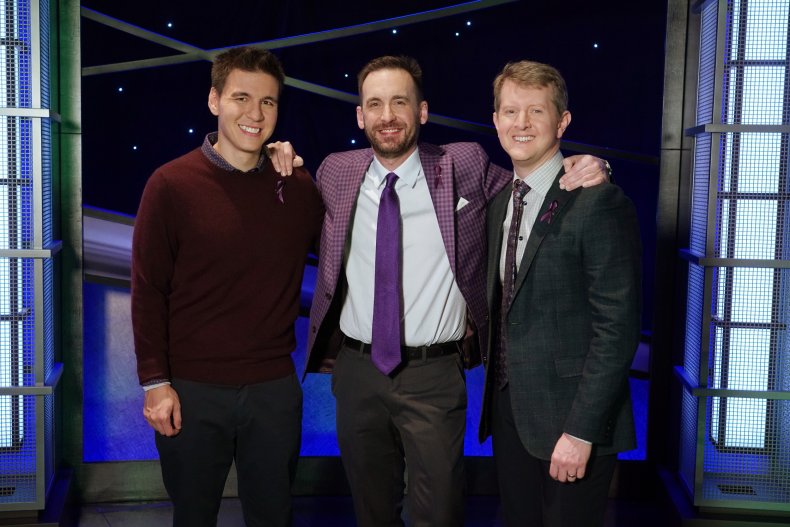 Jennings made Jeopardy! history when he became the first contestant to win 74 consecutive games in 2004. Before he was defeated by contestant Nancy Zerg during his 75th appearance on the show, Jennings had amassed $2,520,700 in winnings, which, at the time, also landed him the title of highest earner during regular-season play.
Jennings went on to win a $500,000 second-place prize in the 2005 Jeopardy! Ultimate Tournament of Champions, another $300,000 second-place prize in Jeopardy!'s IMB Challenge in 2011, $100,000 in the 2014 Jeopardy! Battle of the Decades and $100,000 in the 2019 All Star Games, resulting in his total Jeopardy! earnings of $3,370,700.
Despite winning such a pretty penny, Jennings' earnings don't top Rutter, who holds the title for highest all-time winnings including tournaments. Rutter first appeared on Jeopardy! and retired as an undefeated five-day champion with $55,102 in winnings in 2000. This was back when the game show rules only allowed a contestant to win a consecutive five games before they were retired as an undefeated player, so Rutter had to continue his Jeopardy! winning streak through tournaments. To date, he's won a total of $4,688,436 in from his show appearance and tournament games.
Then there's Holzhauer, who caught everyone's attention with his winning streak in 2019. For a while, Jeopardy! fans thought Holzhauer would catch up to Jennings' game-winning record. However, he landed in second place after winning a total of 32 games before he was bested by Emma Boettcher. Holzhauer also trails Jennings for the highest winnings during regular-season play with a total of $2,462,216.
The men will go head to head in the Jeopardy! The Greatest of All Time tournament on ABC starting on Tuesday at 8 p.m. ET.