'Jeopardy!' Guest Host Line-Up: Who Is Next After LeVar Burton?
Jeopardy! has just two guest hosts left after LeVar Burton ends his run on July 30. The former Reading Rainbow host and Star Trek star spent a week as the guest host after a huge fan campaign, and he has come on top of a number of polls asking who should be the next Jeopardy! guest host.
The game show still has two more potential presenters to come before a decision is made about who will become Alex Trebek's permanent replacement. Here are who those final two presenters will be.
Who Is the Next 'Jeopardy!' Guest Host After LeVar Burton?
Burton's final show is set to air on Friday, July 30, the last of five shows by the Grammy, Peabody and 12-time Emmy winner. After that, the next guest host will begin on Monday, August 2.
He will be David Faber, the financial journalist and host of the CNBC morning show Squawk on the Street. He will host from August 2 to Friday, August 6.
As for all guests hosts before him, Jeopardy! is making a contribution to a charity of Faber's choice. The financial journalist will be supporting the Robin Hood Foundation, a New York City-based charity that tackles poverty in the city.
Like other guest hosts Aaron Rodgers, Ken Jennings, Anderson Cooper and Robin Roberts before him, Faber is a former contestant on Jeopardy! In 2012, he took part in the show's Jeopardy! Power Players tournament, where he beat basketball star Kareem Abdul-Jabbar and Fox News' Dana Perino and won $50,000.
After news that he was set to host the show came out, Faber celebrated with a self-deprecating tweet. He said: "He is the least well known out of an incredible group of guest hosts, but promises not to disappoint Jeopardy's many fans. Correct response: This guy!"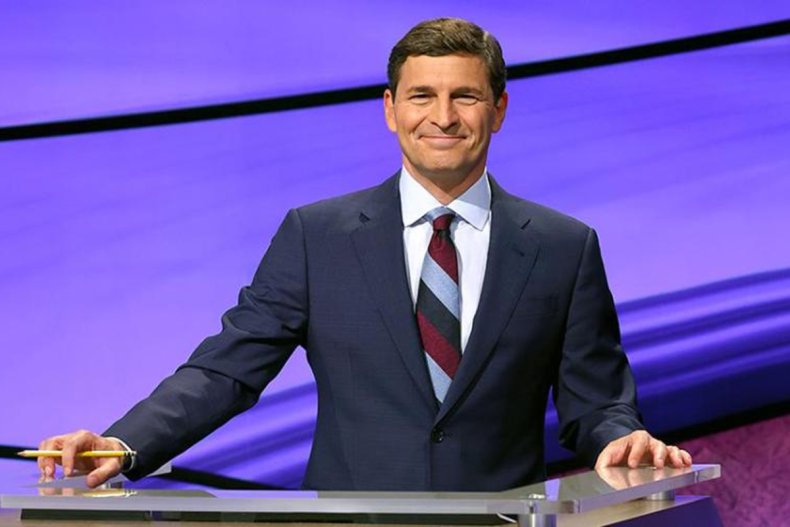 Burton, meanwhile, has spoken about the shaky start to his run, which saw a contestant with the lowest-ever score of negative $7,400. He told the Associated Press: "I came backstage after taping the first episode and I said to Stephanie [Cozart Burton, his wife], 'Well, how did I do?' She said, 'Ehhh.' Now, this is a woman who loves me enough to tell me the truth. She said it wasn't me."
He added: "You're not going to be smooth as Alex [Trebek], let go of that. But what you can bring to the table is you. So that became my point of focus. And when it did, I started having fun."
Burton remains many viewers' choice to become permanent host, with a recent TVLine poll seeing him unseat Ken Jennings as the fans' choice.
Following Faber's five-day stint on the show, Jeopardy! will get its final guest in sportscaster Joe Buck, who will present from August 9 to August 13. After that, a permanent host is set to be announced.