'Jeopardy!' Guest Hosts: Who is Next After Savannah Guthrie?
Jeopardy! has welcomed a number of guest hosts since the death of Alex Trebek, with NBC News anchor Savannah Guthrie the latest of 10 temporary presenters on the game show. Guthrie's time as a host, however, comes to an end on June 25.
Her time on the show was hit by controversy after the makers of the show were forced to apologize for a question about postural orthostatic tachycardia syndrome where they called the ailment "Grinch syndrome"—a term the show called "outdated and inaccurate" in its apology.
Though Jeopardy! producer Mike Richards has said in interviews that they are considering some guest host spots as on-air auditions for the full-time job, Guthrie has repeatedly said she does not want the role.
Most recently, she told USA Today: "What was fun about this was it was a lark, it was a one-time opportunity, and I don't think there's any question of me ever doing it permanently."
Who is the next Jeopardy! guest host after Savannah Guthrie?
It remains to be seen whether the next Jeopardy! guest host is being considered for the full-time job.
That guest host is Dr. Sanjay Gupta. The CNN chief medical correspondent will host the show from Monday, June 28 until Sunday, July 9.
The health reporter, 60 Minutes contributor and associate chief of neurosurgery at Atlanta's Grady Memorial Hospital is the second Jeopardy! guest host with a background in neuroscience following Mayim Bialik.
As with previous guest hosts, the makers of the game show are making a contribution to charity on Gupta's behalf. The medic's charity of choice is Odyssey Atlanta, which offers summer camps to children from underserved communities.
When his tenure as a host was announced, Gupta took to Instagram to pay tribute to Trebek. He wrote, "I used to watch @jeopardy with my parents and now with my own kids. The thing is: there is just something so beautiful and reassuring about facts, simple straightforward facts. I cherish that. An honor to be an upcoming guest host, but seriously miss the great Alex Trebek."
Speaking of his new temporary role in an interview with News-Press, Gupta said: "The funny thing is, when I was younger, we used to watch Jeopardy! together, quite a bit.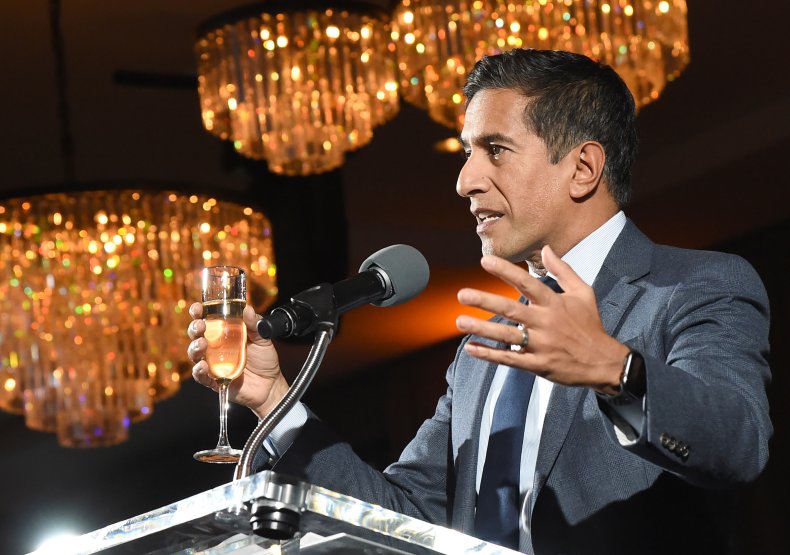 "It was one of those shows that we could all watch together. It would have topics on scientists and mathematics and foreign countries. As immigrants, they knew a lot of answers. And I knew a lot of the answers."
After Gupta, just five guest hosts remain. They are as follows:
George Stephanopoulos: July 12 - 16
Robin Roberts: July 19 - 23
LeVar Burton: July 26 - 30
David Faber: Aug 2 - Aug 6
Joe Buck: Aug 9 -13