'Jeopardy!': Latest Guest Hosts Announced
Jeopardy! is set to be hosted by a series of guest hosts following the death of Alex Trebek. So far, show alum Ken Jennings and executive producer Mike Richards have hosted the show, and the show team has now announced eight other interim hosts who will fill the gap while the show searches for a permanent replacement for Trebek.
In February, four new Jeopardy! guest hosts were announced. CNN anchor Anderson Cooper, talk show host Dr. Mehmet Oz, NBC presenter Savannah Guthrie and CNN chief medical correspondent Dr. Sanjay Gupta are the latest names to be added to the ever-growing roster.
Of these four, Gupta is the only one to tweet about his upcoming role (though Dr. Oz did retweet the announcement). Gupta wrote: "I used to watch @Jeopardy with my parents and now with my own kids. The thing is: there is just something so beautiful and reassuring about facts, simple straightforward facts. I cherish that. An honor to be an upcoming guest host, but seriously miss the great Alex Trebek."
In November 2020, however, Cooper (a two-time Jeopardy! winner) did feature a tribute to Trebek on his Instagram. Alongside a photo from Cooper's appearance on a Jeopardy! Power Players Tournament, the anchor wrote: "I began watching @Jeopardy! in high school and getting to compete on the show several times, and meet Alex, was a dream come true, even when @cheechmarin crushed me. Thank you Alex for the decades of dedication, and i hope your family finds some comfort in knowing how deeply you were loved and admired by all of us."
Previously announced as interim hosts were NFL quarterback Aaron Rodgers (another former champion), journalist Katie Couric, Bill Whitaker of 60 Minutes and The Big Bang Theory Star Mayim Bialik.
Previously, the show's executive producer Mike Richards, who is currently alternating hosting duties with Jennings, has said that the guest host line-up would be a mix of figures effectively auditioning to be the host's replacement and others taking the opportunity to pay tribute to the show and to the legacy of Trebek.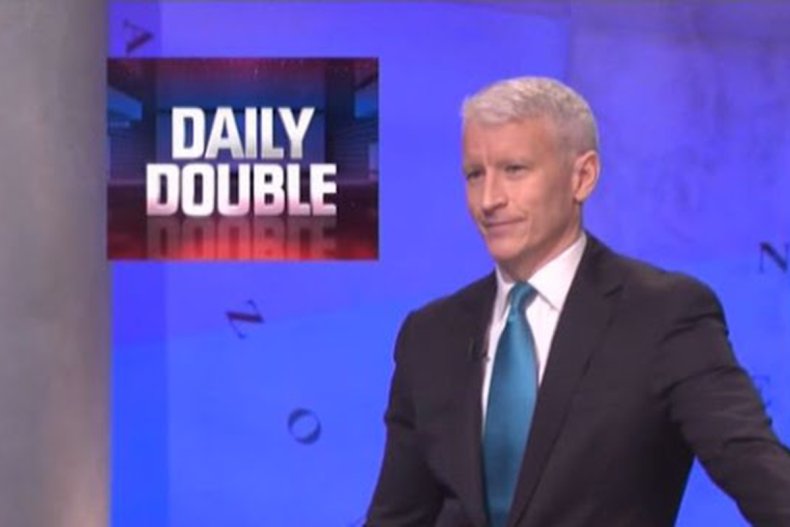 More guest hosts are to be announced later in the year. Among possible future presenters are anchor George Stephanopoulos, who has reportedly been lobbying for the job, and LeVar Burton, who swiftly became the internet's favored option to take over from Trebek after his death from pancreatic cancer.
In January, Sports Betting Dime released the latest set of odds for who will eventually become the permanent Jeopardy! guest host. Jennings remains the betting favorite at +250, with Couric second at +300, Richards at +700 and Cooper at +700. Despite neither having been announced as a potential host, Stephanopoulos and Burton remain joint third favorites at +600.
It could be a while before fans get to find out the permanent replacement for Trebek, however. Richards told Deadline that a decision would not be made until at least the spring, adding: "We are going to take our time and talk to a lot of people, have some people guest host and see what our fans think as well."