For any die-hard fan of the show, if the clue was "2021," the response should most definitely be: "What is the most eventful year in Jeopardy! history?"
The long-running quiz show, which has been beamed into American homes in its current format for almost 40 years, has had an unusual 12 months, becoming the focus of a stream of headlines that have captivated fans like a primetime soap.
A steady ship that has raised generations of families, an undeniable factor in the appeal of Jeopardy! provided was its dependability.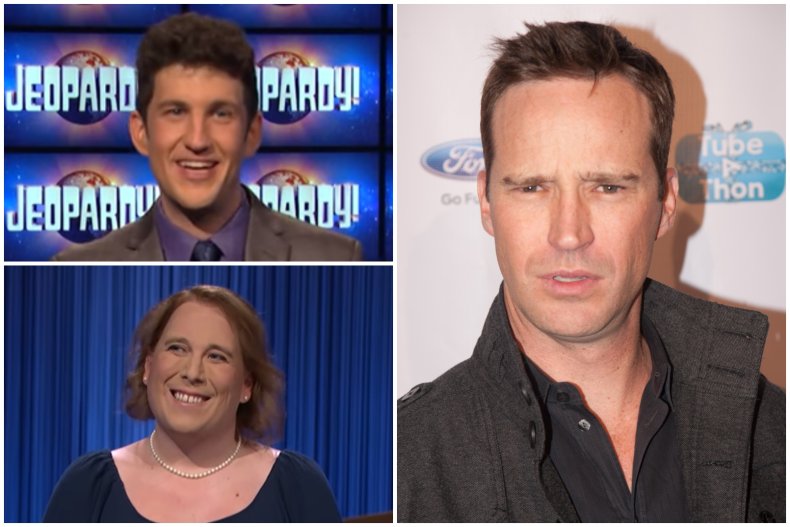 No matter what was going on in the world beyond the nation's living room blinds, late great host Alex Trebek was consistently present, crowning one champ after another and delivering zingers with superhuman levels of precision.
As such, Trebek's death on November 8, 2020, following an almost two-year battle with pancreatic cancer, proved to be devastating not only for his loved ones, but also for the millions of fans who welcomed him into their homes every weeknight for decades.
While it meant that an already unprecedented year was ending on a note of uncertainty, few could have guessed the twists and turns that lay ahead for the show.
As 2021 draws to a close, Newsweek looks back on the series of events that made this year one to remember for all Jeopardy! fans.
Saying Goodbye to Alex Trebek
While Trebek passed away at the end of 2020, his final episode—which was taped just 10 days before his death—was held back from its intended Christmas Day broadcast by producers, so that the holiday rush wouldn't rob viewers of their opportunity to say goodbye.
Airing on its revised date of January 8, the episode chugged along as smoothly as always, though it was notable for announcer Johnny Gilbert wishing viewers a "Merry Christmas," as well as a category in the first round being "Christmas Movies."
The viewing experience became an emotional one when the show ended with a tribute montage, showing clips from some of Trebek's 37 seasons as host of the show.
A message at the end of clip, that was also shared on social media, read: "Dedicated to Alex Trebek. Forever in our Hearts. Always our Inspiration."
The Great Guest Host Run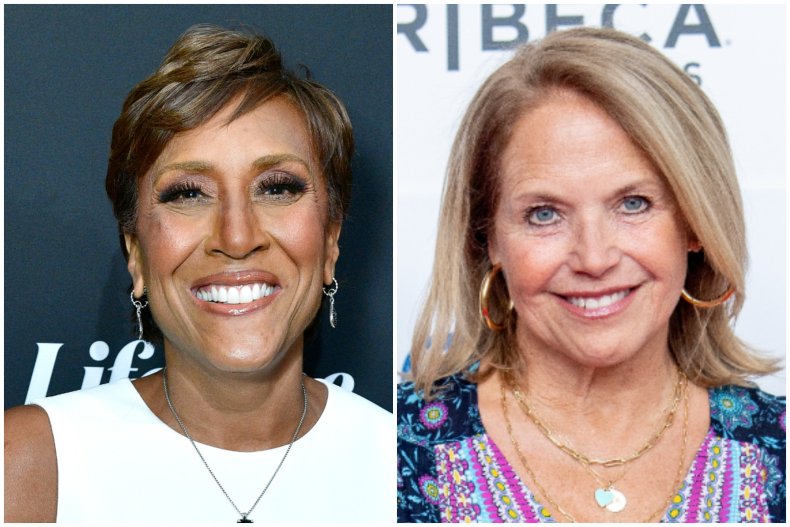 Though all would admit that Trebek's shoes are all but impossible to fill, a search kicked off in January for a new permanent presenter.
An exhaustive list of celebrities signed up for the opportunity to stand at the lectern, including Robin Roberts, George Stephanopoulos, Katie Couric, Aaron Rodgers, Bill Whitaker, David Faber, Joe Buck, Anderson Cooper, Mayim Bialik, Dr. Mehmet Oz, Savannah Guthrie and Dr. Sanjay Gupta.
Ken Jennings, who holds the distinction of being the all-time Jeopardy! champ kicked off proceedings with several weeks as the first guest host, followed by the show's executive producer Mike Richards (more on him later, obviously).
The stars' stints were met with varying degrees of viewer enthusiasm, with each one bringing their own presenting style to the show, as one or two also openly expressed their desire to land the coveted job.
LeVar Burton the Frontrunner?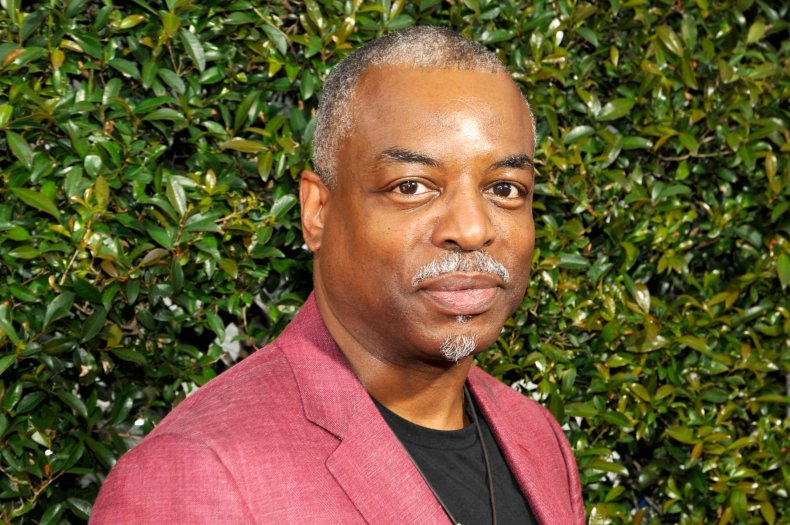 With each of the guest hosts being familiar faces on TV screens, it was inevitable that they arrived with supporters cheering them on across social media—though none seemed to get support like LeVar Burton.
While his week-long stint wouldn't air until the final week of July, fans had signed a petition in the thousands for the Reading Rainbow host to be Trebek's successor.
In an April interview with Newsweek, he made his own case for the job, saying: "I think I could continue his legacy, I think I would do it proud. Yeah, I think I would bring myself and my skills and my life experience. I believe that I will be honoring Alex's legacy by standing on the podium."
Referring to the fan petition that was launched on his behalf, the Star Trek: The Next Generation actor noted: "I think that's because it feels as right to them perhaps as it does to me. It just feels like a good fit—it feels like the right thing."
The Numbers Roll In
As the summer drew to a close, and Joe Buck completed his term as the final guest host, the ratings rolled in from Nielsen Media Research.
The viewing figures showed a pattern where the earlier guest hosts landed the biggest audiences, likely due in large part to initial viewer curiosity. As such, Jennings landed the highest numbers with a 6.1 audience share.
At the opposite end of the spectrum was, rather shockingly, Burton, drew in the lowest figures of all the celebrities with a 4.4 audience share.
Though he arrived with an army of support and anticipation, his week of episodes aired during the final week in July, leaving the show to compete with the Olympics, as well as a number of preemptions.
Several weeks later, Burton told The Daily Show host Trevor Noah that getting a taste of hosting the show made him realize that he didn't want the job after all.
Mike Richards Debacle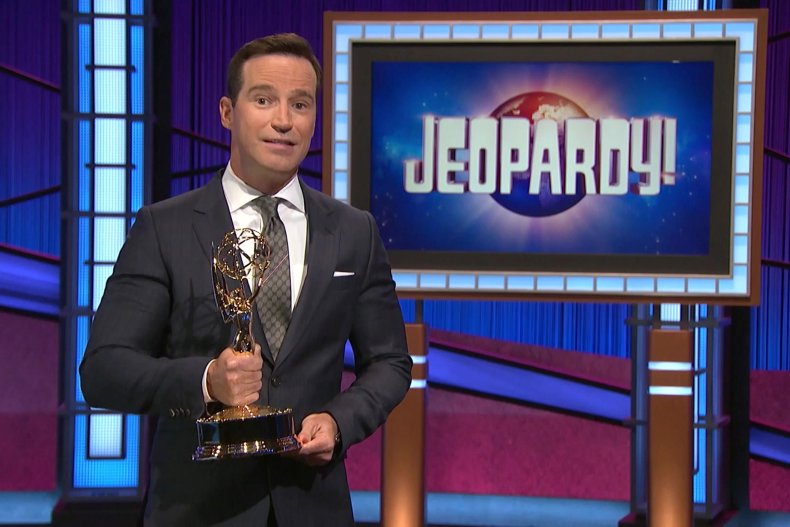 After what felt like endless weeks of speculation, Sony Pictures Television announced on August 9 that the new permanent host of the show was... Jeopardy! executive producer Mike Richards. It was also announced that Bialik would present the show's specials and tournaments.
A "humbled and deeply honored" Richards announced to staff that he was taking on the role, though he was already under the darkening cloud of sexual harassment and discrimination lawsuits coming back to haunt him from when he was a producer on The Price Is Right.
Compounding the resurfacing of the lawsuits was a damning report from The Ringer, which detailed the offensive comments Richards had made several years ago on his now-defunct podcast.
Before fans could adjust to the idea of Richards as the man at the helm, he both apologized for his comments and resigned from his newly appointed role. By the end of August, he was also out of his job as Jeopardy! executive producer.
Mayim Bialik, Ken Jennings Step In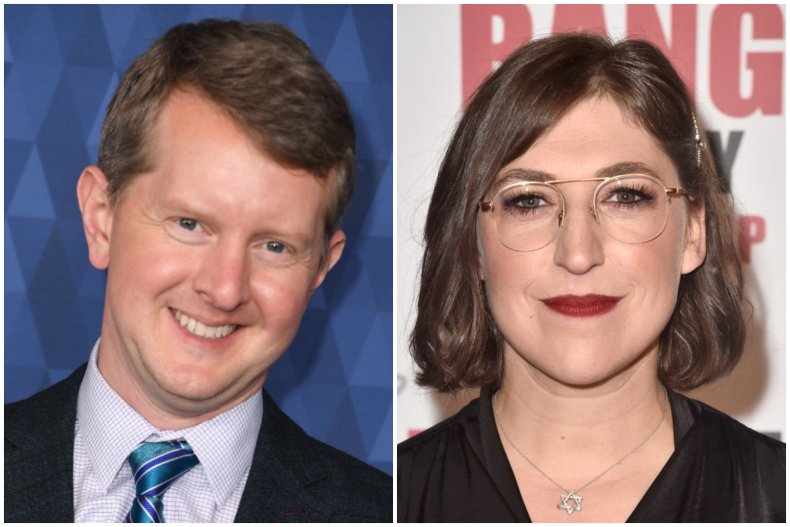 Bialik immediately stepped in to replace Richards, who had taped just one week's worth of episodes—Season 38's opening installments—during his blink-and-you'll-miss-it term as presenter.
From September onwards, she became the face of the show, helping to steer the headlines away from the apparent behind-the-scenes chaos Richards had left in his wake.
In a September essay for Newsweek, Bialik broke her silence on Richards' unceremonious exit, which remained a talking point for weeks after his departure.
"Of course I was in touch with Mike as he was my boss at that time, and I don't wish ill on him, or anyone," she said. "But the complexity of these situations is not something that can be summed up easily.
"My first response, when all of this went down, was to say to the Jeopardy! team: 'How can I help?' Because I am part of this family."
In the fall, it was announced that Bialik's episodes would air until the start of November, before Jennings—who also serves as a consulting producer on the show—would take over as presenter.
By December, it was announced that the stars would be splitting hosting duties between them for the remainder of the 2021/2022 season.
The Matt Amodio Rodeo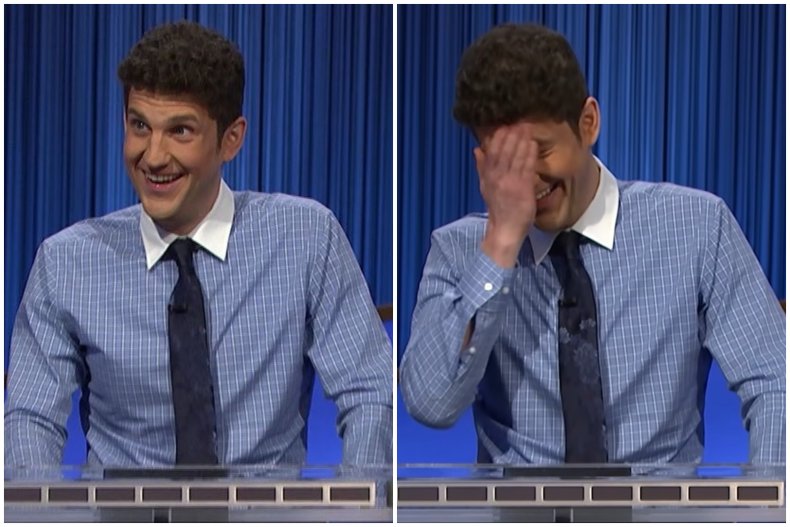 Reminding Jeopardy! fans that they needed to keep their eyes on the contestants, Matt Amodio had been tearing through the competition on an historic run that started in the summer and wouldn't end until October.
As one guest host replaced another, and Bialik replaced Richards, Amodio brought a fresh dose of excitement to the show as he broke records and steadily climbed up the ladder in the Jeopardy! contestant hall of fame.
The Yale Ph.D. candidate proved to be a memorable contestant for a number of reasons, not least because of his unconventional style of answering all clues with "what's"—even when referring to people or places.
In an essay for Newsweek, which was published in October, the Ohio native quipped that his ultimate goal was to beat Jennings' record by $1 (Jennings sits atop the earnings table with $2,520,700 in regular season play and a 74-game win streak).
Alas, Amodio had earned himself a far-from-shabby $1,518,601 when he was defeated by actor Jonathan Fisher after winning 38 consecutive games (placing him second on the all-time leaderboard).
Accusations of Throwing the Game
Such was the shock among fans that Amodio had lost that speculation soon spread that he was tired of being on the show and had thrown the game.
Amodio assured Newsweek that this was far from the case, as he relished winning far too much to purposely break his phenomenal streak.
"I really like winning Jeopardy games," the artificial intelligence researcher said over email. "I always want to do that more."
Fisher shared in a Newsweek essay soon afterward that there was no way Amodio could have thrown the game on the day that he emerged as victor.
Proving that he was also a force to be reckoned with, Florida native Fisher would go on an 11-game win streak, qualifying him for 2022's Tournament of Champions (this year's contestants become eligible for the tournament after winning four or more games).
Behold, Amy Schneider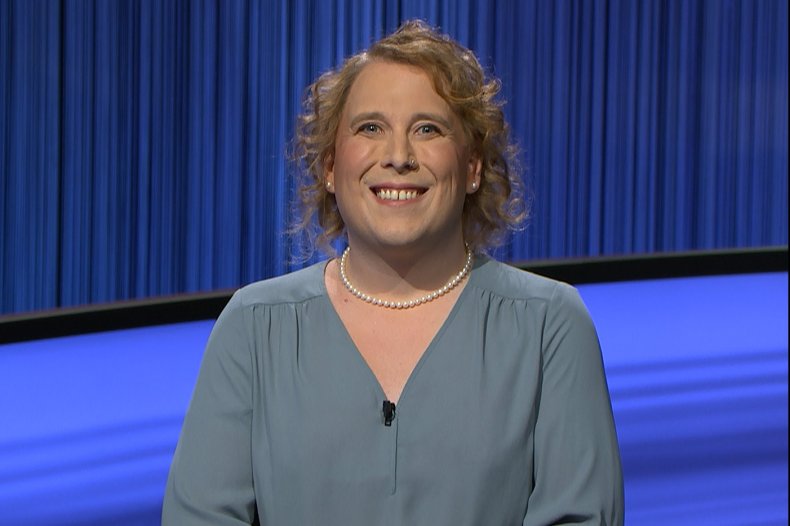 Fans would only have to wait a matter of weeks before another formidable force would arrive to compete on the show—this time in the form of Amy Schneider.
The engineering manager, who is based in Oakland, California, soundly defeated five-time champ Andrew He in her debut episode in November, which happened to air during Trans Awareness Week.
Schneider became an instantly impactful force, making history as the first transgender women to qualify for the Tournament of Champions.
In an interview with Newsweek days after her first win, Schneider revealed that competing on Jeopardy! was a dream realized after over a decade of unsuccessful attempts to become a contestant.
Explaining why she may have been overlooked, Schneider said: "The reality is that for the first few years of that, when I was trying out, I was, as far as any of us knew, a standard white guy. And there's just more competition for those slots on Jeopardy!
"They're making a TV show, they don't want everybody to look the same, and looked a lot like many of the other contestants, and I think that definitely made it a little tougher for me at that time. I would have got on eventually—I was never gonna stop trying!"
With her win streak getting into double figures, it appears that Schneider could be a part of the Jeopardy! fold for some time to come—particularly as she has expressed ambitions to both beat James Holzhauer's record of 32 games and pass the $1 million mark in earnings.
The Search Continues
With Jennings and Bialik comfortably slotted into their joint presenting roles on Jeopardy! for the remainder of the season, it would appear that the wait continues for the announcement of a new permanent host.
While it's not known who producers have in mind for the job, former Jeopardy! champ Arthur Chu said in an October interview with Newsweek that producers must select a new permanent host "as soon as possible."
Chu, who enjoyed an 11-game win streak in 2014, added that whoever succeeds beloved host Trebek should possess endearing qualities not dissimilar to the veteran TV personality.
Listing those attributes, Chu said: "Primarily a steady hand, a willingness to stick to the background and 'let the contestants be the stars,' as Alex Trebek put it, and a capacity for being relatable, human and reassuring without crossing the line to taking the spotlight themselves.
"It's not easy and it often seems to go against the instincts of many actors and performers, which is why truly great hosts are rare."