'Jeopardy!' Host Alex Trebek Says If 'Cancer Won't Kill Me, the Chemo Will Kill Me'
Alex Trebek gave audiences an update on his ongoing battle with pancreatic cancer during the ABC special What is Jeopardy? on Thursday night.
During an interview with former Live! With Michael and Kelly and current GMA3 host Michael Strahan, Trebek revealed that some days are better than others but he continues to fight the disease.
He spoke about the moment a contestant wrote "We Love You Alex" as an answer during a round of Final Jeopardy.
"I read it first, and then I got choked up because it kind of registered with me," Trebek said.
Trebek spoke candidly about the process of his diagnosis, which came after strong stomach pains. "I knew as soon as the doctor came back and mentioned the pancreas, 'Uh oh, this is going to be cancer.'"
"It's part of life. Does that mean I'm courageous because i'm dealing with it? No. Maybe I am courageous," Trebek said, adding sarcastically, "Way to go, Alex."
He spoke about the ongoing process of chemotherapy, which initially produced encouraging results, saying "The cancer won't kill me, the chemo will kill me."
Trebek added that he's been seeking alternative and experimental treatments for the cancer. "I don't know what comes next. Let's go for it."
"For me, it's when i see him in pain and I can't help him," said Jean Trebek, Alex Trebek's wife of over 20 years. "When he doesn't eat right. When he has too much diet soda."
"When you get to be 79 and be in as good a shape as I... oh darn it!" Alex Trebek joked. "Blew it, Alex." He admitted she has to "tread lightly" around him when he's in severe pain.
He also addressed matters of faith and mortality.
"I believe in a higher power....he or she is busy enough looking after more serious problems in the world. But I don't minimize the power of prayer," he said.
"Most of us have an open ended life. It's no longer an open-ended life, it's a close-ended life," he said, given the poor survival rate for pancreatic cancer.
"I'm not sure I always have this positive frame of mind." He later admitted, "My self-deprecating humor is worth its weight in gold."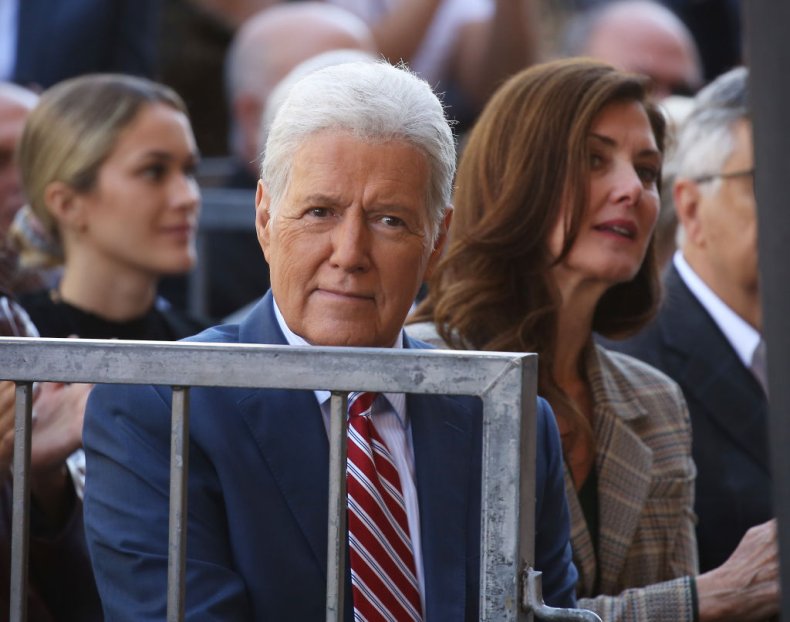 Trebek said during the special that he doesn't know when his last show will be, and that he hopes to stay with the show as his skills aren't diminished.
"It'll be a significant moment for me. But I've kind of in my mind rehearsed it already. And what I would do on that day is tell the director, 'Time the show down to leave me 30 seconds at the end, that's all I want.' And I will say my goodbyes. I will tell people, 'Don't ask me who's going to replace me, because I have no say in that whatsoever, but I'm sure that if you give them the same love and attention and respect that you've shown me for the past 30-however many years, then they will be a success and the show will continue being a success. And until we meet again, God bless you, and goodbye,'" Trebek said.
"He's been so gracious...he's playing the hand he's been dealt, and he's really playing it so beautifully," said Michele Loud, Jeopardy! producer and co-head writer.
But the special didn't just focus in on Trebek's stage four cancer. His place in pop culture was also a subject of the special, including the famous Saturday Night Live "Celebrity Jeopardy!' sketches.
"How do you feel about Sean Connery? I haven't met him, but if I do, I'll give him one of those," Trebek joked, miming a punch.
The special addressed how the show runs on an average taping day, its history and its casting procedures, from the questionnaire potential guests must fill out to the five changes of clothing selected contestants must bring with them in case they end up on a weeklong winning streak. The clue-writing and fact-checking process of the show were also addressed.
Merv Griffin, creator of the show,was revealed to have written the show's iconic theme song, entitled "Think!," on Marlon Brando's old piano.
"It's a catchy tune, and it has earned a ton of money," Trebek said. Over $80 million, according to Griffin's son, Tony.
Jeopardy: The Greatest of All Time, a battle between the show's three all-time champions, Ken Jennings, Brad Rutter and James Holzhauer, will air as a prime-time special on Tuesday evening on ABC.