'Jeopardy!' Host Mayim Bialik Breaks Silence on Mike Richards' Ousting
Incoming Jeopardy! host Mayim Bialik has broken her silence on the Mike Richards scandal, revealing how she reacted to his ousting from the show.
As has been well documented over the past several weeks, the show's then-executive producer Richards was named as the successor to beloved late host Alex Trebek, following a months-long search for a new permanent presenter.
After a who's who of TV personalities tried out for the coveted role, Richards was announced as host of the primetime nightly show, while it was revealed that Bialik would helm Jeopardy! specials and tournaments.
However, Richards' moment of glory proved to be short-lived, as reports resurfaced of the models who had previously accused him of engaging in discriminatory behavior against them during his stint as a producer on The Price Is Right.
Calls for Richards to be booted from his shiny new role were then turned up a notch when The Ringer published a report detailing a series of offensive comments he had made while hosting his now-defunct podcast between 2013 and 2014.
On August 20—just nine days after his hosting role was announced—Richards stepped down. Days later, it was also announced that he was out as executive producer of Jeopardy! and Wheel of Fortune.
In an essay for Newsweek, The Big Bang Theory star Bialik has revealed for the first time how she reacted to learning of Richards' rapid departure.
Bialik recounted the "awesome" news she had received from executives at Sony Pictures Television about landing her job, while still in the dark about who had been selected for the primetime show.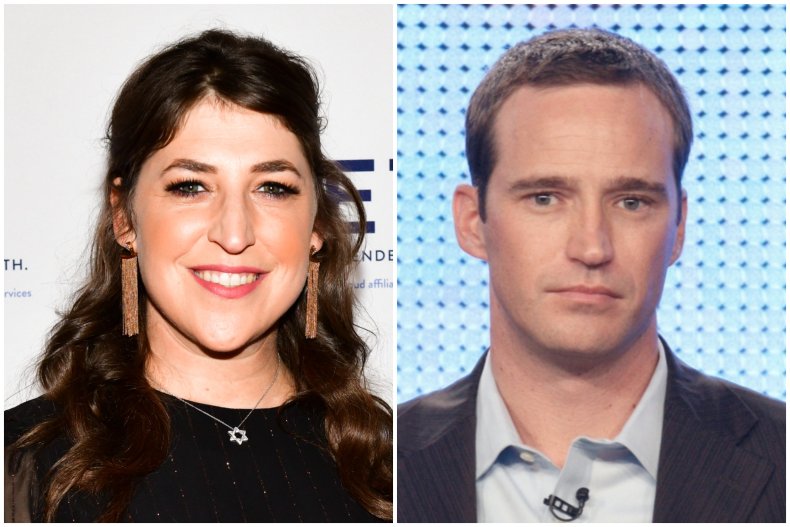 She wrote: "I didn't immediately know who the other host was going to be, and after Mike Richards was announced as permanent host, a couple more weeks passed and then everything changed and Mike stepped down.
"I think everyone who works with me will say that, as a person who has been acting since I was a kid, I go where I'm pointed and I do the job I'm told to do. I do what's in front of me. I don't really follow the news aspect of my industry too much. That's how I approached what was going on."
"Of course I was in touch with Mike as he was my boss at that time, and I don't wish ill on him, or anyone," she went on. "But the complexity of these situations is not something that can be summed up easily.
"My first response, when all of this went down, was to say to the Jeopardy! team: 'How can I help?' Because I am part of this family."
With Richards having already shot one week's worth of episodes at the time that he stepped down, he was shown hosting the first five installments of Season 38 last week, while Bialik will be seen taking over the reins from Monday.
Away from the scandal, Bialik discussed how "honored" she feels to have been given the task of stepping in as a host on the long-running quiz show.
She wrote in her essay for Newsweek: "I feel very honored to have been given the responsibility and the opportunity to step up into this hosting position. It's been as dreamy as it was for the two days that I guest hosted.
"I work very long days, but they fly by. We shoot five episodes a day and I get to meet fascinating people from all walks of life.
"Of course, I am grateful and honored to carve out so much of my time on behalf of Jeopardy!, because I feel very connected to the show, the legacy and everything that Alex and the team behind the scenes have built."
Bialik will be seen hosting Jeopardy! from Monday until November 5, after which she will split presenting duties with the show's all-time champ, Ken Jennings, for the remainder of the calendar year.
Read Mayim Bialik's full essay here.