How Does Jeopardy Keep Winner Results From Leaking? Gambling Service Bets James Holzhauer Will Beat Ken Jennings Record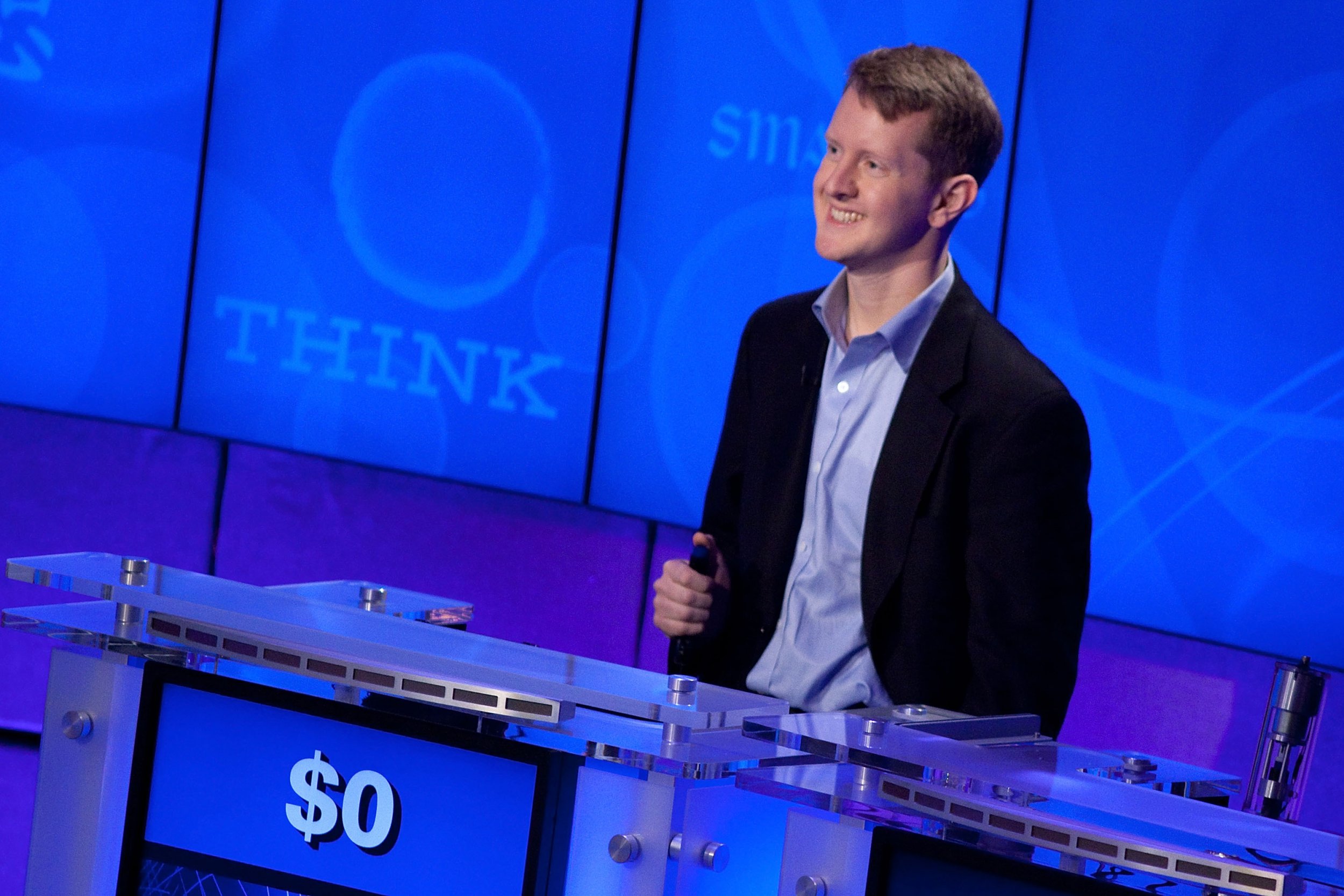 James Holzhauer is well on his way to becoming one of Jeopardy!'s most notable champions after winning the four highest-scoring games in the show's history, having racked up more than $850,000 in just 11 episodes. Some people believe the 34-year-old will eventually wrest the record for highest total winnings from Ken Jennings, who won an astounding 74 consecutive shows.
Sportsbook Bet Online released its prediction that Holzhauer could best Jennings' total winnings of $2.52 million before he retires from the syndicated game show. The online service is taking bets on this prediction, giving 3/2 odds Holzhauer will beat Jennings.
But, given that Jeopardy! shows are taped months in advance of their airdate, and in front of a studio audience, how can anyone take or place this sort of bet? Even though the in-studio viewers, contestants, and crew likely sign non-disclosure agreements preventing them from speaking, that hasn't always stopped leaks from high-profile shows in the past. Competition series like Big Brother or The Bachelor are regularly spoiled online despite tight controls.
Sony Pictures Entertainment, which produces the long-running show, has not yet responded to Newsweek's request for comment on how it plans to keep the Holzhauer streak under wraps. However, fans speculated over how the winners of the game remain a secret despite being taped in front of a live audience.
Reddit user u/spmahn posed the question on a Jeopardy! subreddit on Thursday and dozens of fans responded, suggesting that audience members may be requested to sign non-disclosure agreements (NDAs). One viewer claimed the finale taping of the Ultimate Tournament of Champions on Jeopardy! did not include an outside audience at all.
A former Jeopardy! contestant, who asked that we not share her identity, told Newsweek that she couldn't recall if the audience were required to sign NDAs, but that she definitely recalled crew members stressing to in-studio viewers that they were not to talk publicly about the shows they saw being taped.
Another former contestant, Kathryn Kienholz, who won a cool $22,000 from her December 2018 appearance on Jeopardy!, told Wisconsin's Leader Register she had to sign an NDA to even receive her earnings. Kienholz filmed Jeopardy! on November 7, 2018, although her winning episode did not air until a month later.
Keinholz said she had to wait 120 days to even receive her winnings as a caveat of the NDA to prevent her from revealing the results of the show in any capacity.
"As soon as she won, she had to sign a pile of papers," Smokey Jensen, Keinholz's husband, said to the newspaper in January.
Jeopardy! host Alex Trebeck announced Wednesday that the crew had completed taping of Season 35 of the show. A typical season of the show has around 230 episodes in total since 1997, according to J-Archive.com. So far, only about 160 episodes have aired from Season 35, leaving approximately 70 more for Holzhauer, who had racked up $851,926 in total winnings as of the April 19 show, to continue his run.
In terms of games won, Holzhauer has a long way to go to catch up to Jennings' record-setting 74-game run on Jeopardy!. While that streak was also ultimately the most lucrative total on the show, Holzhauer could surpass Jennings' total winnings without having to be on the show for so many episodes.
Holzhauer has repeatedly broken, then rebroken, the record for highest earnings in a single game. Before him, no player had surpassed $80,000 in one day. Holzhauer has done better than that amount four times, and twice finished with more than $100,000. His record currently stands at $131,137, which he set on the April 17 show.
His average winnings so far are in excess of $77,000 per show. At that rate, and assuming he doesn't falter in the trivia department, Holzhauer would catch up to Jennings at around episode 32 or 33 of his streak — less than half of what it took Jennings.
The last person to top the record for the biggest earnings on a single day was Roger Craig, who won $77,000 in an episode that aired on September 14, 2010. Jennings' biggest win in a single game was only $75,000.
Jennings, who first appeared on Jeopardy! in 2004, is just as fascinated with Holzhauer's winning streak as everyone else. In an interview with Wired, released on Friday, the author said he was "gobsmacked" by Holzhauer.
"I thought I had seen everything on Jeopardy!. And this is something I would have thought was just impossible, these numbers," he said. "Statistically1, he's playing at as high a level as anyone who's ever played the game. And then he's got these incredibly confident wagers. He's maximizing money. He can make two or three times what any other player ever has with that same level of play, which again is top-shelf. He's as good as anybody."
As for whether or not he's worried about Holzhauer coming for his record, Jennings said he was "interested" to watch what happens. "I've always been on the record as believing that my streak was replicable," he said.
Jennings added: "It's just mystified me that nobody has made much of a run at it in 15 years. The reason I'm so confident in that is that I was the one who did it! I was there. I know it can be done. So I'm very excited. As a fan of the show, I'm actually rooting for James or anybody who can take a swing at that record."