Ken Jennings Responds to Current 'Jeopardy!' Leader James Holzhauer's 'Insane' Game Strategy
Current Jeopardy! leader James Holzhauer has set multiple records throughout his 10 consecutive wins on the popular trivia show. While many are dumbfounded by the seemingly unstoppable Las Vegas sports bettor, one Jeopardy! Hall of Famer has also taken notice.
Ken Jennings, the current record-holder for the highest amount of winnings in the show's history, tweeted Wednesday acknowledging Holzhauer's "insane" game strategy.
"This is absolutely insane. I've always wanted to see someone try Jeopardy! wagering this way who had the skills to back it up," the trivia master wrote.
It doesn't seem to bother Jennings that Holzhauer may be coming after his title. Winning nearly $700,000 in 10 games, the 34-year-old looks to be on track to reach Jennings' record of over $2.5 million over the course of 74 games.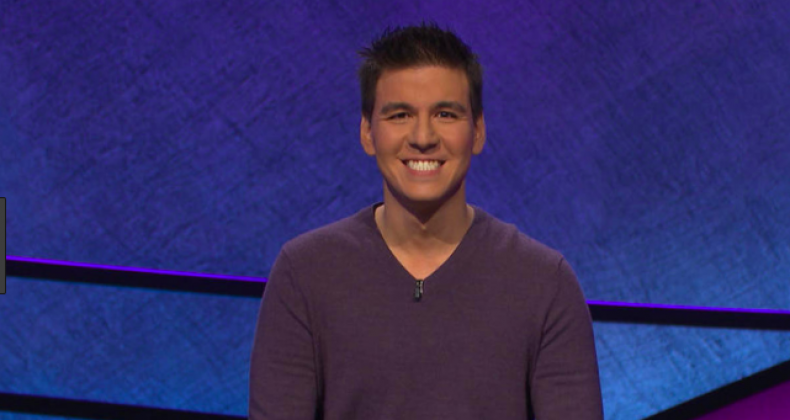 Since shattering Roger Craig's single-game winnings record of $77,000 on April 9 with over $89,000, Holzhauer has broken his own record three more times. He now holds the top spot of single-game winnings at over $131,000.
Along with Craig's record, the 34-year-old also smashed Dan Madden's winning record of $430,400 in 19 games Monday, after accumulating over $460,000 in only eight games.
As previously reported, Jeopardy! is not the first game show that Holzhauer—who grew up in Naperville, Illinois—has appeared on. In 2014, he was a contestant on an episode of The Chase, putting in a strong performance, which he said prepared him well for his latest success.
"I think being on The Chase made me better prepared for the pressure of the cameras and lights, and it boosted my confidence going into Jeopardy! since I knew I was capable of winning on a big stage," he told The Naperville Sun.
He also appeared on the show 500 Questions in 2015, according to heavy.com. Aside from his game show exploits, Holzhauer is also a competitive bridge player and a professional sports gambler.
At the end of Tuesday's show—which was taped in February—host Alex Trebek suggested that Holzhauer could be on his way to matching the achievements of Jennings. "Is it too soon to start thinking about Ken Jennings comparisons?" Trebek asked.
Jennings has held his title of highest Jeopardy! winnings since 2004. Find out how close Holzhauer gets to the record when Jeopardy! airs weekdays on ABC at 7 p.m. ET.