How Ken Jennings Plans To Beat James Holzhauer and Brad Rutter on 'Jeopardy!' The Greatest of All Time': 'I Have a Pretend Buzzer'
Ken Jennings is looking to add yet another impressive title to his list of Jeopardy! achievements—the greatest contestant of all time—but he'll have to beat fellow record-breakers James Holzhauer and Brad Rutter first.
The men are all expected to compete in the latest game show tournament, Jeopardy! The Greatest of All Time, beginning on Tuesday. Over the course of three nights, the trio will go toe-to-toe in trivia questions delivered by host Alex Trebek, and the first contestant to win three matches will be named the Greatest of All Time in addition to winning a $1 million cash prize.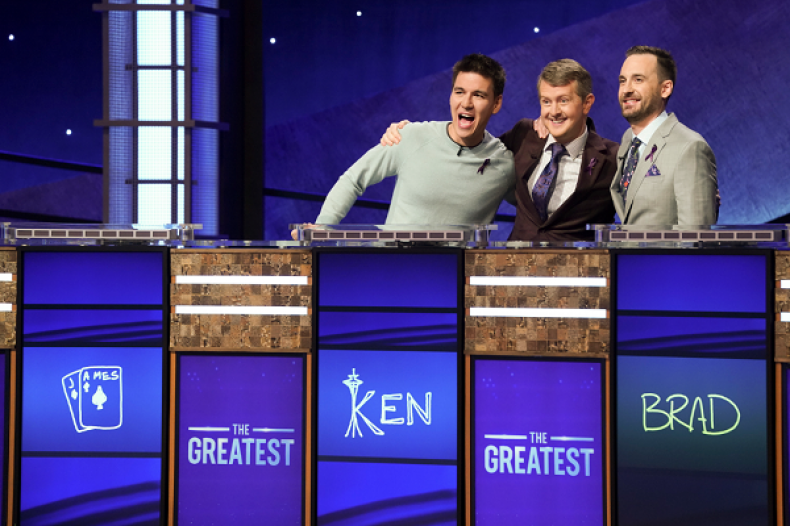 Jennings currently holds the record for most consecutive Jeopardy! wins—he won a whopping 74 consecutive games before he was knocked from his throne in 2004—as well as the highest earner during regular-season play thanks to his $2,520,700 in winnings. He's been preparing for months to add the G.O.A.T. title to his repertoire.
"The best way to prepare for this tournament is [to] watch a lot of Jeopardy!," Jennings told Seattle Refined in an interview released Thursday. "I have a pretend buzzer that I play along with, and I watch Alex every night."
Although the most seasoned Jeopardy! player, the 45-year-old Washington state native was confident he could have just as successful of a turnout in the upcoming tournament as he has with his previous Jeopardy! appearances, especially since he had the longest history on the show. "My biggest advantage is comfort out there," he said.
"It's very intense before. I never sleep well the night before, but when I'm out there it's like, 'Yea, this is the thing I do. I'm at work,'" he continued. "I always have a great time and I always feel very relaxed, and that's what I always tell people about the way to play Jeopardy! If you have a good time, then you play better. So maybe being a little less intense will help me out."
His familiarity with his fellow contestants' playing style may be another advantage. Jennings has already competed against Rutter, 41, in four different tournaments—he's come second to Rutter in all of them—but the competition will mark 36-year-old Holzhauer's first tournament, which Jennings said puts him a step ahead.
"A lot of the things that people notice about James on TV is that he jumps out to the big lead and the game is over by the first ad break," he said. "That's going to be a lot less effective during the tournament situation—that shock and awe approach. Brad and I are not going to be intimidated by that. He's not going to be able to make some blow up bet on the first Daily Double and we just hang up our buzzers, which happened a lot during his regular games."
He added: "People are going to put all of their chips when they have an opportunity because there's not going to be many chances."
During his appearance on Good Morning America, Rutter noted how learning his opponents' playing-style goes a long way. "Similar to football, you can go back and look at the tape of the other competitors and see what their strengths and weaknesses are," Rutter said.
Rutter holds the title for highest overall earner on Jeopardy! after amassing $4.69 million in winnings from regular-season games and tournaments.
Jeopardy! The Greatest of All Time airs on ABC on Tuesday at 8 p.m. ET.