Current Jeopardy! champ Matt Amodio has admitted that he thought he wasn't "good enough" to compete on the show before successfully applying.
The Ph.D. Yale computer science student, 30, extended his winning streak to 21 games in Wednesday's episode—solidifying his position as the third most successful contestant in the long-running show's history.
And in a Jeopardy! Q&A session, posted to YouTube on Wednesday, Amodio admitted that his stint on the show might not have happened, were it not for his father's early encouragement.
When asked how he ended up on the show, Amodio responded: "So I like Jeopardy! I've seen, I think, every episode in my lifetime. And I, nonetheless, didn't think I would be good enough to be on the show.
"My dad said, 'Take the Anytime Test. Nothing worse can happen than you won't get on, so just give it a try.'
"I said, 'Fine, I'll do it for you.' And I got a call, and then I got another call, and now I'm here and I just can't believe it."
The Jeopardy! Anytime Test, which is on the syndicated show's official website, gives hopeful contestants 15 seconds to answer 50 clues as a way of deducing whether they'd be suitable candidates to compete before cameras.
After overcoming his own self-doubt, Amodio now recommends others to take the test.
"I think that people out there have a ton of knowledge, but probably a lot of self-doubt too, and they're holding themselves back," he said. "And I just have to encourage them: Go for it, bet on yourself. Give it a try."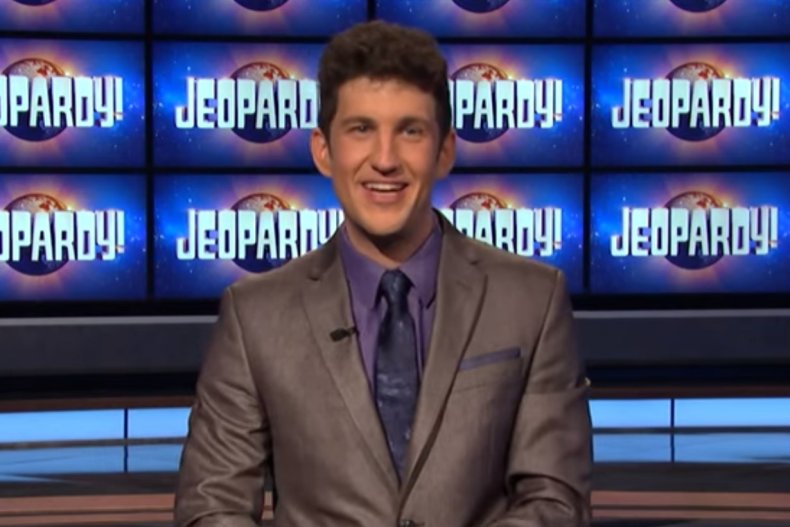 He also shared some advice for those hoping to also enjoy Jeopardy! success: "Read—that's the best advice I can give anybody," he said.
"If you find it mildly interesting, read more about it. If you don't find it mildly interesting, read more about it. You just need to know more and then you'll find that interesting too."
While Amodio's streak has convincingly etched his name into Jeopardy! history books, the Ohio native still struggles with placing himself among the show's greats.
"I can't believe it. It still doesn't make sense," he admitted. "I expect to look at the record book and still see everybody else's name but mine. It will never fit in for me."
Amodio not only sits behind Jeopardy! legend Ken Jennings—who comfortably sits atop the all-time champ list with a phenomenal winning streak of 74 games—he's also on the show legend's radar.
When asked by Jeopardy! producers if he had been contacted by any celebrities since appearing on the show, he responded: "I got a tweet, which I will count, from Ken Jennings. I have not heard from him personally, but he acknowledged my existence on Twitter and I melted to the ground as soon as I saw that.
"There's nobody I respect in the Jeopardy! community, but probably the world, as Ken Jennings. So that was just a treat."
Fan reaction is also taking some getting used to.
He said: "It's been a bit much, both playing and seeing reactions to the games that are airing, and I've just been trying to compartmentalize all of that.
"People have been very nice. I didn't know the internet could also be nice. People have been very nice, and so I've appreciated that."
Elsewhere in the Q&A video, Amodio revealed that he's not a fan of Halloween, has a stance against collecting things, and is a big fan of plain cheese pizza.
He also said that he refused to buy himself any new clothes for appearing on Jeopardy!
"I'm a little bit superstitious about that," he explained, "and I'm worried about acquiring a new wardrobe and then boom, it all ends just like that, and I'm never gonna be able to wear those clothes again."
As well as pulling in a sizable fan base through his broad range of general knowledge, Amodio has also sparked much conversation about the show's rules, thanks to his unconventional style of answering clues.
Amodio's win streak kicked off during Season 37 of the show. When Season 38 premiered on Monday, he arrived with 18 wins and $574,801 in prize money. His current winnings stand at $740,001.