'Jeopardy!' Ratings Saw Uptick With David Faber Hosting After LeVar Burton Low
Jeopardy! ratings saw a small uptick during David Faber's week as guest host earlier this month, following the low hit by predecessor LeVar Burton's stint.
CNBC host Faber's turn at the helm of the syndicated quiz show pulled in a 4.5 percet audience share—a slight improvement on Burton's 4.4, per Next TV.
Like Burton, Faber's five-episode run, which concluded on August 6, was negatively impacted by the Tokyo 2020 Olympic Games.
While Faber's run on the show saw a small rise in ratings, it's still below the previous tied low record held by Savannah Guthrie and Dr. Sanjay Gupta, who pulled in 4.7 during one of their two weeks on the show—a figure also shared by Good Morning America's Robin Roberts during her week at the helm.
On the opposite end of the scale, Ken Jennings—the show's most successful contestant of all time—peaked with a 6.1 audience share during his six-week stint in January, which also happened to be the first of the guest-hosting spots.
Burton's poor ratings proved to be particularly surprising as the Reading Rainbow alum had received an outpouring of support from fans and celebrities alike, as he tried out to become a permanent replacement for beloved late host Alex Trebek.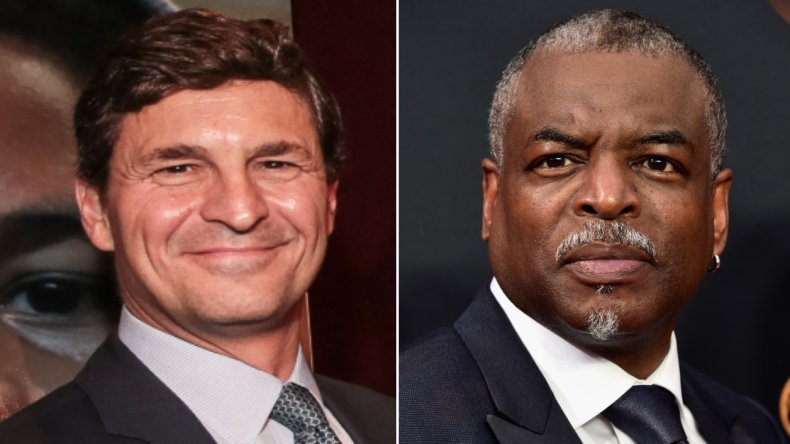 With the Olympics running between July 23 and August 8, Jeopardy! was trounced in the viewership race, as were syndicated shows across the board.
In Burton's case, he also had to contend with a number of preemptions. On July 27—which marked his second day on Jeopardy!—the first hearing of the House Select Committee investigating the January 6 Capitol riot aired.
On July 29—Burton's penultimate day on the show—another dent was made to daytime TV when President Joe Biden announced new measures to boost COVID vaccinations. Hours later, the NBA draft also drew viewers in big numbers.
There was also a gradual tapering off of viewing numbers as each successive guest host took on the coveted role of Jeopardy! quizmaster throughout the year.
Jeopardy! executive producer Mike Richards—who was last week announced as one of the permanent presenters of the show—maintained a 5.9 for his two weeks at the lectern when he took over from first guest host Jennings.
In Katie Couric's case, the first of her two weeks in March proved to be her most successful, with a peak of 5.6, while Dr. Mehmet Oz hit 5.2 when he guest-hosted from the week ending March 28.
Green Bay Packers quarterback Aaron Rodgers saw a ratings rebound, with the first of his two weeks in April pulling in a 5.6, while Bill Whitaker maintained a consistent 5.2 for each of his two weeks in May.
Mayim Bialik—who is also one of the new Jeopardy! hosts—enjoyed a peak of 5.1 when she hosted the show from June. She shared the same numbers with Anderson Cooper and Buzzy Cohen, per Next TV.
The numbers are based on live-plus-same-day national household ratings from Nielsen Media Research.
Figures for Joe Buck's week on the show have yet to be released. Buck rounded out the season as the last of the long list of guest hosts.