Starting next week, ABC will air special episodes of Jeopardy!, including Alex Trebek's very first appearance as the show's host. Due to the pandemic halting production, reruns will now air in place of new episodes. But these aren't just average episodes, in fact, some are pretty special.
On Monday, Jeopardy! will rebroadcast Trebek's premiere episode, which originally aired on September 10, 1984. According to the official website, this is one of the selected 20 episodes that "highlight key moments, contestants and gameplay over the course of 36 seasons." The next four weeks will cover several milestone events picked by producers from over 8,000 episodes.
From July 20-24 highlights from the show's first decade including the first big tournament final from the 10th anniversary and the first super champion, Chuck Forrest, can also be expected. During the last week of July, from the 27th to the 31st, guests from the best of Celebrity Jeopardy! include Harry Connick Jr., Regis Philbin, and Jodie Foster. The first two weeks of August will cover the Million Dollar Masters tournament from the quarterfinals to the finals.
On Twitter, Trebek talked about the upcoming retrospective in an online video. He jokingly teased. "For the first time ever, we are going to open the Jeopardy! vaults and take another look at some of our favorite episodes, including the very first Jeopardy! show I ever hosted, mustache and all."
The Jeopardy! host also discussed the current hiatus of the show in an online video. He said, "Whenever there is a break in our Jeopardy! tape schedule, I often take the opportunity to grow some facial hair. Clearly, I've been doing that while waiting for us to safely return to the studio, which I hope will be very, very soon."
He added, "Once again, I can't wait to return to the studio and start recording shows for the new season in September."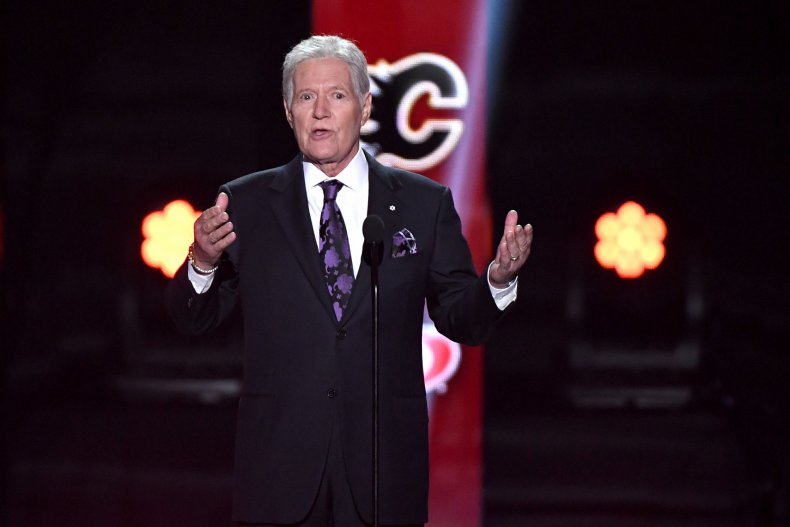 Trebek also gave an online update on his health. He said, "I've been doing well. I've been continuing my treatment and it is paying off though it does fatigue me a great deal. My numbers are good. I'm feeling great."
The 79-year-old host announced he had been diagnosed with Stage 4 pancreatic cancer last year. Five months ago, he celebrated his one-year clear anniversary. At stage four, the survival rate for first-year pancreatic cancer patients is approximately 18 percent.
In the video, Trebek promoted his upcoming memoir, The Answer Is...: Reflections on My Life. The Simon & Schuster book will be released next Tuesday, which also happens to be Trebek's birthday.
Trebeck wrote in his memoir: "I want people to know a little more about the person they have been cheering on for the past year."