'Jeopardy!' Contestants Organize Charitable Play-Along to Support Alex Trebek in Fight Against Pancreatic Cancer
Jeopardy! contestants are hosting a charitable play-along game to raise awareness and money for pancreatic cancer.
In a tweet, Jeopardy! champion Steven Grade announced that during the tournament finals on November 14 and 15 viewers are invited to donate $1 for each answer they guess correctly to the Lustgarten Foundation for Pancreatic Cancer Research.
Alex Trebek, the host of Jeopardy!, is fighting pancreatic cancer and has partnered with the World Pancreatic Cancer Coalition to raise awareness. Larry Martin, who was a Jeopardy! Teachers Tournament champion in 2018, died of the disease earlier this year.
In his tweet, Grade said: "Play one night, play both nights, donate an amount that is right for you, or help spread the word to Jeopardy watchers and non-watchers alike – every little bit helps, and every little bit helps to honor Alex, Larry, and all those who are fighting and have fought pancreatic cancer."
Trebek, 79, announced in March that he had been diagnosed with stage 4 pancreatic cancer. In a video statement, Trebek said: "Now, just like 50,000 other people in the United States each year, this week I was diagnosed with stage 4 pancreatic cancer. Now normally, the prognosis for this is not very encouraging, but I'm going to fight this, and I'm going to keep working.
"And with the love and support of my family and friends and with the help of your prayers also, I plan to beat the low survival rate statistics for this disease. Truth told, I have to! Because under the terms of my contract, I have to host Jeopardy for three more years! So help me. Keep the faith and we'll win. We'll get it done. Thank you."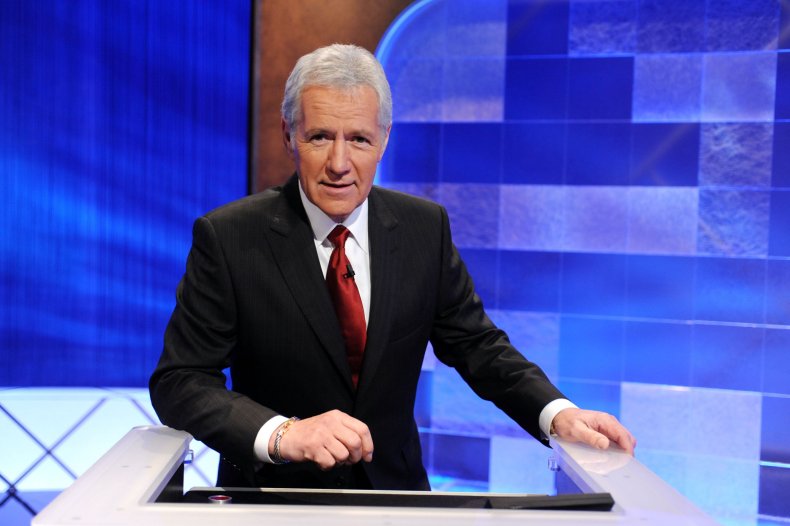 During Monday night's episode of Jeopardy, contestant Dhruv Gaur wrote a message saying "We love you, Alex," instead of answering the question, producing an emotional response from the host. The answer caused Gaur to lose $1,995, leaving him with $5. In response, Trebek said: "Thank you, that's very kind of you. Thank you."
Gaur later tweeted that Trebek had shared with the contestants that he was re-entering treatment for his cancer.
Earlier this month, teen Jeopardy! champion Avi Gupta donated $10,000 of his prize money to the Knight Cancer Institute at Oregon Health & Science University, in honor of Trebek. In a video, Gupta said: "Our goal with this campaign is to support research into pancreatic cancer awareness and early detection."
Contestants have also been wearing purple ribbons during the Tournament of Champions to raise awareness of pancreatic cancer. November is also Pancreatic Cancer Awareness Month.
What is pancreatic cancer?
According to the Mayo Clinic, pancreatic cancer affects the pancreas, an organ which "releases enzymes that aid digestion and hormones that help manage your blood sugar."
It typically spreads to nearby organs and is rarely detected during the early stages. Symptoms include diabetes, weight loss, and jaundice, and treatment includes surgery, chemotherapy, and radiation therapy.
The cause of pancreatic cancer is unknown, although smoking increases the chances of developing the disease.