Jeremy Clarkson To Be Investigated Over Meghan Markle Naked Parade Jab
A newspaper column calling for Meghan Markle to be paraded "naked through the streets" and comparing her to a serial killer is to be investigated by Britain's press regulator.
Jeremy Clarkson, host of Amazon show The Grand Tour, made the remarks in his Sun column last December, after the release of Prince Harry and Meghan's Netflix documentary. He has since apologized.
The U.K. newspaper regulator, the Independent Press Standards Organization, has taken forward a complaint that claims Clarkson's column breached its Editors' Code of Practice.
An Ipso spokesperson told Newsweek: "Ipso can confirm we are investigating a complaint from the Fawcett Society under Clause 3 (Harassment) and Clause 12 (Discrimination)."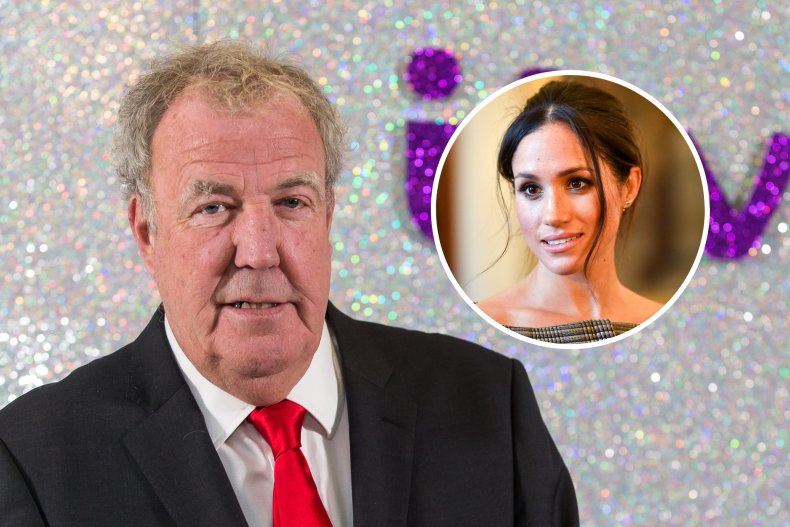 A statement from The Sun, seen by Newsweek, read: "We can confirm we have now received a formal complaint from Ipso. We are considering our response. The Sun has sincerely apologised, and expressed regret at the publication of the column. We have no further comment at this time."
Clarkson wrote in his column: "I hate her. Not like I hate [Scotland's First Minister] Nicola Sturgeon or [serial killer] Rose West. I hate her on a cellular level.
"At night, I'm unable to sleep as I lie there, grinding my teeth and dreaming of the day when she is made to parade naked through the streets of every town in Britain while the crowds chant, 'Shame!' and throw lumps of excrement at her. Everyone who's my age thinks the same way."
His words were condemned by Prince Harry in an ITV interview in January: "Not only is what [Clarkson] said horrific and hurtful and cruel towards my wife, but it also encourages other people around the UK and around the world, men particularly, to go and think that it's acceptable to treat women that way."
Ipso received more than 25,000 complaints about the column but it was one from the Fawcett Society, which campaigns for gender equality, that was carried forward.
The charity wrote on Twitter: "We see evidence of the harm caused by misogyny every single day. We believe the views expressed and language used in Jeremy Clarkson's column … contributed to a culture which normalises violence against women and girls."
It added: "We welcome news that the Independent Press Standards Organization is taking forward our complaint."
Clarkson posted an apology on Instagram in January, writing: "I really am sorry. All the way from the balls of my feet to the follicles on my head. This is me putting my hands up. It's a mea culpa with bells on.
"Usually, I read what I've written to someone else before filing, but I was home alone on that fateful day, and in a hurry. So when I'd finished, I just pressed send. And then, when the column appeared the next day, the landmine exploded."
He added: "I therefore wrote to everyone who works with me saying how sorry I was and then on Christmas morning, I emailed Harry and Meghan in California to apologise to them too.
"I said I was baffled by what they had been saying on TV, but that the language I'd used in my column was disgraceful and that I was profoundly sorry."
However, a spokesperson for Harry and Meghan appeared unconvinced by his comments, telling Newsweek: "On 25 December 2022, Mr Clarkson wrote solely to Prince Harry, the Duke of Sussex. The contents of his correspondence were marked private and confidential.
"While a new public apology has been issued today by Mr Clarkson, what remains to be addressed is his longstanding pattern of writing articles that spread hate rhetoric, dangerous conspiracy theories and misogyny.
"Unless each of his other pieces were also written 'in a hurry', as he states, it is clear that this is not an isolated incident shared in haste, but rather a series of articles shared in hate."
The British press are self-regulated by Ipso using standards set out in the Editors' Code.
The code's section on harassment reads: "Journalists must not engage in intimidation, harassment or persistent pursuit.
"They must not persist in questioning, telephoning, pursuing or photographing individuals once asked to desist; nor remain on property when asked to leave and must not follow them. If requested, they must identify themselves and whom they represent."
The section on discrimination reads: "The press must avoid prejudicial or pejorative reference to an individual's race, color, religion, sex, gender identity, sexual orientation or to any physical or mental illness or disability.
"Details of an individual's race, color, religion, gender identity, sexual orientation, physical or mental illness or disability must be avoided unless genuinely relevant to the story."
Update 02/08/23, 8:10 a.m. ET: This article was updated to add extra information.