John McDonnell Says Corbyn Suspension Was 'Huge Overreaction'
Some on the left in the U.K. want former Shadow Chancellor John McDonnell to be prime minister yet his closest brush with power ended with a heavy election defeat and, only months afterward, his close friend and former Labour leader Jeremy Corbyn was suspended from the Parliamentary Labour Party for antisemitism.
McDonnell now sits on the backbenches far away, often both figuratively and literally from new leader Keir Starmer and from any idea of being the leader of Britain. So does he want to be prime minister? Does he think Brexit can work? And what does he think about Corbyn's suspension?
McDonnell has spent his entire life in and around politics. For over 40 years, except for a brief stint in a bingo hall, he's moved around from trade unions and Camden Borough Council to the Greater London council and been a member of Parliament for over 20 years, developing close ties with the socialist wing of the Labour Party and, for five of the last six years, serving as shadow chancellor.
Since the last election defeat, his close ally Jeremy Corbyn has been suspended from the Labour Party and still remains as an MP but without the Labour whip. This side of the party has not been further from power since the start of Tony Blair's leadership in the 1990s and Corbyn, alongside McDonnell, are still seen as having questions to answer about why the party performed so badly in the general election and whether antisemitism was there all along or if it was exacerbated and encouraged by the recent leadership.
This is, McDonnell says, a saga now proving to be a distraction large enough that it could harm Labour's chances of winning the next election. When it comes to the suspension of Corbyn for his comments in response to a report on anti-Semitism in the party, McDonnell tells Newsweek that the party has got it wrong.
"There might be some disagreements by some about the form of words he used but there's been a huge overreaction by Keir Starmer and the general secretary of the Labour Party," McDonnell tells Newsweek. "Most people thought the matter would be resolved by the formal disciplinary process. That took place, it found no case to answer. Jeremy gets reinstated in the party. To then remove the whip from him people, and I agree, found this unfair and unjust.
"What we're hoping for now is that there's a dialogue that takes place where people can understand different points of view and as a result of that Jeremy can have the whip restored."
The decision to suspend Corbyn came after the Equalities and Human Rights Commission (EHRC), the country's equalities watchdog, found that there was a culture in the Labour party which "at best, did not do enough to prevent anti-Semitism and, at worst, could be seen to accept it" following a number of high profile complaints from Jewish members of the party over anti-Semitism during his leadership. It also said the party had breached the Equality Act.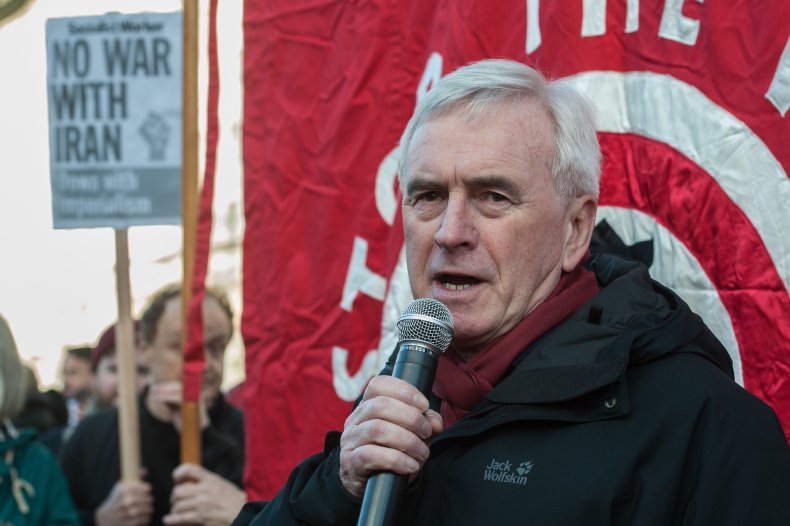 "I've said before, that as soon as that report comes out, we have to accept it and get on with implementing its recommendations and working with the EHRC in terms of making sure that we implement their recommendations effectively," McDonnell says.
In response, Corbyn said that "one anti-Semite is one too many" in the party but went on to add that the "scale of the problem was also dramatically overstated for political reasons by our opponents inside and outside the party, as well as by much of the media." Around 30 minutes after Corbyn's statement the Labour leader said those who ho believed the issue of anti-Semitism in the party had been "exaggerated" or that it was a "factional attack" were also "part of the problem and... should be nowhere near the Labour Party".
Later that day, the party released a statement saying Corbyn, who joined the Labour party 55 years ago as a teenager, had been suspended. Since becoming Labour leader, Starmer has been praised for his "forensic" approach in holding Boris Johnson to account during Prime Minister's Questions. A recent poll by Channel 4 showed the Conservatives struggling to hold onto seats they had won from Labour in 2019, with it being estimated that it could win back 36 of the out of the 45 seats it lost at the last election.
"I think where the Labour party general secretary has made a huge mistake is trying to close down any discussion with regards to Jeremy's suspension or with regard to the withdrawing of the whip," he says. "People have reacted against that because they see it as anti-democratic and don't understand why anyone would impose those restrictions on debate."
Supporters of Corbyn have criticized the party's general secretary David Evans, who made the original decision to suspend Corbyn and who has barred MPs and party members from discussing Corbyn's suspension. Momentum, the grassroots movement that was set up to support Corbyn, is preparing to launch a campaign to have an elected general secretary. It's something McDonnell supports.
"I've argued since the 1970s that officials should be elected," he says. It's the way in which you overcome the bureaucratization of any organization and the history of this goes back nearly a century."
The Times reported that the party has also lost 57,000 members between April and June under Starmer and while Labour may be ahead in the former red wall constituencies, the Conservatives still fare better on issues such as the economy and defense.
"I supported Rebecca Long-Bailey [to be leader over Starmer] and was hoping we'd have a left woman as leader. When Keir ran, he ran on a 10-point policy plan which was basically drawn from the last two Labour manifestos, he committed himself to that policy program and, at the same time, he also ran as the candidate that would unite the Labour party so our job on the left in the party is two things.
"One is to hold him to a commitment that he gave on that policy program and the role of uniting the party, but actually the role of the left in the party is to recognize the 2017 and 2019 manifestos were great, but actually things have moved on and if anything we need to be more radical as we go into the coming years. The reason I'm saying that is because people are exhausted after 10 years of austerity."
These 10 years of austerity saw rising poverty, stagnation in wages and cuts to social security payments but Labour failed to convert this unhappiness to any electoral success, with the Conservatives managing to achieve an 80 seat majority in 2019, their best election result since 1987.
For McDonnell, there are two recent policy issues he openly differs from Starmer on. The first being the Home Office's decision to deport Jamaican nationals it says are serious foreign criminals, but which human rights charities have challenged because some earmarked for deportation came to the U.K. as children or have lived in the country for decades with established families.
The other is the Covert Human Intelligence Sources Bill, also known as, "SpyCops" bill which gives authorization to undercover agents and informants to commit crimes as part of their work. McDonnell believes there are basic human rights that the party should never compromise on.
The party has also been recently criticized for failing to take seriously the concerns of Muslim members after a report from the Labour Muslim Network which showed that more than a third had seen Islamophobia in the party. McDonnell hopes the party does more to tackle the problem.
"What I'm hoping for is that there's a positive response from the Labour leadership in which we take that report and we use it as a guiding vehicle of how we tackle Islamophobia in the party," he says. "Now [report author] Ali Milani has met with Keir Starmer and his team, my understanding is that they're looking at a whole exercise about how they take it forward and learn lessons from it."
As the COVID pandemic hit the U.K., Chancellor Rishi Sunak has said he is willing to do "whatever it takes" to support businesses and households from its economic impact. Critics say he has taken several policies from Labour's doomed 2019 manifesto. Policies such as the creation of a national infrastructure bank and the establishment of a Treasury HQ in the north of England.
"Boris Johnson and Rishi Sunak seize the headline and never actually deliver in the detail or policy implementation," he says. Yet this "headline-grabbing" was one of the reasons why Johnson was voted in and Labour failed.
"We came across close to forming a government in 2017 and then we lost the pace between 2017 and 2019," McDonnell says. That was about a clear enough narrative about what we were about, what sort of society we want to create and how we were going to do it. I think I should've given more attention to developing that narrative and it's one of the lessons that needs to be learned, how do you achieve hegemony?"
This so-called "hegemony" would need Labour to come together as a united party, something that has been difficult in recent years. Former Prime Minister Tony Blair called Corbyn's leadership an error and now Starmer's leadership being criticized from some on the left, despite his growing popularity.
Well-known figures on the left like Owen Jones have argued with McDonnell that he should run for leader and would make a great prime minister. "I asked him [McDonnell] to stand for Labour leader after the 2019 election," Jones told the New Statesman. "I texted him in the early hours, begging him to stand. He didn't reply to that text." Those on the socialist wing of Labour are still wondering in McDonnell might still have a chance of rising to the top again.
"No chance of that whatsoever," McDonnell says. "I am falling into the role of elder statesman and I'm quite enjoying it."
The Labour Party has been approached for comment.