As a Britain paralyzed by Brexit heads towards its third general election in five years, the country's Jews face the prospect of living under a government led by a man many of them believe is anti-Semitic: Labour Party leader Jeremy Corbyn.
The election is slated for December 12 and is yet another attempt by Parliament to break its gridlock on Brexit. Members across all parties are unable to form a stable majority on how Britain should leave the European Union, which it voted to do in a referendum back in 2016.
But the election also brings closer to reality a Corbyn-led Labour government as the progressive party grapples with anti-Semitism within its ranks—a process critics say is half-hearted, too slow and lacking in transparency.
Corbyn is problematic. His history as an obscure backbencher on the far-left of the Labour Party is characterized by his controversial associations while campaigning against Israel, including with terror groups Hamas and Hezbollah.
He referred to representatives of Hamas and Hezbollah as "friends" during a 2009 meeting at Parliament, a comment he later described as "inclusive language" and said he regretted making.
The veteran Labour parliamentarian has presented a phone-in show on Press TV, the Iranian state broadcaster now banned from British television and which has peddled anti-Semitic conspiracy theories.
The Times of London reported that during Corbyn's appearances on Press TV, for which he was paid, he did not challenge contributors who described the BBC as "Zionist liars" and Israel as a "disease."
In 2012, Corbyn expressed concern about the removal of a mural in East London painted by the graffiti artist Mear One that depicted bankers with large noses playing Monopoly. Corbyn later said he regretted defending the mural and did not see at the time that it was anti-Semitic, BBC News reported.
He was also embroiled in a controversy over the 2014 laying of a wreath in Tunisia at a site that included the graves of men accused of masterminding the Munich massacre of Israeli Olympians in 1972. Corbyn said he was actually commemorating Palestinians killed in a 1985 airstrike on Tunis by Israel.
The party is now under investigation by a human rights watchdog and some of its own lawmakers are walking away because of anti-Semitism.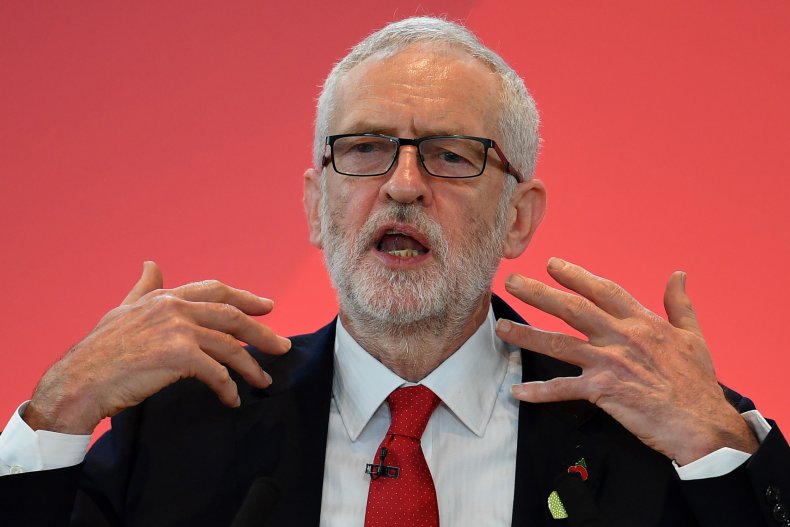 Senior Rabbi Laura Janner-Klausner, a member of the liberal Reform denomination of Judaism, told Newsweek that many Jews fear Corbyn is too weak to challenge anti-Semitism and has even enabled its proliferation.
"I think that people are extremely worried that he will endanger Jews here because he won't stand up for us," Janner-Klausner, who is a member of the Labour Party and the daughter of the late Labour politician Lord Janner, told Newsweek.
"The level of anti-Semitism has risen amongst the far-left. It's always been there but the far-left has never had power like this. He has colluded and therefore enabled it to happen. And he has absolutely proven himself to be an ally of terrorists. None of those things are good."
Since Corbyn, 70, first won his party's leadership in 2015, a vocal and aggressive minority of anti-Semites on the far-left has felt emboldened and become highly active online.
Inside Labour, there is despair among some politicians, officials, and members at how the leadership has handled the groundswell of anti-Semitic activity under Corbyn, though much of it comes from his supporters outside the party.
There are procedures for complaints and investigations that have resulted in suspensions and expulsions of party members, including candidates for office, found guilty of anti-Semitism.
But critics, such as whistleblowers from inside the party's administration who worked on tackling anti-Semitism, allege there is inconsistency in how the rules are applied to members and that the problem is not dealt with expediently.
"Jeremy Corbyn and the Labour Party are committed to the support, defense and celebration of the Jewish community and continue to take robust action to root out antisemitism in the party and wider society," a party spokesperson told Newsweek.
"We have imposed swift suspensions and the rate at which cases have been dealt with has increased more than four-fold.
"Jeremy Corbyn has made clear that anti-Semitism has no place in the Party, has brought forward reforms to fast-track expulsions, and launched an education programme to deepen understanding of anti-Semitism within our movement."
Some Labour members of parliament have quit the party in protest over anti-Semitism, including Luciana Berger, who is Jewish and had received a torrent of violent threats and racist abuse for criticizing the leadership's response.
One example of that response is the party's reluctance to adopt the International Holocaust Remembrance Alliance's definition of anti-Semitism, widely used across the world, over concerns that it would penalize legitimate criticism of Israel.
On this issue, there was a broad consensus across the Jewish community that the IHRA definition should be adopted, which the Labour Party eventually did after internal debate and external pressure.
"Different parts of the community have different priorities," Dave Rich, author of The Left's Jewish Problem: Jeremy Corbyn, Israel & Antisemitism, told Newsweek.
"For example, parts of the Haredi [ultra-Orthodox] community are more interested in Corbyn's support for religious schooling rather than his opposition to Israel. However, even taking this into account, the consensus over anti-Semitism in the Labour Party is unprecedented.
"Obviously there will be a range of views about the extent of the problem and Corbyn's role in it, but, for example, last year almost 70 rabbis from across the religious spectrum co-signed a letter calling on Labour to adopt the IHRA definition of anti-Semitism, which the party was resisting at that time.
"Some of those signatories would probably not even recognize some others as rabbis, but they agreed to sign a joint letter."
Corbyn's supporters say he has a long record of campaigning against racism, is taking action against anti-Jewish hatred within the party, and is unfairly smeared as anti-Semitic.
Some of his hardline supporters also brand the fight to root out anti-Semitism from the party a witch hunt predicated on false assertions spread by Corbyn's political opponents, though this is a fringe view.
The leader's defenders also say he has shown a willingness to work with terror organizations such as Hamas, despite profound disagreements with them, in the broader interests of helping to bring about peace in the Middle East.
Corbyn's critics say he was too comfortable associating with anti-Semitic extremists and his claims to be aiding peace are self-aggrandisement by a man who had little, if any, political significance while on the backbenches.
Labour suggests its opponents are blowing the anti-Semitism problem out of proportion, claiming that complaints relate only to 0.1 percent of its membership and that the issue pre-dates Corbyn's leadership.
It also points to polling by YouGov suggesting there is a higher level of anti-Semitic attitudes among voters for other parties, including the Conservatives and Liberal Democrats.
"I've known Jeremy for over 30 years," Jon Lansman, leader of the Corbyn-backing Momentum campaign group within the Labour Party, and who is Jewish, told Newsweek.
"I ran Jeremy's nomination campaign and I was a director of both his leadership campaigns in 2015 and in 2016. He doesn't have an anti-Semitic bone in his body. He has dedicated his whole life to fighting all forms of oppression and prejudice.
"He's campaigned against anti-Semitism for decades, organising a rally to counter neo-Nazis targeting a Jewish area, bringing motions to Parliament about rising anti-Semitism in the U.K., and campaigning in defence of Jewish synagogues and cemeteries.
"In government Labour will stand up for Jewish communities and all minority communities. Whereas Boris Johnson's Conservative government represents the biggest threat to minority communities of any major party in my lifetime."
Whatever spin is put on Corbyn's actions and motivations by his supporters or detractors, there is clear evidence of an anti-Semitism problem within the party he leads, even if there is disagreement over its scale.
And the evidence of a problem is sufficient enough that the party is now under investigation by the U.K.'s Equality and Human Rights Commission, a public body, over allegations of anti-Semitism and its controversial handling of the issue.
Labour's task of defending itself against accusations that it has become institutionally anti-Semitic under Corbyn, and maintaining that it remains Britain's preeminent anti-racist party, is made harder by his links to anti-Semites.
Corbyn has, for example, defended the Islamic cleric Raed Salah, who the Jerusalem Post reported was convicted in Israel in 2013 of inciting violence and racism over remarks made in 2007.
Salah had promoted the age-old Blood Libel that Jews bake children's blood into their bread. He also allegedly peddled anti-Semitic conspiracy theories about 9/11.
When Salah visited the U.K. in 2011 to speak at a pro-Palestine event, the government arrested him over concerns that he posed a danger to society, though he later successfully appealed against his detention.
At the time, Corbyn, due to attend the event, blamed Israel's supporters.
"It is time that Western governments stood up to the zionist lobby which seems to conflate criticism of Israel with anti-Semitism," Corbyn wrote in a column for the Morning Star, a communist newspaper in Britain, the Jewish Chronicle reported.
Corbyn told Channel 4 News in 2015 that during a long conversation between the two men Salah had made no anti-Semitic remarks and that he was not aware of the cleric's convictions.
"The reasons why so many British Jews are worried about a Corbyn government vary: They include government funding for Jewish security, the future of Jewish schooling or shechita, or the prospect of a much more anti-Israel foreign policy including boycotts," Rich told Newsweek.
"More generally though, it reflects a fear that Corbyn's past record of associations with anti-Semites and terrorists will continue into government and generate a hostile atmosphere for British Jews, even if this does not translate into concrete policy."
The Community Security Trust (CST), a charity that combats racism against Jews, monitors anti-Semitic incidents in the U.K., which are increasing. It recorded 892 such incidents in the first six months of 2019, the highest on record for the January-June period and a 10 per cent annual rise.
Of the total, 710 were abusive behavior—323 of which took place online—and 85 were assaults, though none were classed as "extreme violence." The CST connected around 100 incidents of abusive behavior to anti-Semitism in the Labour Party.
Dr. Keith Kahn-Harris, a project director at the Insitute for Jewish Policy Research (JPR) and author of the book Strange Hate: Anti-Semitism, Racism and the Limits of Diversity, said there is a causal link between the rise of Corbyn and the harassment and abuse of British Jews online.
"It doesn't necessarily fall into the category of stuff that's illegal but certainly, many Jews are feeling under a great deal of pressure from what they consider to be anti-Semitic comments or abuse from supporters of Jeremy Corbyn," Kahn-Harris told Newsweek.
"Not necessarily official or even by people who are necessarily party members, but it's certainly there and I think there's clear evidence for that. The wider issue of hate crime is much more complicated than that and it's much more difficult to establish a causal link."
The polling of Jewish people shows the recent erosion of support for the Labour Party. Back in 2010, before the general election, an Ipsos MORI survey of 1,000 Jewish voters for the JPR found that 31 percent supported Labour and 30 percent the Conservatives.
Just 7 percent of the 766 Jews polled by Survation between September and October this year said they would support Labour with or without Corbyn at the next election, the Jewish Chronicle reported.
Another telephone poll of 757 adult Jews by Survation, conducted in March, found that 86 percent believe there are high levels of anti-Semitism in the Labour Party. And 87 percent outright said they think Corbyn is anti-Semitic.
A recent study by academics from the University of Manchester found that "the historical association of the British Jewish community with the Labour party is a thing of the past."
That is partly, the study said, because Jews increasingly identify as middle class and do not find that anti-Semitic prejudice is holding them back anymore, lessening the appeal of Labour over the Conservatives.
The study also found that Corbyn is "disliked by Jews more than non-Jews, irrespective of how they feel towards Labour generally."
"From what we know the Jewish support for Labour has collapsed significantly as opinion polls seem to have shown that. So in that respect support for the Labour Party under Corbyn is a minority thing now amongst Jews," Kahn-Harris told Newsweek.
"There are some who talk in very, very dark terms about leaving the country and so forth. Whereas others are maybe a little bit more phlegmatic about it. I think a lack of support for Corbyn probably runs across the majority but the degree of fear probably varies."
One particularly alarming Survation poll from September 2018 found that almost 40 percent of Jewish people would seriously consider leaving the country if Corbyn becomes prime minister.
It was released after Britain's former Orthodox Chief Rabbi Jonathan Sacks said on the BBC that Jews were now asking if Britain was still a safe place to bring up their children. Census data from 2011 suggests there are around 271,000 Jews in Britain, or 0.43 percent of the population.
"I certainly don't think that the majority of British Jews, or even that a very significant proportion, will leave," Kahn-Harris told Newsweek.
"If I had to guess I would suggest there would be a modest spike in emigration to Israel probably from people who were thinking along those lines anyway. And this may be the thing that pushes them to do it.
"But beyond that, I think there would be a wait and see attitude rather than a sudden rush to leave."
"We're not leaving the country—I'm British," Janner-Klausner told Newsweek.
"The idea that Jews should leave is extremely problematic. Where are you planning to send me to? I'm a British citizen, for God's sake. What, you want Jews to leave? No. I live here and I love Britain. I'm very lucky to be here. I'm not going anywhere, thank you so much."
For Janner-Klausner, anti-Semitism is not a terminal problem for the Labour Party. She believes it can and will be overcome just as in the 1980s the domineering far-left faction Militant Tendency was driven out of the party, a process she witnessed as a Labour member.
"The Labour Party has been around for many, many, many years. It has had many ups and downs and this is a phase. There are a lot of really super, super, super, wonderful Labour people," she told Newsweek, but also cautioned that anti-Semitism is the "canary in the mine."
She made reference to a scene in Fiddler on the Roof in which the rabbi is asked: Is there a proper blessing for the tsar? "A blessing for the tsar? Of course. May God bless and keep the tsar far away from us!" replies the rabbi.
"That is what people feel about Corbyn," Janner-Klausner said.