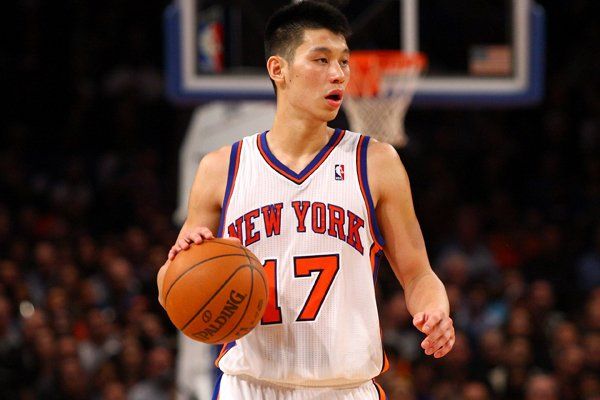 In the increasing engorgement of the celebrity culture in which we are stuffing ourselves to death, enter Jeremy Lin, the New York Knicks' 6-foot-3 point guard who, on the basis of his performance in four games, has become the National Basketball Association's best player in history.
Linmania. Linsanity. Linsational. Linitless. If you watch ESPN SportsCenter or listen to sports talk radio or read last week's front-page story and sidebar in The New York Times, there is no contest. Better than Michael Jordan? Of course. Better than Wilt and Kobe and Shaq and LeBron? They shouldn't even be playing on the same court with Sir Lincelot.
Those last four games have been great—25 points off the bench against the Nets, then 28 as a starter against the Utah Jazz, 23 against the Washington Wizards, and 38 against the Los Angeles Lakers on Friday. He has come out of nowhere. He is exciting when he bobs and weaves to the hoop with explosive speed. He has Horatio Alger and Chip Hilton written all over him given that he came from the basketball wasteland of Harvard—the school hasn't produced an NBA player since 1954—and wasn't even drafted.
But four games do not a career make, no matter how much The New York Times and everyone else gush over the 23-year-old Lin, who is Asian-American. He is quick and fearless to the hoop, but the more he plays and gets attention, the more all-too-lethargic NBA players will be gunning for him because the only thing that gets them excited is watching someone else steal the limelight. He has no outside shot (yes, I know, he made two three-pointers Friday night against the Lakers, but so can some schlump picked out of the crowd at halftime to win a restaurant coupon to Applebee's).
Somebody has to be the party pooper, so let's cut right to the poop:
Because he plays for the hapless Knicks, lousy at whatever they try to do, any unknown player who goes on a tear and actually seems to enjoy the game of basketball while doing it is going to be hyped beyond all rationality.
And sorry, because people hate to hear the cold truth, but there is a factor of race: if he were African-American, would there be the same type of hysteria—oops, I'm sorry—Linsteria? Nope. He would be perceived as a potentially very promising black player, but because of the eternal and wrongheaded assumption that all professional black athletes are naturally gifted, there would be none of the linsteria.
For the past 20 years, the NBA brass and fans have been craving a Great Hope, and Lin has become the latest candidate.
Because Lin is not black and not from Europe with a thick foreign accent, he fits a pervasive stereotype much closer to a white player than "the great yellow hope" pablum that too many writers and bloggers are trying to pedal. It is no mistake that he is being compared with the Denver Broncos' quarterback Tim Tebow. Both are Christian. Both hold deep religious convictions and pray after games. Both sustain the belief of fans that professional athletes who are not African-American succeed because of hard work, struggling through adversity, and basically overcoming their physical deficits with nonstop determination. It is stupid, but so is life.
For the past 20 years, the NBA brass and fans have been craving a Great Hope, and Lin has become the latest candidate. Yes, he is Asian-American, and his ethnicity should not be mitigated. From what he said in an interview with Time, he took his share of shocking racial abuse when he played opposing Ivy League teams.
But I don't think fans are going wild over him now because of his breaking the Asian-American pro-basketball barrier. They like him because he is talented and exciting, at least so far. They also like him because he is light-complected and in his Christian beliefs and prayer penchant, does echo much of white America.
As for being the best player in NBA history on the basis of four games, call me cynical but it seems a little much, although a ticker-tape parade down Fifth is probably in the works as we speak. He is already being declared one of the greatest undrafted free agents in history, but is he really in a category with other undrafted players such as Ben Wallace and John Starks?
Of course not. Those players had careers, not radar blips.
Lin did have a very good basketball life at Harvard, even though much of it came against the likes of Dartmouth and Brown and Columbia. In a game against perennially nationally ranked University of Connecticut as a senior, he scored 30 points and earned high praise from coach Jim Calhoun, who said of him, "I've seen a lot of teams come through here and he could play for any of them."
Some speculate that Lin wasn't drafted because he is Asian-American, but that's ridiculous: pro franchises would draft a kangaroo if he could hold onto a rebound and not put it in his pouch and get whistled for traveling. Lin tried out for eight different teams after his senior season in 2010. He made the opening day roster of the Golden State Warriors in 2010–11 but was ultimately waived in December 2011 after the end of the lockout. He was claimed by the Houston Rockets and then waived as well.
He landed with the Knicks to be a back-up to a back-up point guard. He was reportedly about to be cut by the team several weeks ago, but then came the game against the Nets where, in addition to 25 points off the bench, he had five rebounds, seven assists, and only one turnover. Against the Lakers on Friday, Kobe Bryant scored 34 points with his usual acrobatics, but it was Lin, with his 38 points leading the Knicks to a 92–85 victory, who stole the highlights. His total of 89 points in his last three starts are the most for any player since the merger of the American Basketball Association and the NBA 35 years ago.
Sustained greatness? Maybe. The desire of fans to make him the next Great Hope? Definitely. Or a possible flash-in-the pan who two months from now will be just another NBA point guard?
For signs of Lin's fate, let's roll the tape of a fellow athlete from Harvard named Ryan Fitzpatrick. As the quarterback for the Buffalo Bills last season, Fitzpatrick, in his seventh year, threw for nine touchdowns in the first three games. He led Buffalo to a 3–0 record, and there was serious talk of making the playoffs. He got a $54 million, six-year contract extension with $24 million guaranteed. In the next 13 games he threw for a total of 15 touchdowns as the Bills went 3–10. His quarterback rating went from 100 after those first three games to a season average of 79.
A fair comparison? To Borrow from the Harvard motto, it does carry a ring of "veritas."