Jeremy Pruitt Is the Coaching Answer for Tennessee Volunteers—So Far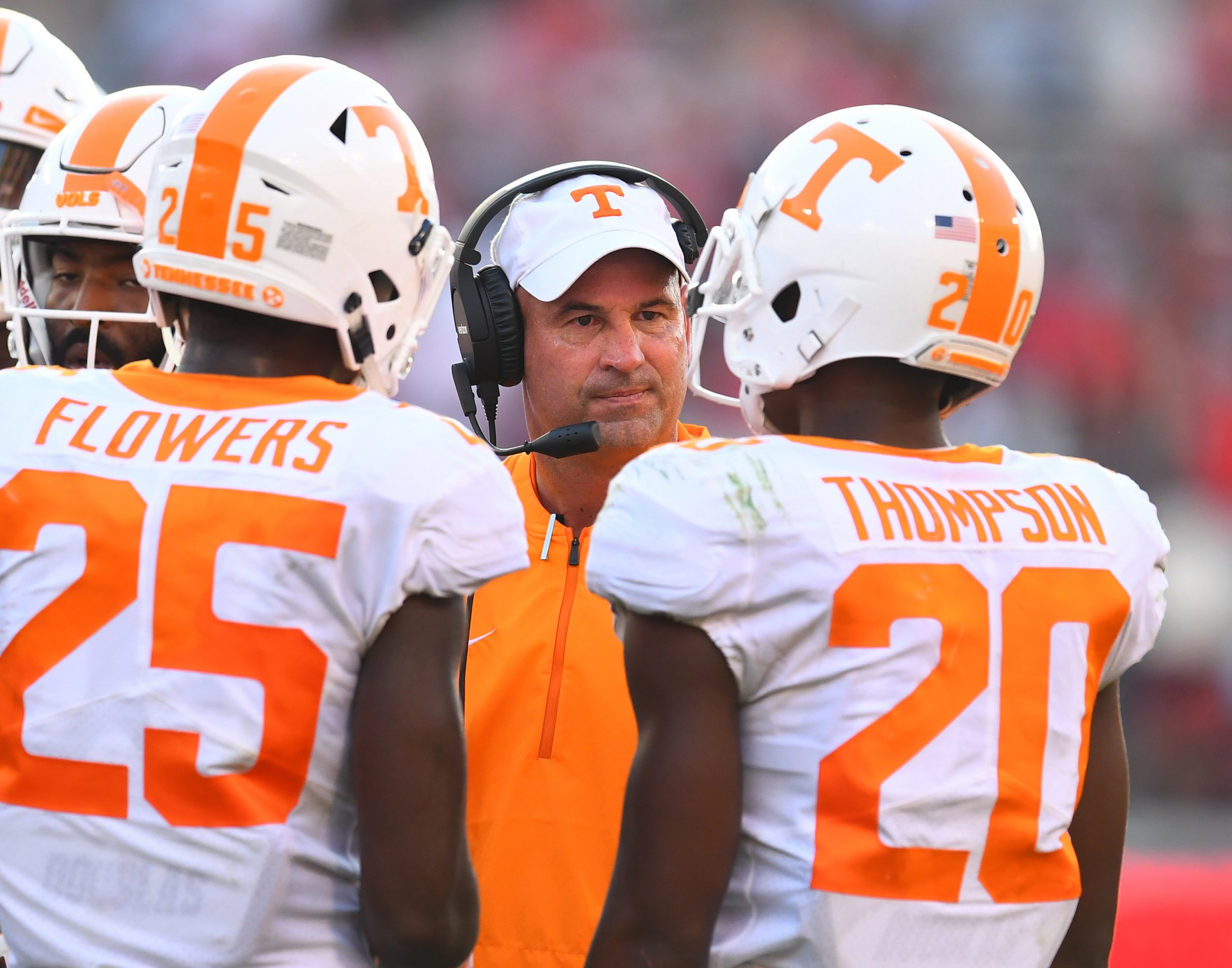 Jeremy Pruitt wasn't Tennessee's first coaching choice—perhaps not even its fifth—but he might be the right one. Pruitt captured his first signature win in a 30-24 upset of then-No. 21 Auburn on Saturday.
It was the first time the Tennessee Volunteers defeated an SEC team since November 2016, a ranked opponent since December 2016 and an SEC West team since November 2010.
That's how far Tennessee has fallen. A program that is one of the winningest in SEC history has been starved of quality wins during a decade-long rebuilding project.
The Vols have had more coaches—Phillip Fulmer (2008), Lane Kiffin (2009) Derek Dooley (2010-12) Butch Jones (2013-17) and Pruitt (2018)—than winning seasons—2009 (7-6), 2014 (7-6), 2015 (9-4) and 2016 (9-4)—in the last decade.
Tennessee is coming off a 4-8 season in 2017, which included zero SEC wins and was the worst finish in program history. That's what Pruitt, a former defensive coordinator with no previous head coaching experience, inherited during his first season in Knoxville.
But perhaps more important than a depleted roster or a disappointing season, the coach needed to improve the culture on Rocky Top.
Tennessee botched its coaching search last November, which saw fans revolt over the reported hiring of Ohio State defensive coordinator Greg Schiano and lead to the agreement falling through.
Over the next week, media outlets torched the program, complaining that fans became "too powerful," while athletic director John Currie attempted to reach out to several candidates before eventually losing his job and being replaced by Fulmer.
Pruitt was hired less than a week later and provided a calming presence to the Tennessee faithful during his introductory press conference. His good ol' boy demeanor and work ethic left the hungry fanbase optimistic about the future.
Pruitt spent his first month on the job balancing time between recruiting for the Vols and filling his obligations to his alma mater Alabama during the College Football Playoff, which resulted in a national championship.
While some complained that his focus should have been solely on improving Tennessee's roster, his loyalty shown by fulfilling his prior coaching duties was admirable, a quality many former players whom he recruited to Alabama, Georgia and Florida State as an assistant echoed in response to his hiring.
Overall, his first offseason in Knoxville was a success, albeit mainly because of fan optimism about "what could be" and the fact that he wasn't the previous regime.
But Saturday's game provided the biggest indication that Pruitt is the answer to the Vols' coaching questions so far. Tennessee's road win at Auburn was huge for its momentum moving forward regardless of whether the Tigers were as good as advertised.
The Vols entered as a 14.5-point underdog, according to Sportsline and managed to rally back from an early 10-3 deficit, which would seem impossible for last year's team to accomplish.
Additionally, Tennessee has looked better in each of its last two SEC games since losing 47-21 to Florida in Week 4. The Vols cut a 24-0 defict at Georgia to 24-12, before the Bulldogs scored late in garbage time. It was a surprisingly tough performance that few expected to see against the nation's then-No. 2 overall team.
Tennessee looked even better on Saturday, finally relying more on its passing attack and allowing quarterback Jarrett Guarantano to take chances downfield. The Vols defense also improved by forcing three turnovers and scoring a touchdown on a fumble return to extend their third quarter lead to 27-17.
Tennessee's defense should continue to improve under Pruitt, who has previously been heralded as one of the best defensive minds in college football, especially when the personnel fits his scheme better. Saturday's win was a huge statement both for the first-year coach and a program that needed it desperately.
Pruitt still has a long way to go before his hiring is ruled as a unanimous success, especially given how recent former coaches have falsely grown optimism in the past. But Saturday's victory was a huge leap in the right direction and proved that the former coordinator is the best fit for the job so far.