Leading Democrat Compares Harvey Weinstein, Brett Kavanaugh Sexual Assault Accusations
New York Representative Jerrold Nadler, who will likely chair the House Judiciary Committee if Democrats win the House in November, compared the deluge of accusations against Brett Kavanaugh to those directed at Harvey Weinstein.
Speaking with Hill.TV Wednesday, the ranking judiciary committee Democrat demanded Republicans do their duty and take the allegations "seriously" to set up a thorough investigation of the sexual assault claims. Nadler said Kavanaugh should not be placed on the Supreme Court with "terrible allegations over his head," as a third woman came forward Wednesday to accuse Kavanaugh of additional sexual misconduct.
Nadler used disgraced Hollywood producer Harvey Weinstein for comparison, saying Weinstein was at first accused of one allegation before a slew of accusers came forward.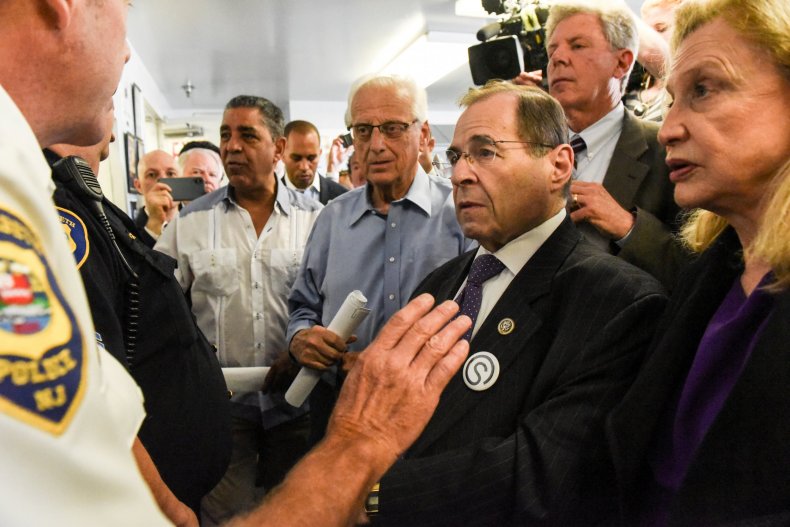 "The specific reason they have credibility is that they fit the pattern, and the pattern is that when you find someone like a Harvey Weinstein or someone else who's very respected and powerful...and is suddenly accused of sexually exploiting women, first one person comes forward and then another and then the dam breaks, and you find a number of women coming forward," said Nadler.
Weinstein was one of dozens of powerful men whose alleged sexual misconduct was uncovered as part of the #MeToo movement. Another high-profile figure, Bill Cosby, received a sentence of three to 10 years in Pennsylvania state prison for sexually assaulting Andrea Constand in 2004. She was one of nearly 60 women who came forward to accuse Cosby of predatory sexual crimes, although widespread denials and doubts had also initially been placed on his first accusers' claims.
"That seems to be what's happening with Judge Kavanaugh. He's a very powerful judge, who has been nominated to the highest court in the land. Women are going to be very reluctant to upset their own lives by making these accusations and revealing what happened to them," he said. "But once one comes forward, then a second and now a third, that fits the pattern of truthful allegations against powerful men."
A client of attorney Michael Avenatti revealed "gang rape" allegations Wednesday against Kavanaugh dating back to the 1980s, which Senate Judiciary Committee Chairman Chuck Grassley, an Iowa Republican, said they were currently investigating.
Dr. Christine Blasey Ford, who came forward with the first allegation against Kavanaugh, is set to testify this week in front of the Senate Judiciary Committee Thursday.