Jerry Falwell Jr. Allegedly Made 'Uncomfortable' Calls To Liberty University Staff
Former Liberty University President Jerry Falwell Jr. has reportedly made "uncomfortable" phone calls with staff after resigning, prompting the university's top lawyer to urge employees to cut communication with their disgraced former leader.
Falwell resigned from the evangelical Christian university on August 25 in the wake of a sex scandal. Despite leaving the university, he has continued to contact members of staff as they work, according to a report published Friday by The News & Advance.
The paper reports that a letter from David Corry, Liberty's general counsel, urges employees to refrain from communicating with Falwell to avoid making the impression that he is still involved in university business. Corry states that the only person on staff allowed speak to Falwell at work is Jerry Prevo, Liberty's acting president and Falwell's temporary replacement.
"This impression is not well received by our supporters who do not want Mr. Falwell to be running Liberty University behind the scenes," Corry wrote in the letter, according to the paper. "If you are uncomfortable taking a call or engaging in other types of communication with Mr. Falwell, you are free to decline to do so and you are also free to refer them to Jerry Prevo."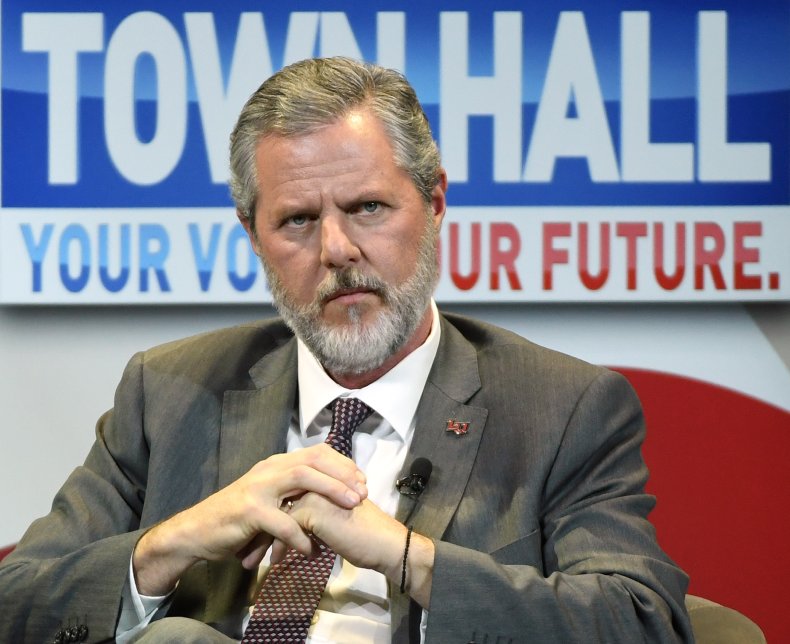 Falwell was placed on leave at the university in early August, after he posted a controversial photo on Instagram, showing himself and a woman, both with bare midriffs and partly unzipped pants, as he held what he said was a "prop" glass of "black water" on his yacht.
He resigned from Liberty, securing $10.5 million in the process, after a report from Reuters detailed an alleged sexual relationship between Falwell, his wife Becki Falwell and a third man, Giancarlo Granda. The Falwells were said to have met Granda as a 20-year-old pool attendant in 2012 before they became business partners. They denied the report, although Reuters insisted it came with a large amount of evidence supplied by Granda.
A May 2019 Reuters report alleged that secretly recorded conversations revealed President Donald Trump's former lawyer Michael Cohen had worked to secure "personal" photographs of Falwell, "the sort that would typically be kept 'between husband and wife,'" not long before the evangelical leader endorsed Trump's presidential run in January 2016.
Multiple reports in the week since Falwell's resignation have suggested that he had used his role as Liberty president to improperly benefit himself and his family financially.
Falwell became the university's president after the 2007 death of his father Jerry Falwell Sr., who founded Liberty. His own son Jerry Falwell III still holds a leadership position at the university. Last week, Liberty announced they would be launching an independent investigation into "all facets" of Falwell Jr.'s tenure, "including but not limited to financial, real estate, and legal matters."
Newsweek reached out to Liberty University, who declined to comment.
Update 9/5, 10:45 p.m.: This article has been updated to reflect that Liberty University declined to comment.