Jerry Falwell Jr. Goes on Indefinite Leave From Leading Liberty University
Jerry Falwell, Jr. has taken an indefinite leave from his administrative duties at Christian college Liberty University in Lynchburg, Virginia.
Falwell became the subject of scrutiny after an Instagram post, which has since been deleted, showing Falwell standing next to a woman with his pants unzipped and his shirt lifted over his stomach. Falwell was also holding a drink which he described as being "black water." Although Falwell said the photo was taken "in good fun," some observers said he was a hypocrite because of his responsibilities to Liberty University.
"The Executive Committee of Liberty University's Board of Trustees, acting on behalf of the full Board, met today and requested that Jerry Falwell, Jr. take an indefinite leave of absence from his roles as President and Chancellor of Liberty University, to which he has agreed, effective immediately," read a statement from Liberty University on Friday.
Liberty University declined to comment to Newsweek for this story.
Falwell said that he had apologized for the photo during a radio interview on Thursday. After saying he should never have posted the photo, Falwell said "I've apologized to everybody and I promised my kids, I'm going to try to be a good boy from here on out."
According to the privately-owned Liberty University's online code of conduct, "media and entertainment that is inconsistent with Liberty's standards and traditions (i.e. lewd Lyrics, anti-Christian message, sexual content, nudity, pornography, etc.) are not permitted on or off campus." Unmarried couples at the University are also prohibited from engaging in sexual relations.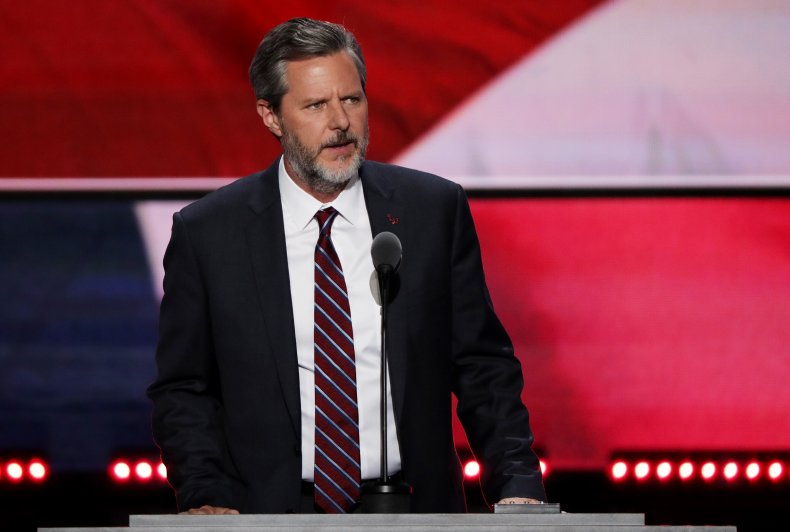 In a statement released Friday, Liberty University Board of Trustees Chairman Jerry Prevo said the University had seen "unprecedented success" under Falwell, Jr's leadership.
"Unfortunately, with this success and the burdens of leading a large and growing organization comes substantial pressure," Prevo wrote. Today, my colleagues and I on the Liberty University Board of Trustees and Jerry mutually agreed that it would be good for him to take an indefinite leave of absence."
Falwell's behavior has resulted in calls for his removal from Liberty University leadership. In May, Falwell tweeted that he would only abide by a statewide mask mandate if he could wear a facemask of his own design that prominently featured a photograph of Virginia Governor Ralph Northam in blackface. Next to Northam was an individual wearing a Ku Klux Klan uniform. Falwell's tweet was deleted.
Despite Falwell's apology, some Black athletes decided to transfer away from Liberty University in June. In a tweet, football player Tayvion Land said he had decided to attend another school "due to the racial insensitivity displayed by leadership at Liberty University."
North Carolina Republican Congressman Mark Walker tweeted Thursday that Falwell should no longer lead Liberty University.
"Jerry Falwell Jr's ongoing behavior is appalling," Walker wrote. "As a Music Faculty Advisory Board Member and former instructor @LibertyU, I'm convinced Falwell should step down. None of us are perfect, but students, faculty, alumni and @LUPraise deserve better."
Falwell has been a stalwart supporter of President Donald Trump. In January 2019, Falwell said during an interview with The Washington Post that Trump "only wants what's best for this country, and I know anything he does, it may not be ideologically 'conservative,' but it's going to be what's best for this country, and I can't imagine him doing anything that's not good for the country."
Falwell is the son of the late televangelist Jerry Falwell, who became the leader of the right-wing Moral Majority, which gained political prominence during the 1980s.
Updated 11:41 p.m. EST 08/07/2020: This story has been updated with a statement from Liberty University Board of Trustees Chairman Jerry Prevo.