Jerry Falwell Jr. hates being interviewed by print reporters. "They take up a lot of my time then use a sentence or two," he tells Newsweek by telephone from his home in Lynchburg, Virginia. Thus, he gave this reporter one hour to fire questions at him on the condition that I not twist his words to fit a narrative where context is lost.
Falwell is president of Liberty University, the school founded in 1971 by his late father, prominent pastor and televangelist Jerry Falwell, who also created the Moral Majority, a political organization associated with the Christian right that helped elect President Ronald Reagan twice before it was disbanded in 1989.
Like his father, the younger Falwell seems to court controversy, most recently with an inappropriate tweet and his decision to open Liberty U to staff and students in the midst of the coronavirus pandemic. And, of course, his enthusiastic support of President Donald Trump (his second favorite president of all time) even in the midst of brutal criticism over his response to protests related to George Floyd, a black man killed by a white police officer in Minneapolis on May 25.
In the Q&A below, Falwell, an attorney, gives some legal advice to Trump while also defending the president's photo-op of himself holding a Bible outside of St. John's Church near the White House after it was damaged in a fire that coincided with recent protests, and he reveals that he's preparing a lawsuit against a prominent media outlet.
Are you still backing Trump?
One hundred percent.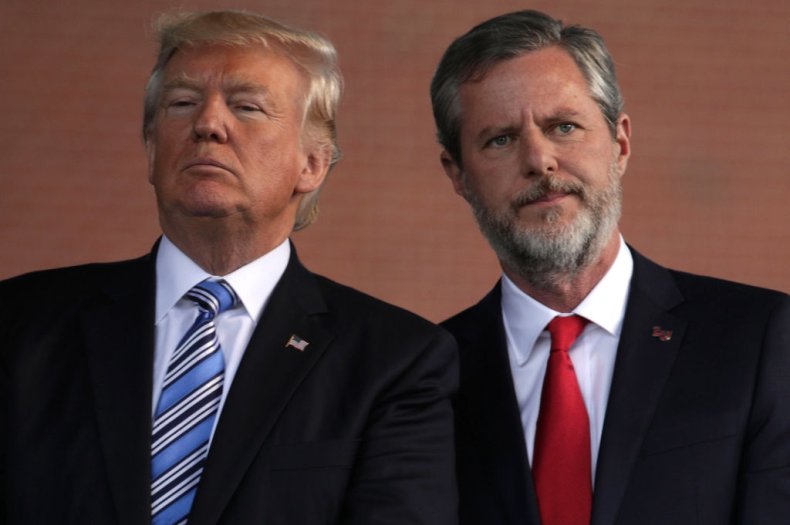 What's the attraction between evangelicals and Trump?
He's a businessman, and CEOs have ingrained in them a fiduciary responsibility to do what's in the best interest of the organization they lead. I thought that no matter what his politics were, he'd do what's in the best interest of average Americans, and my bet has paid off.
What has Trump done that you disagree with?
I can't think of anything. He's been the best president ever, except for George Washington, because my wife is related to George Washington. Trump has surpassed Ronald Reagan because he's not afraid to change his mind. Trump is not a traditional politician, while Reagan was. Our founders wanted citizen legislators who were successful in the private sector, and we need more of that.
Do you speak to him often?
Yes. I was watching the SpaceX launch in Cocoa Beach from a restaurant on a pier and Air Force One flew out towards us, so I called him and said, "Mr. President, look out the right side of your plane and I'll be waving at you."
If you had him on the phone today and he asked for your advice about coronavirus, what would you tell him?
Some governors have a hidden agenda; they really want to hurt small businesses. He could bring lawsuits on constitutional grounds because freedoms are being violated, and I wish that would happen quickly. All the draconian efforts and overreactions from blue-state governors—only the Justice Department can get them under control.
Does it bother you that in some areas churches weren't considered "essential" while liquor stores and pot dispensaries remained open?
It's a game. In Virginia, for example, Walmart and Target were packed for months before the governor decided everyone needs a mask—at the moment COVID-19 was waning.
How do you explain the hatred for Trump?
Hey, I get hatred, too. It's good. It means I'm making an impact.
What about the hateful rhetoric he's accused of?
He's a businessman. He says what he thinks. I admire him for that. We finally have a president with guts. Establishment Republicans are feckless, but at least Trump gives them a little bit of spine.
You've said Liberty U can be a "model" for others since you opened it up so early. How's that experiment going?
We knew not many students would come back after spring break and the governor had executive orders that we obeyed. Plus, we're one of the pioneers in online education, so it worked beautifully. But we knew some students didn't have high-speed access while others didn't want to go home because they had elderly relatives, and we have international students. Not one person, faculty, staff or student contracted the virus on campus. (One media outlet) lied about that so there's a lawsuit in the works. We'll file in the next week or two.
Was it an economic decision or political decision to open up Liberty U?
Like I said, we had students with nowhere to go, so it was a humanitarian decision. It definitely wasn't economic because it cost us more to keep them there.
What's your assessment of how Trump is handling the protests of the killing of George Floyd?
That was plain and simple murder. There's 800,000 cops and a handful of bad ones and four of them happened to be on the scene that day. They need to be prosecuted to the fullest extent of the law, like anyone else would be. Trump is being tough on rioters, like he needs to be.
Do you support the Black Lives Matter movement?
I had an 18-year-old girl come up to me who said she posted on social media that "all lives matter" and she was excoriated. People should not have that reaction.
When people say "all lives matter" it's assumed they're downplaying the BLM movement and they oftentimes end up apologizing.
I didn't say "all lives matter," she did, and that was the response she got.
You recently apologized for tweeting a photo of Virginia Governor Ralph Northam's college yearbook page where someone was in blackface.
I was one of the first conservatives to reach out to him to encourage him not to resign. But the first thing he did was take away assistance grants for new online students. It won't affect Liberty much, but there are other schools that depend on online enrollment to stay afloat. I think he did it to spite Liberty and its conservatism. Twenty-seven percent of our online students are African American, so I thought people needed to be reminded of his yearbook page.
Did you cave to liberal activists when you apologized?
I didn't hear from any leftist activists. I heard from people who love Liberty and from people I love—African Americans in the Liberty community, and they told me that when I took a swing at the governor I hit them with my fist on the way out. We've had ancestors who were killed by racists and my tweet was hurtful, they told me. So I apologized and made it clear that I never aimed at the African-American community; I aimed at one person: Governor Northam.
I read an article that made a big deal about your son co-owning a gay-friendly hotel. What is that about?
That was so stupid. Every hotel is gay-friendly. Can you tell me of any hotel that says "you can't stay here if you're gay?" That was a big ruse.
What's your message about the LGBTQ community and gay marriage?
I've never had one. I've never spoken on the issue, and I never will. There's never been an issue with gay students at Liberty, contrary to popular belief.
What's your opinion of how you and evangelicals in general are portrayed in the media?
(Laughs.) It's a shame that traditional newspapers are so stressed financially because the world has moved to the Internet. It's all about click bait...the mainstream media is on its way out and they're in desperation on the way down.
Did you turn down an offer to become secretary of education?
The president and I talked about that after he was elected. My family and I discussed it, but I spent my life building Liberty University so we decided I had too much of my life invested in that to give it up. I'm a businessperson; I don't think I'd do well as a bureaucrat.
What's your opinion of Betsy DeVos in that position?
She's doing wonderfully up against very powerful forces. My advice to her is to privatize the student-loan industry like it was before President Obama federalized it. We'd see more underwriting and more collection if businesses that understand lending were in charge, and they wouldn't lose money like the government does. Politicians say, "elect me and I'll forgive student loans." What does that do? It makes students stop paying back their loans. That's bad for the country and the economy.
So what, in your view, would be the consequences should Trump lose to Joe Biden in the presidential election?
We might lose the country; we might become socialist. Biden is way past his prime— he's old school but becoming more liberal because that's the trend for Democrats. In his efforts to move that direction, he could take the country off the ledge. With Democrats in control, they'd try to install European-style socialism, or Venezuelan-style, which is where it always ends up.
What's the single biggest issue that should be talked about in the upcoming presidential election?
Limited government, free enterprise and individual liberties. That's what made this the most prosperous nation in the history of the world. I believe that Jesus taught that we, as individuals, should help the poor, not that we should vote for somebody who will take from your neighbor to give to the poor. If we move toward socialism, we will have mutually shared poverty.
A lot of Trump's supporters and detractors are irritated by his nasty tweets. Do those bother you?
Not at all. If it wasn't for him tweeting, the mainstream media would control the narrative, and they hate him. He's going around the press like Ronald Reagan used to do. Twitter is the best option the press left him with, and he's got the boldness to use it.
Some are pressuring Twitter to shut him and some other conservatives down.
They'll do so at their own peril. There would be antitrust lawsuits like you've never seen. I think there might be anyways, and I hope there are, because big tech is made up of a bunch of millennial snowflakes raised in an era when everyone got a trophy whether they won or not.
The president is also getting flack for the photo-op of himself holding a Bible outside of St. John's Church during the protests.
I spoke in that church the morning of Trump's inauguration. In the front row was President and Mrs. Trump and President and Mrs. Carter. It was built in 1816 and Abraham Lincoln used to sit in the vestibule because he'd have spent his whole day talking to people if they saw him. If there's any place in the country where it's appropriate to hold a Bible while speaking about violence, it's there. It's a sacred part of America's religious history, and it's nicknamed the "Church of Presidents." When Trump spoke at Liberty University, he sent me photos of himself as a boy at Sunday school. He's never suggested that he's anything other than a Christian, and I'm happy to see any president express their faith.